'Judoman' Eduardo Sánchez seeks to end career on high
Mexican judoka shares life-changing experience that helped him get sponsors and the country's attention
22 Apr 2020
Imagen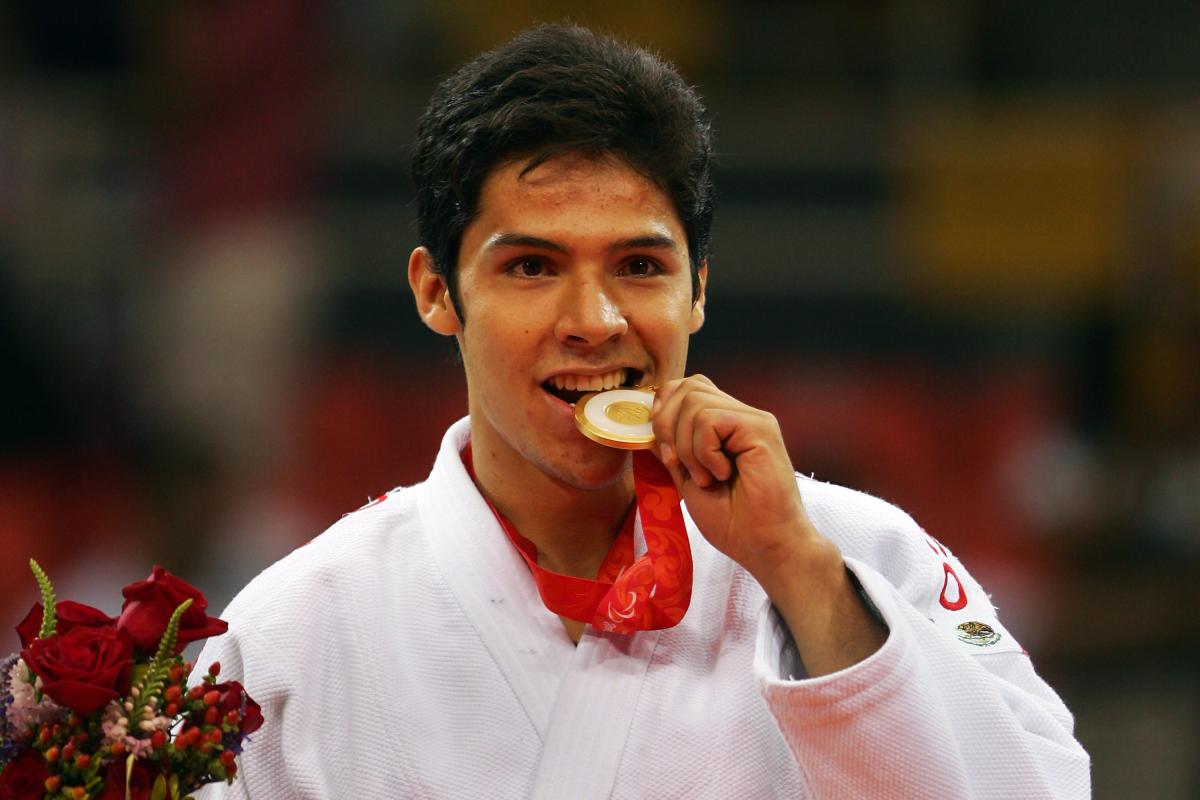 ⒸGetty Images
By Santiago Menichelli | For the IPC
Eduardo Ávila Sánchez is celebrated in Mexico for having won multiple titles. The judoka is a triple Paralympic medallist - two golds and a bronze - and a quadruple Parapan American Games champion, among other many victories throughout his illustrious career. 
But sporting success is not the only reason why Mexicans adore him. In 2017, he was selected to participate in a reality TV show that completely transformed his life.
"There's an Eduardo before and an Eduardo after my participation in Exatlón," acknowledged Sanchez on the show. On the beaches of the Dominican Republic, he lived 'the best and the worst experience of my life'.
A LIFE-CHANGING EXPERIENCE
"I've been told you can't have a career by just qualifying for Beijing or London. That's what has given me the most motivation," Sanchez once said. On many other occasions, he repeated: "I love being told I can't. I'm going to show them and I'm going to make it happen."
His attitude, in addition to his trophies and medals in the cabinet, caught the attention of the Mexican reality show Exatlon.
The reality show contestants comprised of high-performance athletes, national celebrities including models, singers and TV hosts. They competed in various physical and mental challenges and was the most watched national production of the year, breaking audience records.
"It was an impressive life experience; the best experience and the worst at the same time," said Sanchez after being eliminated. Those weeks were highly demanding, both for his body and mind, as he had to sleep on the floor of a precarious cabin, with difficult conditions to rest and very limited food.
"It's something that has made me grow as a sportsman. After that, sponsors began to pay attention to me and my career. I already had sponsors, but now I have even more. The commitment I have with my country is even greater because now I carry the weight of being a popular person."
His social media networks are proof of his growing popularity: he called himself 'Judoman' on Instagram (@eduardo_avila_judoman), where he has over 105,000 followers and is supported by big international companies.
HOW JUDO EMPOWERED HIM 
At a young age, Sanchez suffered an accident that caused damage to his optic nerve. As a result, his vision was reduced to 70 per cent. The boy accompanied his father Hilario, a prestigious judo coach and former Mexican national team athlete, to competitions. Back then, he knew the basic movements, but was not inclined to take up the sport.
"When I was a child, I had no idea what the sport could bring me. There was a period when I stopped doing any physical activity and that was a pretty big mistake. But when I was about 13, my mom saw me in bad shape and sent me back to judo," he recalled in an interview with Marca Claro. 
His mother Ana María and his brothers had also practised the discipline; the whole family was confident that it could be an important tool for Sanchez to forge his personality.
Sanchez was discriminated by his peers during his childhood and teenage years. "Primary and secondary school were difficult because of bullying. I was the kid who couldn't even catch a ball, the skinny kid, the short kid. That was me. For me it was either sitting in one place or standing at recess. Now I realise that those incidents had lowered my self-esteem a lot. It was a big change for me when I started playing sports on a regular basis.
"As a child I was completely different from what I am now, physically, emotionally and psychologically. I was very shy, had difficulty adapting and moving because of my vision disability.
"I have been able to overcome that thanks to sport, which has made me develop many skills: balance, perception of things around me, security to move. Judo for me has been a therapy, it has changed absolutely everything. You have to face a person body to body and that is obviously going to form your character, not only inside the tatami (judo mat) but for any other situation."
SUCCESS AFTER SUCCESS
"I knew that judo would help him at school and in life, but I never imagined the magnitude of how far he could go," said Hilario, his father and trainer.
Sanchez won two Paralympic Games golds at Beijing 2008 and Rio 2016, as well as bronze at London 2012 and two world titles. But when asked to choose his greatest sporting achievement, he opts for his gold medal at the Rio 2007 Parapan American Games.
"Because it was my first international event and my first gold medal on the international level. It was what motivated me and what still motivates me to continue," he said.
Eleven years later, Sanchez again emerged triumphant on Brazilian soil, this time at the Paralympic Games. He then took the flight back to Mexico, was invited to several TV shows and enjoyed his newest achievement. But soon a serious question arose: Was all what he had achieved enough, or should he try qualifying for Tokyo 2020?
ENDING ON A HIGH NOTE
"The most difficult thing about judo is that you take your body to the maximum, it is a high-impact sport and injuries are quite common, although the body is developing a superior resistance," the Mexican explained. 
"I've had many injuries over the years, but you enjoy the punches because you enjoy the medals."
The 34-year-old's body is holding up for now. He plans to retire in Japan, precisely the country where judo originated. He knows Mexico will be watching his fights. Apart from another gold, he has a bigger goal in mind: "I want to help kids who are in my situation; for them to know what this sport is about."