Another Grand Slam for Tatyana McFadden?
The US Paralympic champion had time to hit the beach in the Caribbean and reflect midway through her 2014 season.
26 Aug 2014
Imagen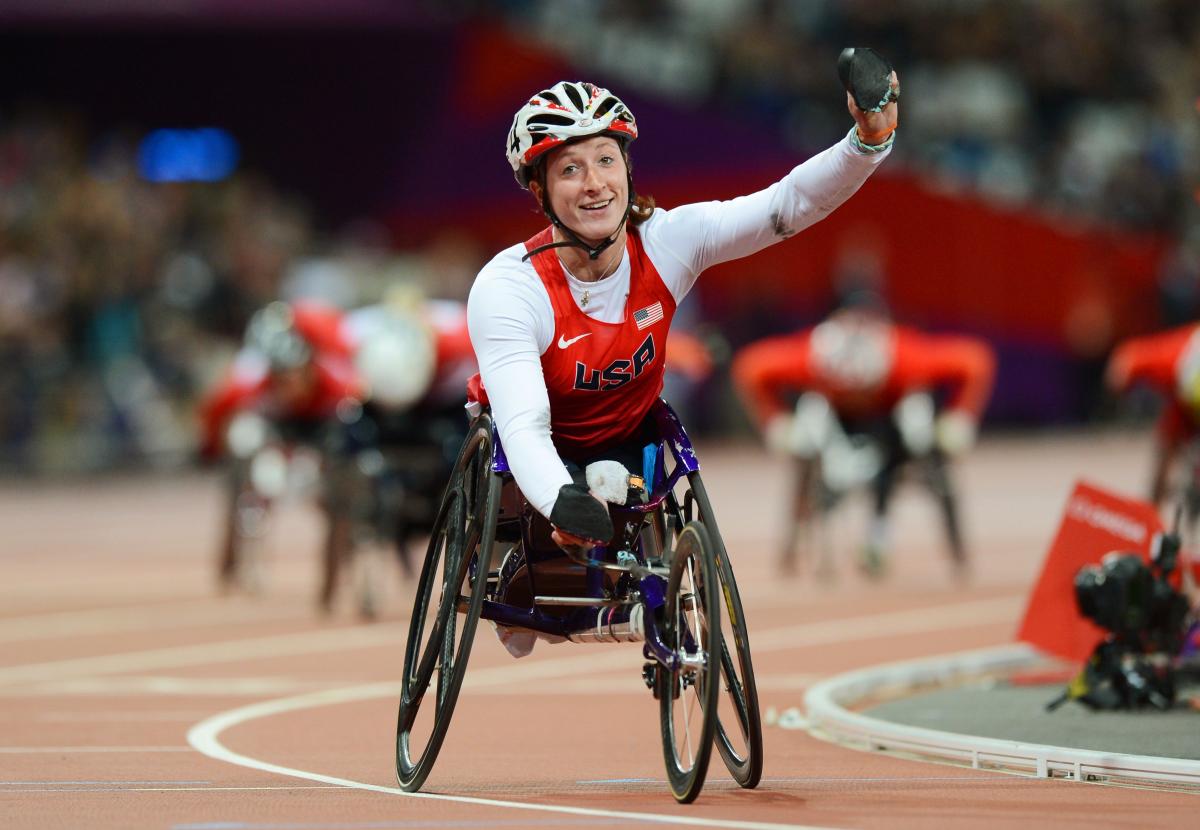 ⒸGetty images
By Stuart Lieberman | For the IPC
Even during her much-deserved time off, McFadden, an 11-time Paralympic medallist, did not sit still.
America's Paralympic superstar Tatyana McFadden finally had the chance to relax following arguably the busiest 12 months of any para-athlete in the world.
Over the last year, she won six world titles on the track, became the first person ever to complete a marathon Grand Slam and captured silver in her Paralympic Winter Games debut in cross-country skiing.
Already halfway to another wheelchair racing Grand Slam this season, McFadden recently spent the early part of August on holiday with her family in St. Maarten, a Caribbean island.
But even during her much-deserved time off, McFadden, an 11-time Paralympic medallist, did not sit still.
She went para-sailing, snorkeling and jet skiing.
And she pondered about what still lies ahead.
"Even though we do not have a major regional or World Championships this summer, I still have three more major marathons and working out preparing for Nordic, so my summer remains busy," McFadden said.
"On top of all of this, I am working on completing my internship at Spaulding Rehabilitation Hospital in Boston for my national certification as a Child Life Specialist."
After Sochi 2014, McFadden returned to the roads to win both the Boston and London Marathons for the second consecutive year. In June, she competed at the US Paralympics Track and Field National Championships prior to setting two new world records in the 1,500m (3:18.73) and 5,000m (11:10.78) T54 distances on the same day at a meet in Indianapolis, Indiana.
McFadden will enter the Chicago Marathon (12 October) and New York Marathon (2 November) tipped to win as she goes for a second consecutive Grand Slam. She will then conclude her season with the Japan Marathon (9 November).
The 25-year-old Russian adoptee is adamant about staying consistent with her fitness, as there are still two years until Rio 2016, and all it takes is one rising star to beat her.
"I always hope for more competitors entering this sport so there will be more athletes coming out in track, as this always helps to grow the sport and of course adds to more elite competition," McFadden said. "With more knowledge of the sport, technology of the chairs and nutrition, you always have to look out for everyone."
Come winter, McFadden plans to switch to the Nordic skiing trails once again, with the 2015 IPC Nordic Skiing World Championships slated to take place in her home country. The Championships are set for 24 January – 1 February next year in Cable, Wisconsin.
"My plan is still to cross-country ski this winter," McFadden said. "It is a great way to cross training and keep up my fitness. Training in altitude makes me stronger. I also love being in the mountains in the winter and hitting the snow with my cross-country skis."
Outside of competition, McFadden is just as busy. She is working with the IPC's International Partner, BP, and the US Paralympics' Gateway to Gold talent identification programme to inspire the next generation.
In early July, she ventured to Cleveland, Ohio – her mother's hometown - with judoka star Dartanyon Crockett for a Gateway to Gold stop.
McFadden and Crockett reached out to 36 young athletes interested in learning about athletics, handcycling, sitting volleyball and rowing.
"This opportunity gave 36 more chances to young children to become the greatest future athletes and possibly Paralympians," McFadden said.
"Personally speaking, I had no idea of the programmes in my community when I was younger, and I had to rely on my parents to search for opportunities for me. Now, with the Gateway to Gold, the word is getting out, and I am thankful to have been involved in helping change the future of young athletes."