Applegate grabs gold in Glasgow
The last day of the 2015 British Para-Swimming International Meet featured podiums for Great Britain, Norway, Canada, Israel, Italy, Singapore, Iceland and Spain.
30 Mar 2015
Imagen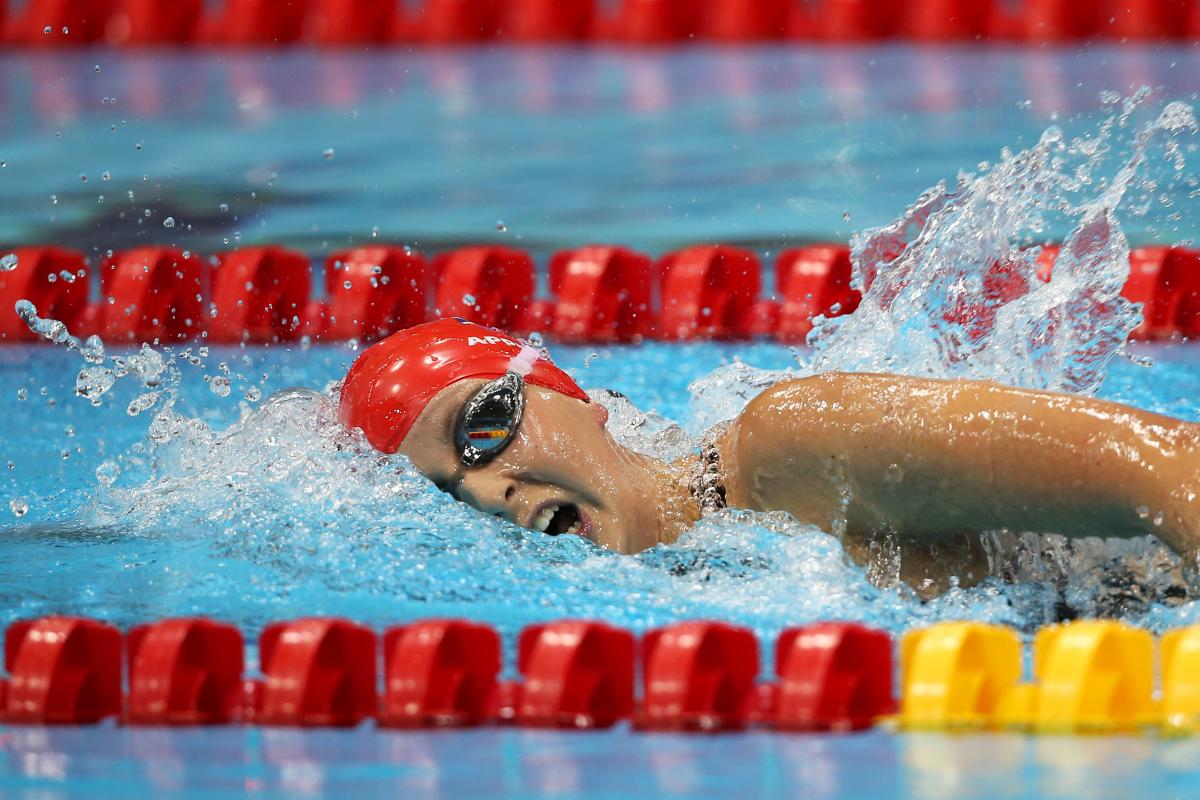 ⒸGetty Images
By British Swimming
Paralympic champion Jessica-Jane Applegate sliced more than a second off her personal best to secure gold in the women's 200m freestyle on the final day of the 2015 British Para-Swimming International Meet in Glasgow, Great Britain, on Sunday (29 March).
Swimmers from around the world have been in action in mixed class events across four days at the Tollcross International Swimming Centre, the same pool that will host the 2015 IPC Swimming World Championships from 13-19 July.
Applegate was out in front from the start and swam a well-paced race to duck under the Worlds selection time in the event.
The S14 swimmer came home in 2:07.33 to take the title on 967 points ahead of Norway's S5 swimmer Sarah Louise Rung (2:54.62, 838 points) and British S14 teammate Chloe Davies who touched in 2:14.03 for 829 points.
"I'm really ecstatic," Applegate said. "I had loads of technical goals from the heats and I've just gone over my swim again and there is so much more to work on.
"I'm really looking forward to the summer, I can't wait to get my head down and train hard. It's really difficult to be out there on your own because when you're next to someone, you know what sort of pace they are doing. So it was hard to go out on my own and I knew if I picked it up for the final 50m I would have a chance."
Israel's Itzhak Mamistvalov (4:59.97)), an S1 athlete, won gold in the men's 200m freestyle with 978 points. Great Britain's S14 Commonwealth silver medallist Tom Hamer swam into second with a new British record time of 1:58.92.
"I am pretty chuffed tonight," Hamer said. "I am so pleased with myself. I'm also happy I went faster in the final because that's what it's there for.
"I've got a PB in every event even in finals. I've been working really hard in the National Performance Centre with Graeme and Rob and I need to keep it up now.
"I love this pool. I love the atmosphere and it holds really good memories."
Iceland's Jon Margeir Sverrisson (1:59.08), also an S14, completed the podium with 952 points.
Great Britain's serial medallist Hannah Russell won her fourth top three finish and second gold of the meet with a season's best in the 400m freestyle.
The S12 swimmer clocked 4:42.96 for 942 points to take gold with Canada's Aurelie Rivard (S10) coming home for silver in 4:40.88 (916 pts) and Ellie Simmonds (S6) joining her British teammate on the podium with bronze in 4:47.37 (855 pts).
Glasgow's own Andrew Mullen also rounded off a successful meet with his second gold in as many nights.
The 18-year old, who won four European S5 golds last summer, added to his 50m butterfly gold from Saturday (28 March) with victory in the 50m backstroke, clocking 38.28 for 764 points.
Spain's M Tajuelo (52.93), an S3, sealed silver and Portugal's S4 swimmer Nelson Lopes, (55.21) bronze.
Beijing 2008 Paralympic S3 champion Pin Yip Xiu (1:01.79, 722 points) finished on top in the women's 50m backstroke, ahead of Rung (46.56, 573 points) and Italy's Ghulia Ghiretti (52.92, 390 points), an S5.
Another British gold game courtesy of Ollie Hynd in the men's 400m freestyle with a time of 4:31.03 and 946 points while fellow S8 athlete Josef Craig won the silver with 883 and a time of 4:37.40. Italian Federico Morlacchi (4:20.62), an S9, rounded off the top three.
British National Performance Director Chris Furber commented: "It's been a great competition in terms of organisation which is a testament to all of the hard work behind the scenes.
"From a performance perspective it has been a real mixed bag. There have been some really exceptional performances from Bethany [Firth], from Hannah [Russell] and the National Performance Centre guys have swum really well.
"Jessica-Jane [Applegate] has made a step forward and I thought that Scott Quin's breaststroke swim was really good. There were also swims where I think athletes need to go back to the drawing board and look back at their training.
"But on the whole the competition has been good. It has been how I expected to be honest and we saw our key athletes really step up at a big meet. We don't have many opportunities to race under pressure and it's good to have athletes that have been a bit fragile before become more resilient at this meet."
The next major stop for swimmers is the 2015 International German Swimming Championships (IDM) in Berlin from 16-19 April, and then onto the 2015 Caixa Loterias Swimming Open Championships in Sao Paulo, Brazil, from 23-25 April.
The 2015 IPC Swimming World Championships will feature around 650 of the world's best swimmers from 50 countries, at the Tollcross International Swimming Centre.
Tickets are available at Glasgow2015.com from 10/15 GBP for heats/finals.