Imagen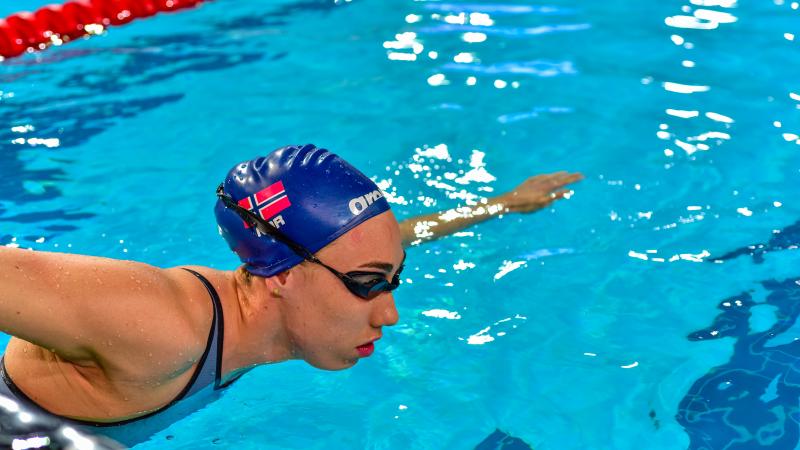 Sarah Louise Rung
Swimming
Rung's first major international competition was the 2009 IPC Swimming World Championships Short Course in Rio de Janeiro, Brazil where she took silver in the 100m freestyle, just one year following back surgery which resulted in damaged nerves.
Formerly a 'hobby swimmer' as her coach Morten Eklund called it, she picked up where she left off in the pool, but this time with a different focus; the focus of an international athlete.
In 2010 she won three gold medals at the IPC Swimming World Championships in Eindhoven, the Netherlands and in 2011 added four further titles at the IPC Swimming European Championships in Berlin, Germany.
At London 2012, her first Paralympics, the S5 swimmer won two gold medals in 50m butterfly and 200m freestyle defeating her biggest rivals Ukraine's Nataliia Prologaieva and Spanish swimming legend Teresa Perales. She took home silver medals from the 200m individual medley and 100m breaststroke.
In a continuation of the form she has experienced in recent years, Rung collected four gold medals and one bronze at the 2013 IPC Swimming World Championships in Monteal, Canada. She repeated that performance in Glasgow, Great Britain, in 2015, adding a silver in the 100m freestyle and winning all of her country's gold medals.
Keen not to disappoint on the European stage, Rung won the same four golds in Eindhoven, the Netherlands, in 2014. Her friendly rivalry with Perales also reached an incredible new height at the 2016 European Open with the pair tying to share gold in the 100m freestyle.
A few months later, Rung left Rio 2016 as Norway's most successful athlete having won two of her country's three gold medals.
Photo Gallery
Imagen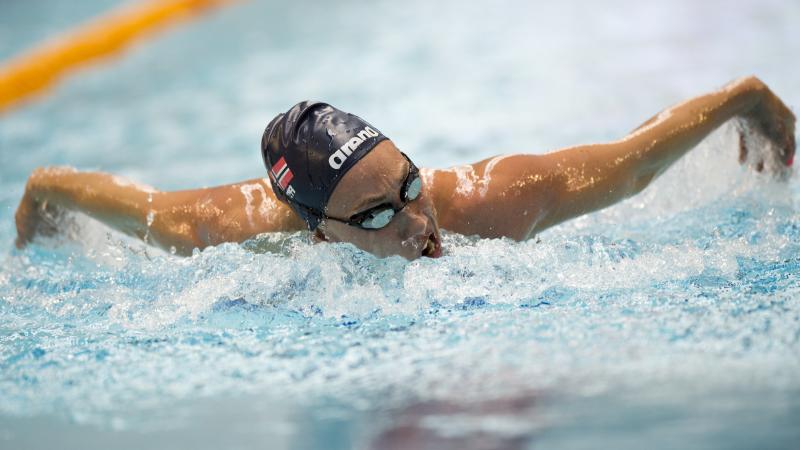 Imagen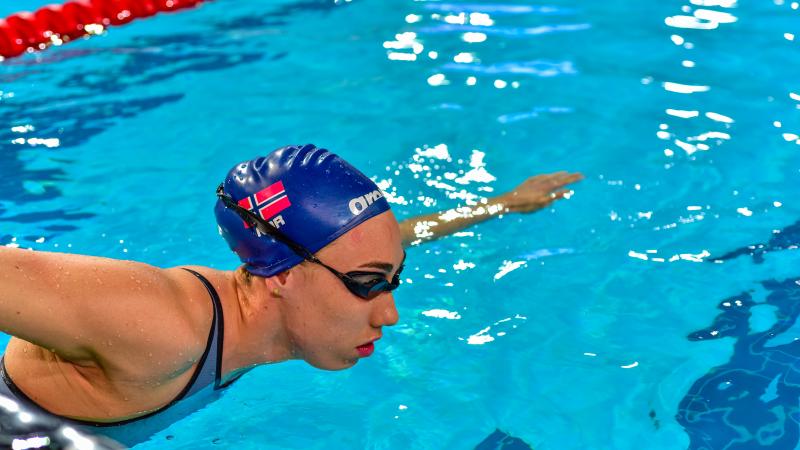 Imagen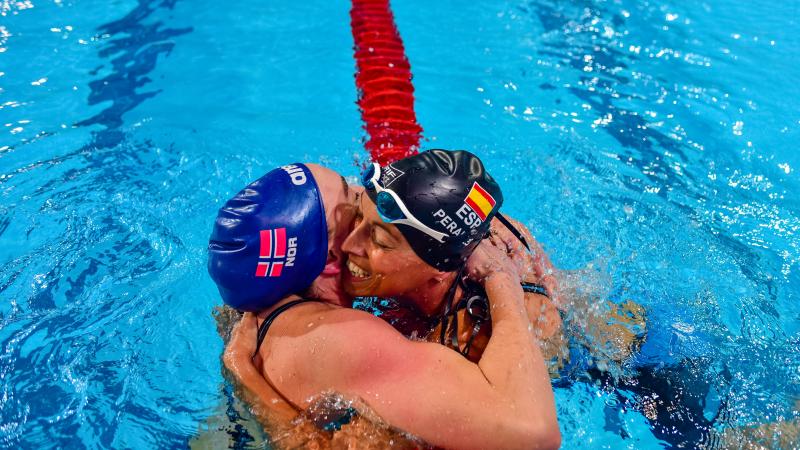 Results
IPC Swimming World Championships Eindhoven 2010 (Eindhoven, Netherlands)

| Event | Medal | Unit | Date | Rank |
| --- | --- | --- | --- | --- |
| Women's 100 m Breaststroke SB4 | | Heat 2 | | 1 |
| Women's 50 m Butterfly S5 | | Final Round | | 1 |
| Women's 50 m Butterfly S5 | | Heat 2 | | 1 |
| Women's 200 m Freestyle S5 | | Final Round | | 1 |
| Women's 200 m Freestyle S5 | | Heat 1 | | 1 |
| Women's 100 m Freestyle S5 | | Final Round | | 2 |
| Women's 100 m Freestyle S5 | | Heat 3 | | 2 |
| Women's 100 m Breaststroke SB4 | | Final Round | | 1 |
2013 IPC Swimming World Championships (Montreal, Canada)

| Event | Medal | Unit | Date | Rank |
| --- | --- | --- | --- | --- |
| Women's 50 m Butterfly S5 | | Heat 2 | 2013-08-12 | 1 |
| Women's 50 m Butterfly S5 | | Final 1 | 2013-08-12 | 1 |
| Women's 100 m Breaststroke SB4 | | Heat 1 | 2013-08-13 | 2 |
| Women's 200 m Freestyle S5 | | Final 1 | 2013-08-13 | 1 |
| Women's 100 m Breaststroke SB4 | | Final 1 | 2013-08-13 | 1 |
| Women's 200 m Individual Medley SM5 | | Final 1 | 2013-08-15 | 1 |
| Women's 200 m Individual Medley SM5 | | Heat 2 | 2013-08-15 | 1 |
| Women's 100 m Freestyle S5 | | Final 1 | 2013-08-17 | 3 |
| Women's 100 m Freestyle S5 | | Heat 2 | 2013-08-17 | 3 |
2015 IPC Swimming World Championships (Glasgow, Great Britain)

| Event | Medal | Unit | Date | Rank |
| --- | --- | --- | --- | --- |
| Women's 50 m Backstroke S5 | | Heat 2 | 2015-07-13 | 2 |
| Women's 50 m Backstroke S5 | | Final 1 | 2015-07-13 | 3 |
| Women's 200 m Freestyle S5 | | Final 1 | 2015-07-15 | 1 |
| Women's 200 m Freestyle S5 | | Heat 1 | 2015-07-15 | 1 |
| Women's 50 m Butterfly S5 | | Final 1 | 2015-07-16 | 1 |
| Women's 50 m Butterfly S5 | | Heat 2 | 2015-07-16 | 1 |
| Women's 100 m Breaststroke SB4 | | Heat 1 | 2015-07-18 | 1 |
| Women's 100 m Breaststroke SB4 | | Final 1 | 2015-07-18 | 1 |
| Women's 200 m Individual Medley SM5 | | Final 1 | 2015-07-18 | 1 |
| Women's 200 m Individual Medley SM5 | | Heat 1 | 2015-07-18 | 1 |
| Women's 100 m Freestyle S5 | | Heat 1 | 2015-07-19 | 1 |
| Women's 100 m Freestyle S5 | | Final 1 | 2015-07-19 | 2 |
Mexico City 2017 World Para Swimming Championships (Mexico City, Mexico)

| Event | Medal | Unit | Date | Rank |
| --- | --- | --- | --- | --- |
| Women's 100 m Freestyle S5 | | Final 1 | 2017-12-02 | 1 |
| Women's 100 m Freestyle S5 | | Heat 2 | 2017-12-02 | 1 |
| Women's 100 m Breaststroke SB4 | | Final 1 | 2017-12-02 | 9999 |
| Women's 50 m Butterfly S5 | | Heat 1 | 2017-12-03 | 2 |
| Women's 50 m Butterfly S5 | | Final 1 | 2017-12-03 | 2 |
| Women's 50 m Backstroke S5 | | Heat 1 | 2017-12-04 | 4 |
| Women's 50 m Backstroke S5 | | Final 1 | 2017-12-04 | 3 |
| Women's 200 m Freestyle S5 | | Final 1 | 2017-12-06 | 2 |
London 2019 World Para Swimming Championships (London, Great Britain)

| Event | Medal | Unit | Date | Rank |
| --- | --- | --- | --- | --- |
| Women's 100 m Breaststroke SB5 | | Heat 1 | 2019-09-09 | 2 |
| Women's 100 m Breaststroke SB5 | | Final 1 | 2019-09-09 | 5 |
| Women's 100 m Freestyle S6 | | Heat 2 | 2019-09-10 | 9 |
| Women's 200 m Individual Medley SM6 | | Heat 2 | 2019-09-11 | 9 |