Athletics Ones to Watch revealed
With just 50 days to go until the European Championships in Swansea, a list of 33 athletes from Europe and around the world has been announced.
30 Jun 2014
Imagen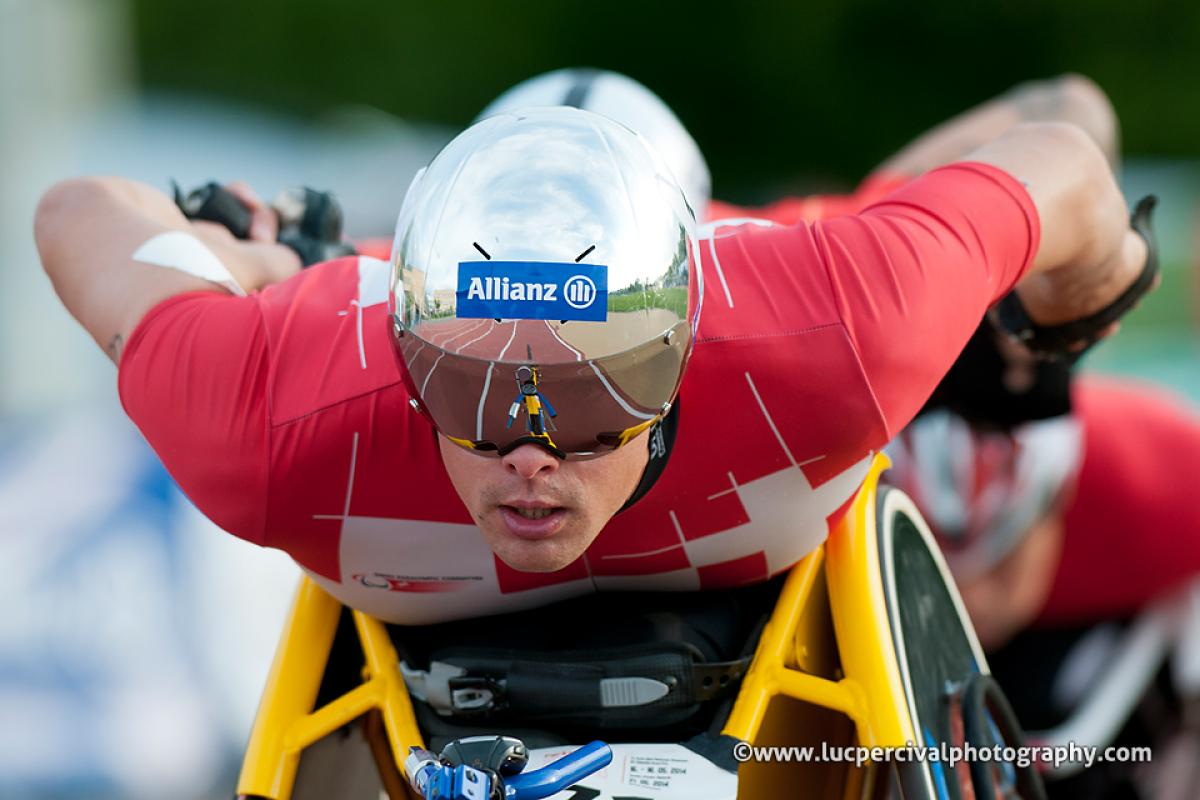 ⒸLuc Percival
With just 50 days to go until August's European Championships, IPC Athletics has revealed a list of 33 track and field stars to watch out for over the next 12 months, punctuated by Europe's best athletes and their key rivalries.
A dedicated video animation of the medals athletes will be aiming to capture from 18-23 August has also been launched to mark the milestone at http://youtu.be/hrJOq7eLLh0
Those on the complete list hold a total of 61 world and 108 Paralympic titles and are also likely to feature at October's Incheon 2014 Asian Para Games, the Toronto 2015 Parapan American Games and the Doha 2015 IPC Athletics World Championships.
Full biographies can be found by clicking here.
Europe
Mandy Francois-Elie, France, T37
Francois-Elie grabbed the opportunity to shine on home soil at the 2013 IPC Athletics World Championships in Lyon, France, collecting women's 100m and 200m gold medals in front of a rapturous packed stadium to follow-up from her 100m Paralympic title a year earlier.
Marie-Amelie Le Fur, France, T44
Former sprint world champion Le Fur will be back on the track and field at the 2014 Euros looking to avenge her Worlds 100m defeat to the Netherlands' Marlou van Rhijn and Iris Pruysen in the long jump.
Heinrich Popow, Germany, T42
The men's 100m world and Paralympic champion's ongoing rivalry with Australian Scott Reardon is one of the highlights on the track. In Swansea, Popow will be showing his form ahead of the 2015 Worlds for their next meeting at a major international.
Hannah Cockroft, Great Britain, T34
'Hurricane Hannah' started her 2014 season with two new world records in the 100m and 200m, to add to her four world and two Paralympic titles from the last three years.
Aled Davies, Great Britain, F44
A Swansea 2014 Ambassador, Paralympic and world champion Davies is the home favourite heading into the Euros and aims to break the discus and shot put world records after already lowering the men's discus mark in May.
Jonnie Peacock, Great Britain, T44
Being a sprint runner in one the most competitive fields has not phased the men's 100m Paralympic and world champion, and Peacock will be right at home once again at Swansea 2014 searching for his next major title.
David Weir, Great Britain, T54
Multiple Paralympic champion Weir returned to the track in 2014 to renew his rivalry with Switzerland's multi world champion Marcel Hug but remains unbeaten at a major Championships.
Martina Caironi, Italy, T42
The 24-year-old women's 100m world and Paralympic champion is also a force to be reckoned with on the field, taking the long jump world title at Lyon 2013 ahead of Germany's now world record holder Vanessa Low.
Marlou van Rhijn, the Netherlands, T43
The 100m and 200m world champion 'Blade Babe' has been looking to lower her own 100m world record all season, but has been denied by poor weather conditions. Swansea 2014 will be one of her last chances of the season to hit her goal.
Jason Smyth, Ireland, T13
After bursting onto the scene in 2006 to win his first World Championships medal, 26-year-old Smyth has now picked up a total of four world and four Paralympic titles in the 100m and 200m.
Evgenii Svetsov, Russia, T36
Having only sprinted at an international level for two years, the 25-year-old has already made his mark, winning triple gold at London 2012 and obliterating the 100m world record on his way to three world titles at Lyon 2013.
Andriy Vdovin, Russia, T37
After achieving two world titles in world record times, 20-year-old sprinter Vdovin heads to Swansea 2014 as the man to beat in the 100m and 200m.
Marcel Hug, Switzerland, T54
Hug's British rival David Weir now describes Hug as the athlete to beat in the men's wheelchair races after the 'Swiss silver bullet' won five world titles at Lyon 2013. The pair did not meet in Lyon but will go the distance once again in Swansea.
Americas
Terezinha Guilhermina, Brazil, T11
The charismatic 10-time world gold sprint medallist can be recognised on track by her distinctive eye mask and often colourful socks. Rio 2016 would be a much less colourful affair without the 100m and 200m Paralympic champion.
Veronica Hipolito, Brazil, T38
On her international debut at Lyon 2013, the 18-year-old stormed to gold in the 200m. A fascinating rivalry is emerging between her and British 100m world champion Sophie Hahn ahead of the 2015 Worlds and Rio 2016.
Yohannson Nascimento, Brazil, T46
After creating one of the most memorable race finishes ever at a Paralympic Games by courageously limping over the 100m finish line after pulling his hamstring, Nascimento returned in Lyon 2013 to claim 200m gold to add to his Paralympic title.
Alan Oliveira, Brazil, T43
As the fastest leg amputee on the planet, the Rio 2016 home sprinter lit-up the track at the 2013 Worlds to claim three gold medals, and secured his global status as one of the world's most recognisable athletes.
Brent Lakatos, Canada, T53
Already in record-breaking form in 2014, the 34-year-old picked up his first individual world titles in 100m, 200m and 400m at Lyon 2013.
Yunidis Castillo, Cuba, T46
Her country's most successful Paralympian, the 'queen of speed' completed the same hat-trick of victories in the 100m, 200m and 400m from London 2012 in Lyon.
Richard Browne, USA, T44
The latest in a long line of talented blade runners to come out of the States, Browne has his eye on Britain's world and Paralympic champion Jonnie Peacock after breaking his 100m world record in the semi-final at Lyon 2013, but suffering an agonising defeat in the final.
Jeremy Campbell, USA, F44
History-maker Campbell became the first para-athlete to throw a discus over 60m before going on to win men's gold at London 2012 and the 2013 Worlds.
Raymond Martin, USA, T52
At just 18-years-old, Martin became a quadruple Paralympic champion on his debut at London 2012, going on to add the 1,500m world title to his collection at Lyon 2013 to claim five gold medals out of five across sprint and middle distances.
Tatyana McFadden, USA, T54
McFadden's long list of athletics achievements are most recently highlighted by six gold medals from the women's 100m-1,500m at the 2013 Worlds and becoming the first athlete ever to complete a marathon Grand Slam.
Jarryd Wallace, USA, T44
The men's 200m T44 world record holder and world champion came of age at Lyon 2013, not only taking the gold but lowering the world mark twice in the heats and finals.
Africa
El Amin Chentouf, Morroco, T12
Long distance runner Chentouf's compelling rivalry with Tunisia's Abderrahim Zhiou saw the Moroccan come out on top at Lyon 2013 with three men's world titles.
Johanna Benson, Namibia, T37
The first ever Namibian athlete to win a gold medal at an Olympic or Paralympic Games, Benson is a national hero and never strays far from the podium in her battle with France's Mandy Francois-Elie.
Ilse Hayes, South Africa, T13
The 28-year-old has not missed an opportunity to win a long jump Paralympic or world title since her first Paralympics in 2008 and is also a regular 100m podium finisher.
Walid Ktila, Tunisia, T34
The double Paralympic champion excelled across distances at Lyon 2013 to finish with a total of four gold medals, adding to his 100m and 200m titles from London 2012.
Abderrahim Zhiou, Tunisia, T12
Zhiou is one of the best visually impaired middle and long distance runners in the world having won three Paralympic and five men's world titles since 2008.
Oceania
Evan O'Hanlon, Australia, T38
Reigning double Paralympic and triple world champion O'Hanlon is the current world record holder in the 100m and 200m, making him one of the fastest para-athletes in the world.
Scott Reardon, Australia, T42
Reardon and German rival Heinrich Popow were so determined to beat each over 100m at the 2013 Worlds, that the pair finished the race in a dead-heat and were both awarded gold – the first time in IPC Athletics history.
Asia
Na Mi, China, T37
Mi shows little sign of slowing down heading into the 2015 IPC Athletics World Championships in Doha, Qatar. As the reigning world and Paralympic women's discus and shot-put champion, the 28-year-old is also the holder of both world records.
Javad Hardani, Iran, F38
Double men's discus Paralympic champion Hardani is an accomplished thrower who will be one of the athletes to beat at October's Asian Para Games in Incheon, South Korea.
More information about Toronto 2015 is available at: www.toronto2015.org
Related Videos