Australia confident in defending Paralympic title
The reigning Paralympic champions are not worried about their drop in the IWRF rankings.
21 Feb 2016
Imagen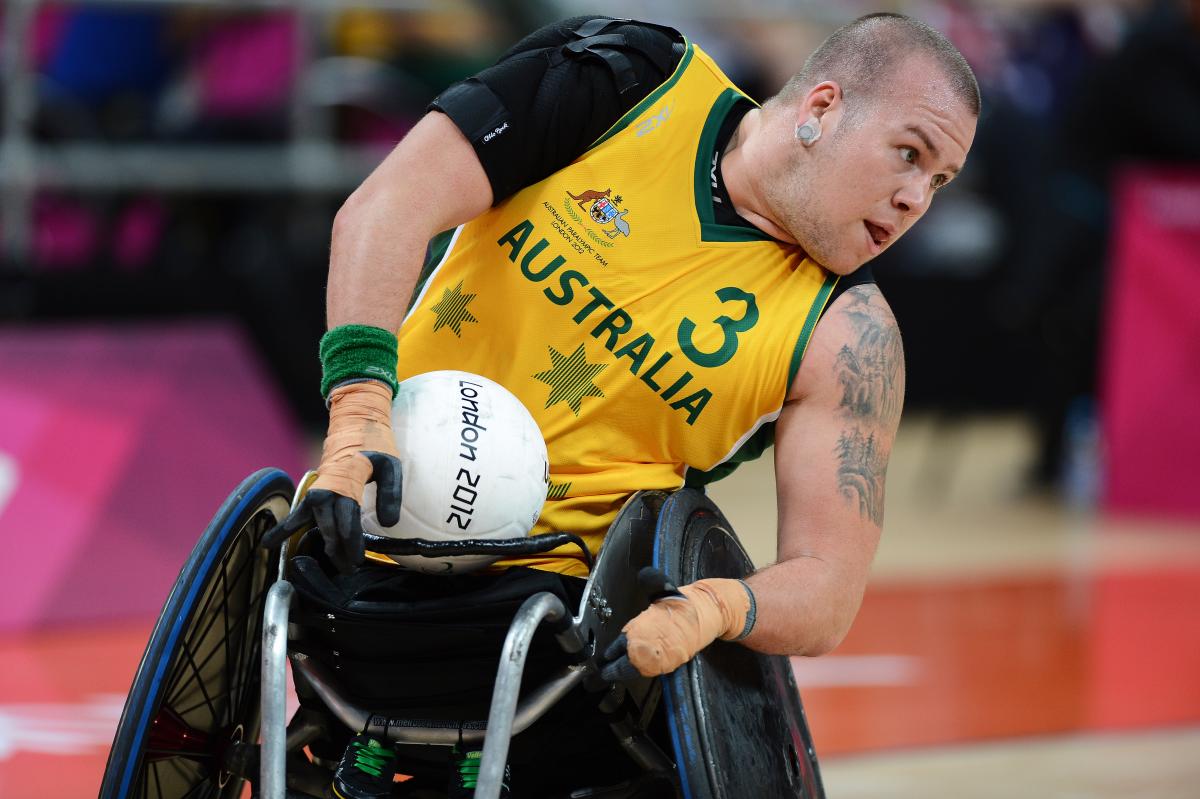 ⒸRyley Batt
By Beau Greenway | For the IPC
"The Rio Paralympics is the one we want to win."
Australia may have dropped three spots in the International Wheelchair Rugby Federation (IWRF) world rankings from last year. But they are not writing themselves off from gold at the Rio 2016 Paralympic Games.
Star high-pointer Ryley Batt is feeling pumped and ready to take on his fourth Paralympic Games, where he will yet again play a key role in Australia's line-up.
Batt admitted losses to the USA at the World Wheelchair Rugby Challenge and Japan at the IWRF Asia-Oceania Championships hurt the team. But he said those were not target events for the Australians.
"The Rio Paralympics is the one we want to win," Batt said.
"I think it was probably a good thing having a couple of losses because from my experience you learn more from a loss than a win, and it makes you hungrier.
"I couldn't care less if we won every game this year, as long as we win when it matters and that's the Paralympic Games."
Batt will be 27-years-old by the time Rio 2016 rolls around and is still one of the youngest members on the team despite his wealth of experience at the top level.
"I think I was probably too young at Athens [2004] and I couldn't really take it all in," he said. "We were happy with a silver at Beijing [2008], and London [2012] was an unreal experience and was a fairytale for us. Let's hope it's the same at Rio.
"We never want to lose, but I think most teams will be out there trying some new players and line-ups and fine tuning things before the Paralympics."
The Australian team has been back in full training for a few weeks, and Batt's preparations have been aided by teammate Cameron Carr, who now trains alongside him in his hometown of Port Macquarie.
Batt said consistency between tournaments and training camps will be important in helping the team feel polished for Rio 2016, something that was an issue last year.
"This year is the big year and we want to be polished and have that sense of awareness of where everyone is on the court, which comes with lots of game time and team bonding," Batt said.
Additionally, Australia appears to have more depth in their line-up with players who can come off the bench.
"I'm pumped and looking forward to getting together with the team and seeing what everyone has done over the offseason and how we all gel together," he said.
Australia will be travelling to Rio for the Test Event (26-28 February), the Japan Para Games in May and the Canada Cup in June – all where Australia can prove that their No. 4 status holds no meaning heading into September's Paralympic Games.
"It's probably going to be the hardest challenge in our careers, but that's what we are gunning for and we will be disappointed if we don't win gold," Batt said.
"It's going to be a very interesting tournament and I think there is going to be lots of upsets and lots of teams going home disappointed, but at the end of the day that's sport."
The IPC's Global ATR is Jet Set Sports, and Rio 2016 tickets and packages can be purchased on the CoSport website.
Residents of Brazil can buy 2016 Paralympics tickets directly from the Rio 2016 website.