Big Read: Women in wheelchair rugby
Four different stories of women who have taken on the heavy-hitting sport.
31 Jan 2016
Imagen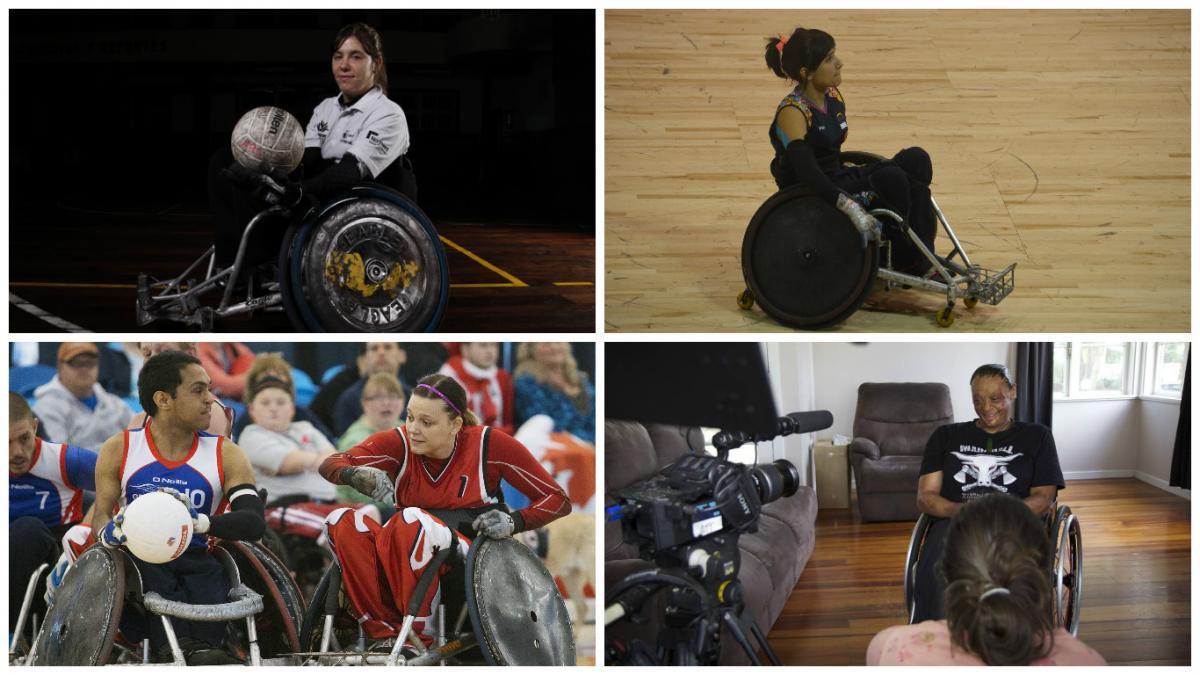 ⒸKevin Bogetti-Smith, NPC ARG, NPC Colombia, www.attittudelive.com
By Hernan Goldzycher | For the IPC
It is often forgotten that wheelchair rugby is a mixed-gender sport. Men have dominated the rosters. But that has not discouraged four particular women from playing the sport.
Such is the case of Miranda Biletski. While watching TV at a hospital in Canada where she was undergoing rehabilitation, Biletski came across a documentary called "Murderball," centred around the Canadian-USA wheelchair rugby rivalry ahead of the Athens 2004 Paralympics.
Now, she is part of the Canadian national team ranked No. 1 in the world and seeking their first Paralympic gold medal at Rio 2016.
"Rugby just caught my eye more than any other sport," Biletski said.
In 2007, at the age of 17, she started playing for her local team. Two years later, she was representing her country. She is the only female on the national team.
"The international stage for wheelchair rugby is very much accepting of female athletes," Biletski said. "In my opinion, there are more hurdles to overcome at club levels as a female athlete."
"My teammates definitely do not hold back with the hits when we train and practise. I think sport and fitness are important for everyone regardless of its type of physical limitations. That is something that is really evident with rugby. It is a sport filled with a lot of really amazing athletes [who] lead normal productive lives. They don't expect any handouts or special treatment."
Miranda was part of the team during the 2010 and the 2014 International Wheelchair Rugby Federation (IWRF) World Wheelchair Rugby Championships, taking the silver medal in the latter.
"Rugby has taught me to have higher expectations in all the areas of my life," she said. "[It] has given me the confidence to stand up for myself and prove people wrong when they underestimate me."
Canada, the birthplace of wheelchair rugby, is among the leading nations in the sport. With the Paralympic Games to be staged in Rio de Janeiro in September, the sport is expected to get a boost in Latin America.
Daniela Luchina played an important role in getting the ball rolling in Argentina. After years of swimming, Luchina switched to wheelchair rugby in 2008 and continued until 2013.
"I needed a change after eight years of swimming," Luchina said.
Luchina helped build the first national team in Argentina in 2008. They took third at the Buenos Aires 2009 IWRF Americas Zone Championship and qualified for the Vancouver 2010 IWRF World Championships. Luchina said at first, men were hesitant when playing against her.
"Men were a bit afraid of hitting me hard at the beginning, but then they got used to playing with me with a lot of friction," Luchina said.
Luchina, who is currently responsible for the swimming committee at Argentinian National Paralympic Committee (NPC), said that a woman needs "good attitude and passion" to practise wheelchair rugby.
"You learn a lot about life values through sport. You learn to share, to experience a strong team spirit and warm fellowship, and you make lots of friends from around the world," Luchina said.
Colombia has also seen development in the sport. At the Toronto 2015 Parapan American Games, which served as the Rio 2016 Paralympic qualifying event for the Americas zone, Colombia left as the surprise bronze-medal winner, defeating Brazil 50-48.
Yeny Paola Martinez was part of that team.
The 22-year-old speed lover was in a motorcycle accident that led to her becoming a wheelchair user. She kept looking for an activity that could make her feel the adrenaline she craved. She found wheelchair rugby 18 months ago.
"Thanks to wheelchair rugby I have learned to be independent," Martinez said. "After the accident, I thought I was useless and could not be myself anymore. My mom used to help me with everyday things. However, thanks to sports I have gained strength and now I try to do everything by myself."
After some months playing for a local team, she was called up to the national squad. She was the only female player in the wheelchair rugby tournament at Toronto 2015.
"I felt proud of being part of that team and it was great to feel such a good vibe while playing this sport. I hope many more women can have the same experience in the future," she said.
"There are many women who become wheelchair bound and remain depressed at their homes," Martinez said. "They believe life is over. But when they get to know more about sports and start practising them, they see how wonderful they are for overcoming difficult moments and getting stronger."
For New Zealand's Maia Amai, playing the sport was important in building self-confidence. Scars on her face and body were the result of a car fire she survived when she was only 18-months-old. She got a spinal infection while undergoing rehabilitation at the hospital after the accident and left her legs paralysed..
She started training four years ago, after a player of the national team saw her practising wheelchair basketball and thought Amai would be good at wheelchair rugby, too.
Amai became the lone female member of the national team, known as the New Zealand Wheel Blacks.
New Zealand, ranked No. 10 in the world, is in a competitive region with Australia and Japan the top nations in the Asia-Oceania zone. But New Zealand's participation at the 2015 BT World Wheelchair Rugby Challenge gave international experience that will go a long way towards expanding the sport's reach not just around the world, but across genders.
"Playing wheelchair rugby is so much fun," Amai said. "I would definitely suggest a woman to start playing it. Besides, we need more women in this sport."
To find out more about wheelchair rugby, visit the IWRF's website.