Australia Names Paralympic Wheelchair Tennis Team
Australia's Daniela Di Toro, the only player on the international circuit to have beaten current women's singles champion, Esther Vergeer, has been selected for the 2012 Australian Paralympic Team
21 Jun 2012
Imagen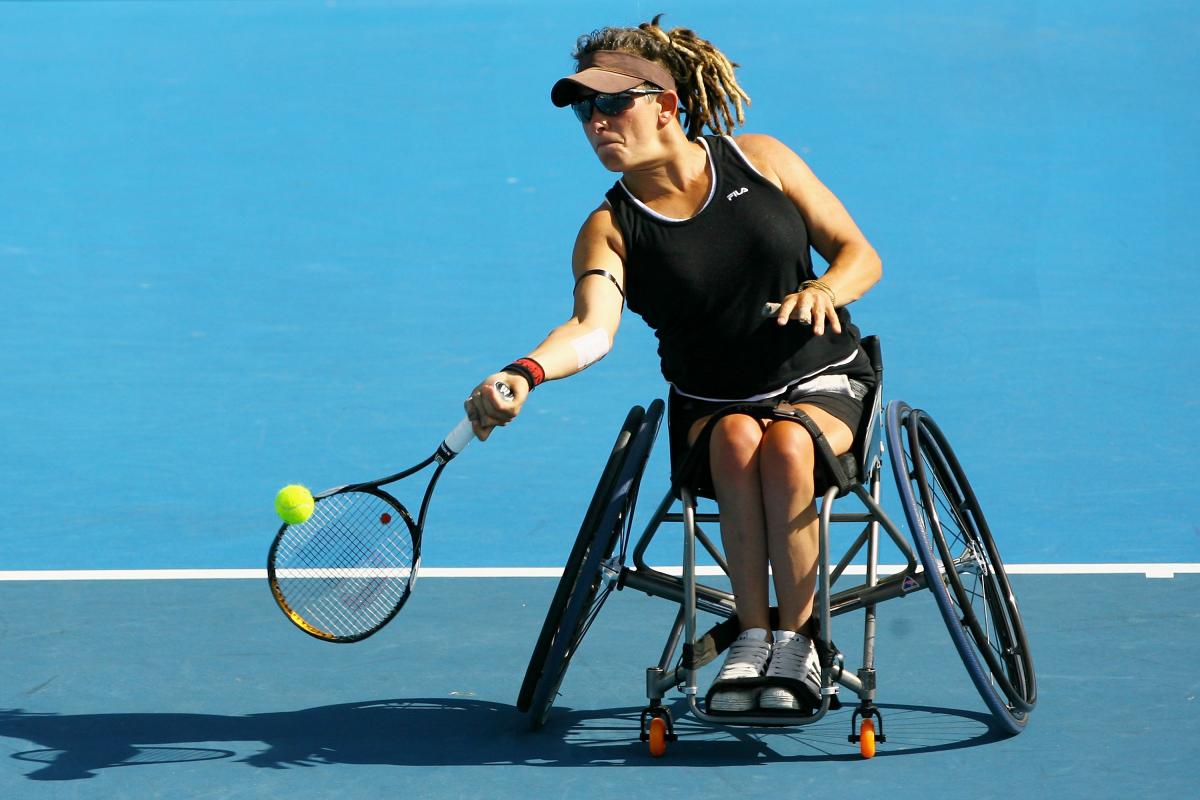 ⒸGetty Images
Australia's most experienced wheelchair tennis player Daniela Di Toro is set to compete at her fifth Paralympic Games after she was named on the Australian Team for London 2012 on Thursday (21 June).
With less than 70 days to go before the Games' opening on 29 August, the four-strong wheelchair tennis team is the 11th sport of 13 to be selected to the 2012 Australian Paralympic Team by the Australian Paralympic Committee (APC).
Dual Paralympian Ben Weekes and newcomers Adam Kellerman and Janel Manns will join Di Toro in London for what is expected to be the toughest wheelchair tennis competition ever seen at a Paralympic Games.
Australia has won nine medals in wheelchair tennis at the Paralympic Games – one gold, five silver and three bronze – since it was introduced at Barcelona 1992. Australian Paralympic Committee CEO and 2012 Team Chef de Mission Jason Hellwig believes the team is capable of adding to the tally in London.
"Wheelchair Tennis is one of the most exciting sports on the Paralympic program, for the players as well as the spectators, and the quality of competition is exceedingly good," Mr Hellwig said.
"We have a good mix of experience on this team, with half heading to their first Paralympics while Ben Weekes and Dani Di Toro have remained in top form in order to have another bite at the cherry.
"Australia hasn't won a gold medal in tennis since David Hall in Sydney and we would really love to see another gold won by an Australian."
Ranked number seven in the world, Di Toro stands as Australia's strongest medal chance in the women's singles and doubles events but will need to overcome the dominance of Dutchwoman Esther Vergeer, who is looking to extend her 450-plus match winning streak.
As the only player on the current international circuit to have ever defeated Vergeer, Australian Wheelchair Tennis Head Coach Greg Crump believes Di Toro is capable of doing it again.
"Dani is in the top eight in the world so she is looking good and I think she'll be at the pointy end of the competition in London," Crump said.
"She isn't there to make up the numbers, she is there to win and compete against the best in the world. She believes she can beat the best in the world and she wouldn't be able to do it unless she believed."
Twenty-seven-year-old New South Wales athlete Ben Weekes is gearing up for his third Paralympic Games and is looking to draw upon his Games experience, which Crump feels will be critical in London.
"In Beijing he had a good draw and he didn't do as well as he could have so that has been hanging over him," Crump said.
"He is preparing to ensure he is in the best possible shape and I think he will be ready to go come London."
As will 21-year-old Adam Kellerman who will make his Paralympic debut after five solid years of training towards his goal. Since dedicating himself full time to tennis this year, Kellerman has moved up 30 places in the world rankings and has no plans of slowing down.
"He is a pretty confident man, he is a tough competitor and he loves to win," Crump said.
"He is very driven and is comfortable playing against the bigger players in the world so I think he will embrace the Paralympics."
Port Macquarie's Janel Manns will also compete at her first Paralympic Games after trading in Wheelchair Basketball for tennis in 2005. Currently ranked 39 in the world, Manns will join forces with Di Toro in the women's doubles as well as her own singles competition.
"Janel has been great in the prelude to the 2012 Games and she has definitely earned her spot," head coach Crump said.
"She is a talented player and should make the most of her first Paralympic experience."
Wheelchair Tennis is open to athletes with a physical disability and follows the same rules as able-bodied tennis, with the sole exception that the ball is allowed to bounce twice. Athletes play in singles and doubles events with the first to win two sets declared the winner.
Wheelchair Tennis at the London 2012 Paralympic Games takes place from 1-8 September at Eton Manor on the Olympic Park.
Related Images
Related Videos