Australia's Cartwright jumps for joy
During the Athletics morning session of Day 4 of London 2012, Australia's Kelly Cartwright won gold in the long jump F42/44.
02 Sep 2012
Imagen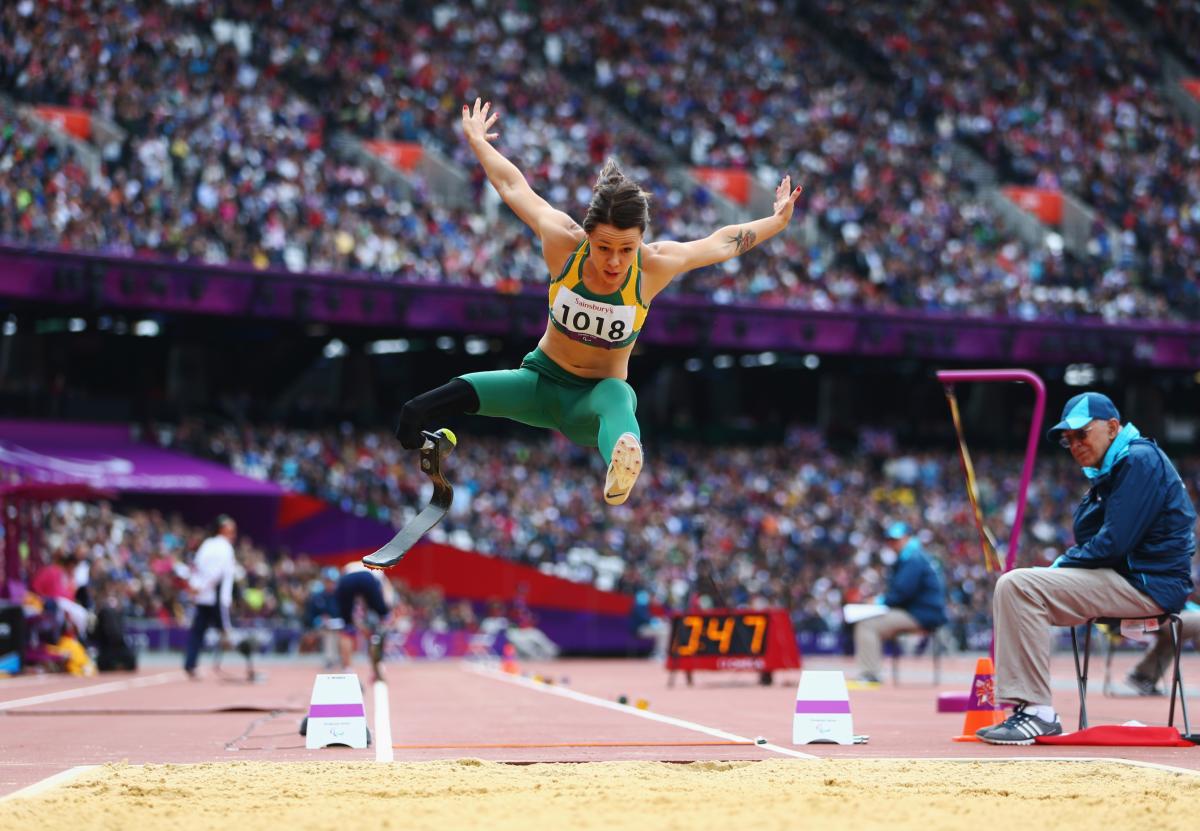 ⒸGetty Images
"I was coming in ranked in the top few and I wanted to come out and do well, and I did, and I can't even express how happy I am and how relieved I am at the same time."
Kelly Cartwright of Australia leaped to the top of the podium in the women's long jump F42/44 to collect gold on the third day of Athletics at London 2012 with a world-record distance of 4.38m.
The defending champion beat off competition from Great Britain's Stef Reid who set a new Paralympic record for the F44 classification with a jump of 5.28m but was seven points short of the 23-year-old Australian.
Following the final, Cartwright said: "I was really nervous. I went to Beijing but this is a whole different game for me. I was coming in ranked in the top few and I wanted to come out and do well, and I did, and I can't even express how happy I am and how relieved I am at the same time.
"It was really tough because being in a combined class, you've got to look at the points, it's not just the distance. Some of those girls jumped so far and so well, it was one of the toughest competitions I've had."
It was a closely fought battle in the women's shot put F35/36 final, with the world record being reset four times by the three top athletes. The lead constantly changed between Qing Wu, Jun Wang and Mariia Pomazan, each responding and furthering their distances with each throw.
Ukraine's Pomazan made certain she collected the gold medal this time after being wrongly awarded the top place in the discus on Friday and finished with a world-record distance of 12.22m (1062 points), six points ahead of Jun Wang of China.
The patriotic crowd celebrated the success of Aled Davies of Great Britain who won the men's discus throw F42 final to add a gold medal to the bronze one he won in the shot put final.
Constant cheers rotated around the stadium following Great Britain's Shelly Woods in the women's 5,000m T54 final. She made her move with two laps to go but only managed eighth position just in front of current world-record holder Diane Roy of Canada.
Switzerland's Edith Wolf, the quickest qualifier for the event, was the eventual winner of the gold medal with USA's Shirley Reilly in silver and Christie Dawes of Australia taking bronze.
Tanja Dragic of Serbia reset her own world record in the women's javelin throw with a distance of 42.51 to secure gold, while Russia's Anna Sorokina won silver and Natalija Eder of Austria took bronze.
After losing the lead in the last 50m of the men's 400m T38 heat to finish fourth, Australian athlete Tim Sullivan watched the subsequent heat in suspense but breathed a sigh of relief to learn he qualified as one of the fastest losers. Abbes Saidi of Tunisia qualified at the top, closely followed by Wenjun Zhou of China.
Brazil could dominate in the women's 200m T11 final as Terezinha Guilhermina sped through as the quickest from the semi-finals. Joining her as the fastest from the second semi-final is China's Juntingxian Jia along with Brazilians Jerusa Geber Santos and Jhulia Santos.
Qualifying at fastest for the men's 100m T36 final with a new Paralympic record time of 12.11 was Russia's Evgenii Shvetcov, closely followed by Ben Rushgrove of Great Britain. USA's Raymond Martin also broke a Paralympic record (16.79) to finish the fastest in the heats of the men's 100m T52 with USA teammate and current world record holder Paul Nitz finishing next fastest.
In the women's 100m T37 heats, Mandy Francois-Elie of France and Germany's Maria Seifert qualified with the joint fastest time of 14.30 ahead of the final.
Amin Chentouf El of Morocco finished comfortably ahead in the first heat of the men's 1500m T13 heats with a personal best time of 3:52.77 while Kenya's David Korir set a Paralympic record for T13 with a time of 3:52.96 to finish second fastest.
Brent Lakatos of Canada generated a personal best of 49.46 to qualify in the top spot ahead of Australian rival Richard Coldman in the men's 400 T53 heats.
Assia El Hannouni of France also ran a personal best (55.04) to take the top qualifying spot in the women's 400m T12 heats.