Australian Cattle Farmer on Target for London
Ashley Adams is balancing both the life of a Queensland countryman and a Paralympic shooter heading into London 2012.
10 Apr 2012
Imagen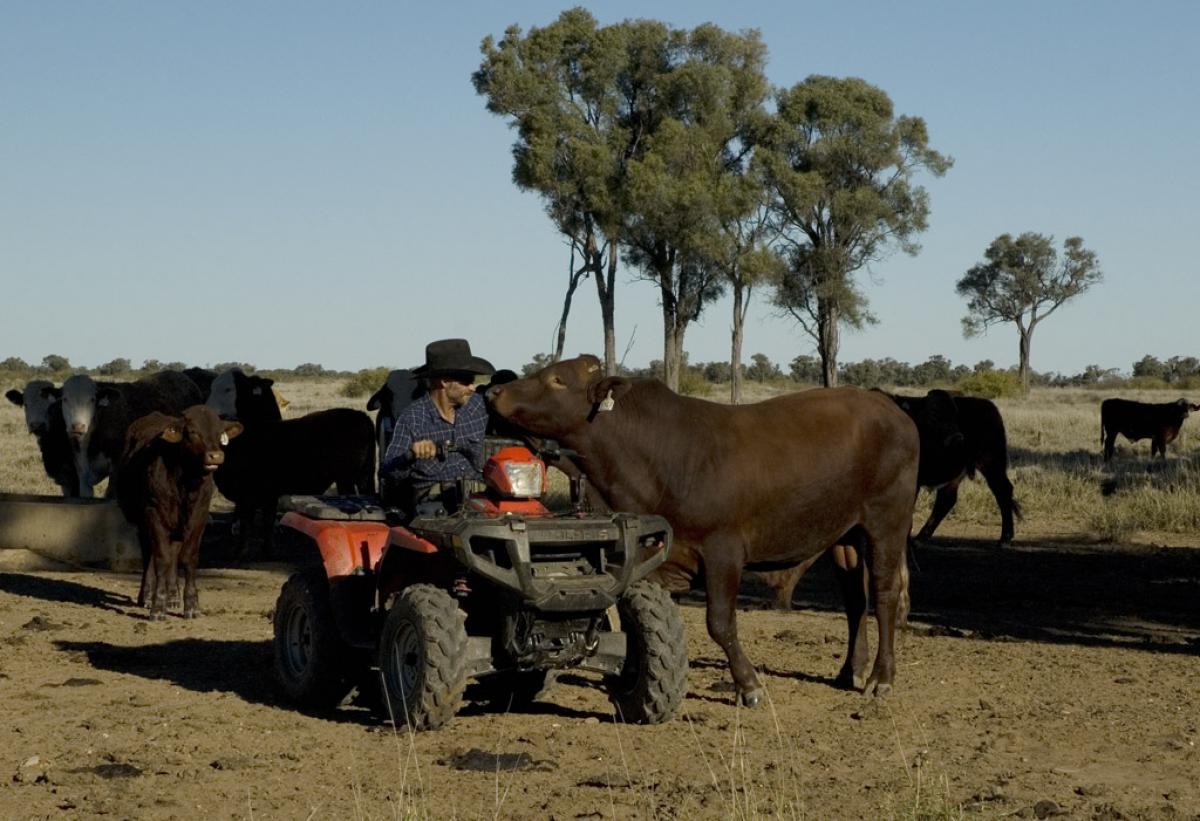 ⒸAshley Adams
By Rebekka Wake
"When I lie on the ground, there is no difference between a person who has a broken back like me, and an able-bodied person."
This article was submitted by Rebekka Wake of the Australian Paralympic Committee.
From his laidback, laconic attitude to his notably Australian drawl, Ashley Adams is a Queensland countryman through and through.
On a property in Blackall, approximately 1,000 km west of Brisbane, Adams is at ease on his 64,000 acre cattle farm, speaking frankly about life on the land, his business and his sport.
But Adams is not your everyday farmer. His easy-going nature masks the enormous achievements of a man who is not only one of Australia's leading cattle breeders but is also one of Australia's greatest international shooters.
What makes Adams's story all the more unique is that he does all this from a wheelchair.
In 1982, as a 26-year-old full of adrenaline and bravado, Adams was racing his motorbike in a local competition in Blackall when he came off his bike and broke his back, paralyzing him instantly.
"I just remember when I woke up on the ground, I was in trouble," Adams said. "That was it.
"That was the start of the process of a different life. I knew what had happened because I'd always been with animals and I knew what I had done. I couldn't feel my legs or anything."
Adams, who at that stage owned part of his family cattle property, spent six months in rehabilitation unsure of what life would be like when he returned to the farm.
"I knew I could do things, I just wasn't sure what," he said.
"One bloke who helped me very much was a man who was the oldest living para(plegic) in Australia and he gave me a few words on how to live. And I still live by some of the things he told me."
A passion on the range
Now 56, Adams is well-known in both the beef community as an industry leader in genetic cattle breeding through his trademark TendaBeef product, as well as international shooting circles as Australia's top- ranked Paralympic shooter in the 50m Free Rifle event.
With firearm experience from living on the land and an occasional pistol shooter at the local pistol club, in 1993 Adams tried his hand at rifle shooting, for which he found he had a natural ability.
"They gave me a rifle to try at this competition and within a year I was in the top shooting grade. I've got a natural ability to know how to use a rifle," he said.
Since then, through the support of the Australian Paralympic Committee, Ashley has competed at every Paralympic Games since the Atlanta 1996 edition.
At the Athens 2004 Games, Adams's steady hand, keen eye and quick reflexes put him on the medal podium with a silver and bronze in the Air Rifle Prone and Air Rifle Standing events.
At the Beijing 2008 Paralympics, he again came close to another two bronze medals but fell short to collect two fourth-place finishes. Then at the 2010 World Championships in Croatia, he collected a silver in the 50m Air Rifle Prone, behind his close rival and friend Jonas Jacobsson of Sweden, who is currently ranked number one in the world in the mixed 50m Air Rifle Prone.
But for Adams, on top of his Paralympic medals, one of the more special victories was being crowned the 2007 Australian able-bodied Open Prone champion.
"Shooting is the only game where there is direct cross over from Olympic and Paralympic events," he said. "When I lie on the ground, there is no difference between a person who has a broken back like me, and an able-bodied person.
"Making sure the Paralympic Movement is seen as equal to able-bodied sport is important. Sometimes people look down on you and say 'Oh, you're only champion in disabled shooting' like it's not as good. And I say, 'I don't need any help mate. I won the able bodied event as well.'"
To continue his passion for shooting, Adams tries to balance the time he spends training and competing with his time spent on the farm and managing his business. He admits it is not always easy.
"It's a lot of planning when you're away shooting to make sure everything runs as it should," he said.
"I've got to really work hard and make sure everything is set up for what we've got to do for the week or two weeks on the farm while I'm away. It sometimes means a bit of extra work, but it's just got to be done, so I do it."
A balancing act
Traveling takes up much of Adams's time, with the Paralympian opting to drive the incredible distances to national competitions rather than go through the hassle of flying with his wheelchair and heavy shooting equipment. With London 2012 just months away, more international travel is on the agenda this year, with competitions around Australia as well as in Poland.
Adams also has an indoor air rifle range on his property with a full electronic scoring system, which helps him balance the hectic life. The shooting range is just one of the many adaptations and additions Adams has made to the farm, to ensure he is able to get around and to suit his lifestyle.
"I've got three studs, across 64,000 acres so I use a four-wheel motorbike to get around. I can get on without any modifications, the cattle behave well around it, and so I've stuck with it," Adams said.
"I've also designed my own gates. All my gates can open from either side, they swing both ways. And every gate on my property I can open single handed with a special latch that I made, that I won the Queensland Invention of the Year award with. Everything I do, I've got to know if I'm going to be able to get around, so I make things easier to live and work here."
With these modifications to help with mobility and better functionality for all workers on the farm, Adams is able to concentrate on growing his Tendabeef product, which he launched in 2006.
Through his TendaBeef product, Adams aims to produce top quality beef that meets a tenderness benchmark to sell direct to the meat eating market.
With his developments in selective breeding, Adams is one of the only Australian cattle farmers to focus on producing tender beef at the breeding stage and is always on the look-out for new scientific and technological developments to improve his product.
He also embraces technological advancements in his shooting, using technology to refine and manufacture gun parts to improve his performance.
"When I'm there shooting for Australia, I'm there to do a job for my country, so I do everything I can to make sure I deliver.
"I work hard to make sure I can produce the best results I can," he said, "and balance my cattle life as well."
Related Images