Austrian team welcomed home by Sports Minister
The 27-strong team brought home nine medals and were greeted at Vienna International Airport.
21 Sep 2016
Imagen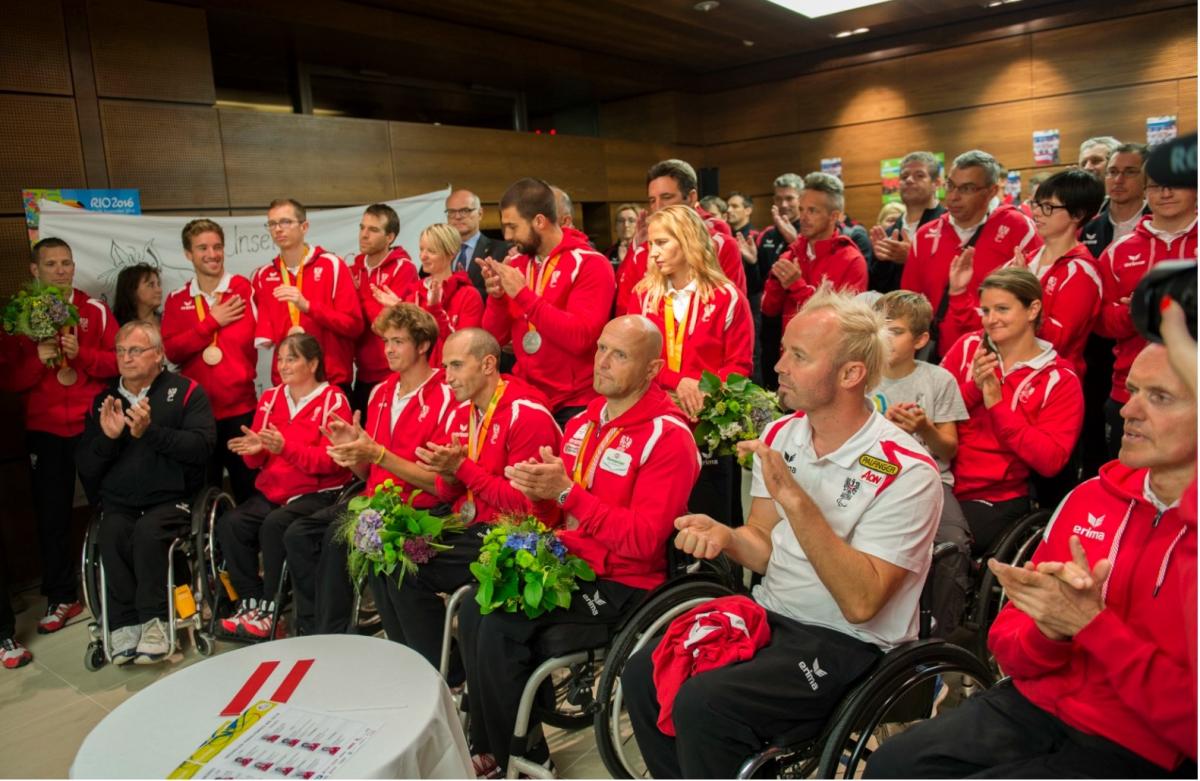 ⒸAustrian Paralympic Committee
By Austrian Paralympic Committee
"Nine medals are a really great performance. We shared enthusiasm with you and cheered from afar. This is a great result for Austria."
The 27 members of the Austrian Rio 2016 team were given a warm welcome home on Tuesday (20 September), as they were greeted at the Vienna International Airport by a whole host of dignitaries from the world of sport and government.
Amongst the athletes present were the eight medallists that included Pepo Puch (gold and silver, equestrian), Walter Ablinger and Thomas Fruhwirth (silver, road cycling), Mendy Swoboda (silver, canoe), bronze medallist Natalia Eder (javelin) triple bronze medallists Andy Onea (swimming), Krisztian Gardos (table tennis) and Gunther Matzinger (400m track athletics).
"Without the right environment this would not have been possible," Puch said. "I want all thank you on behalf of the Rio 2016 project."
Speaking to the athletes and national broadcaster ORF on Tuesday evening President of the Austrian Paralympic Committee Maria Rauch-Kallat said: "I congratulate this great team very much. And I'm very happy that everything went well. We have all brought the team home healthy and we are proud of your achievements."
Vice Chairperson of the Allgemeine Unfallversicherungsanstalt - the Austrian Workers' Compensation Board, Wolfgang Birbamer, Vice President of the Austrian Economic Chambers Jurgen Roth and Austrian Disabled Sports Association President Brigitte Jank joined Austrian Olympic Committee President Karl Stoss and Secretary Peter Mennel to honour the team.
Roth said: "We are not only financially, but also ideologically fully behind it. You have put all potential concerns impressively aside."
Sports Minister Hanspeter Doskozil joined the tributes: "It is a joy to welcome this team. You maybe do not yet know what a great service you have done for Austrian sport. We are very proud of you."
At the subsequent reception in the VIP terminal Gunther Ofner from the management board of the airport said: "Nine medals are a really great performance. We shared enthusiasm with you and cheered from afar. This is a great result for Austria."
Austrian Paralympic Committee Secretary General Petra Huber concluded: "We are very proud to have brought a great team home again healthy and unharmed."
The reception concluded with a small party before all the athletes were reunited with their families.
The Rio 2016 Paralympic Games represented a watershed moment in the history of Para sport in Austria. Media coverage was at its highest ever level and a record number of travelling fans made the journey to Brazil to watch the athletes compete.