Ballard secures hat-trick of wins in Canberra
The Australian double world champion in the T53 class was victorious over 100m, 400m and 1,500m at the first day of the IPC Athletics Grand Prix.
06 Feb 2016
Imagen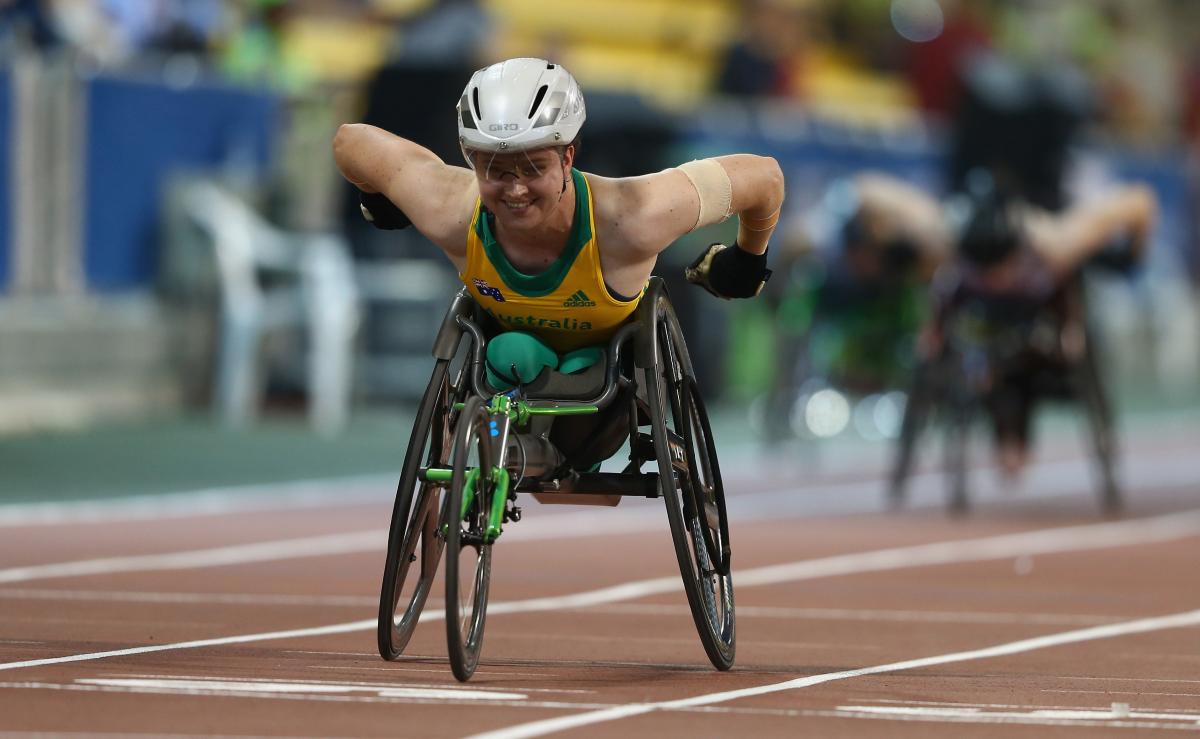 ⒸGetty Images
Australia's double world champion Angie Ballard kicked off the IPC Athletics Grand Prix season in terrific style with a hat-trick of wins in Canberra, Australia, on the first of two days of para-athletics competition (6 February).
Ballard, who won 200m and 400m T53 gold at the 2015 IPC Athletics World Championships three months ago, showed she's still the one to beat as she won the 100m, 400m and 1,500m women's wheelchair events on the city's AIS Athletics track.
The 33-year-old opened her campaign with a win in the shorter sprint, crossing the line in 16.89. Her compatriot Rosemary Little (T34) finished second in 18.88.
There was another win for Ballard in the 400m, getting the better of her training partner Madison de Rozario (T53) as she took the tape in 55.04, more than three seconds clear of the field. Little finished in third place (1:03.81).
Ballard completed a hat-trick of victories with the final track event of the day, the 1,500m. The Sydney-based racer stopped the clock at 3:36.20, as de Rozario (3:38.14) had to settle for second place one again.
It's just good to get some good racing done on a fast track, and to come away with a few wins is a good thing too," Ballard said.
"It's awesome to know that I am faster this year than at the same time in 2015. I broke two world records last year off a slower preparation so that's exciting. If this is an indication of how the Paralympic year will go it is a great place to be.
"I was close to the world record mark in the 400m, too. I probably wasn't fresh enough to get the time but it's a little bit of a weird feeling to know that I went so close tonight. It wasn't realistic, but it would have been nice," said Ballard, who goes in the 200m and 800m in the second day of competition on Sunday.
There was no surprise as Australians Ella Pardy (T38) and Isis Holt (T35) led the way in to the 100m ambulant finals after qualifying fastest in the heats.
Sure enough the pair stormed clear of the rest of the field with Pardy finishing in 13.36 and Holt in 13.64 – just one hundredth of a second outside the world record mark she set when winning gold at the 2015 IPC Athletics World Championships.
"It's so good to start the season this way. I was really happy with the heat, and wasn't too sure how I would back it up, but it was an incredible result. I'm very, very happy with it," Holt said.
Australia's world bronze medallist Torita Isaac (T38) clocked 1:08.16 in the 400m (ambulant) to finish ahead of Japan's Manami Kinoshita (T38), while 15-year-old Australian Jemimah Simpson (T46) looked in good form crossing the line in 1:04.07.
Talented Australian teenager Rheed McCracken (T34) was first across the line in the men's 100m (wheelchair), finishing in 15.84, as Sam McIntosh (T52) also looked in terrific form, finishing in 17.39 – a time that would have been good enough for 100m T52 silver at last year's World Championships.
McCracken enjoyed another strong performance in the men's 400m (wheelchair) as he crossed the line in 55.22. Richard Nicholson (T54) led the way with 49.97, closely followed by experienced T54 racer Kurt Fearnley (50.57).
There was victory for Fearnley in the 1,500m (3:07.53) as the three-time Paralympic champion got the better of fellow T54 racer Jake Lappin (3:08.77) while Nicholson this time had to settle for third (3:11.45).
In the men's 100m (ambulant) Gabriel Cole (T47) took the top spot, clocking 11.18 as Japan's Atsushi Yamamoto (T42) – fifth in last year's 100m T42 World Championship final – managed 13.04.
There was no surprise as Yamamoto took victory in the long jump however, another win for the 33-year-old who notched up his second world long jump F42 title in Qatar last year. An impressive leap of 6.36m was enough to secure victory in the Australian capital.
Teenager Brayden Davidson's (T36) jump of 5.44m secured him the silver medal position. His leap was exactly the same distance as he recorded to win bronze at the World Championships in Doha.
Results went to form in the women's long jump too as Australia's reigning world champion Carlee Beattie (T47) leapt an impressive 5.63m to finish ahead of New Zealand's world bronze medallist and fellow T47 competitor Anna Grimaldi (5.34m). Third place went to Erin Cleaver (T38) who managed a best of 4.57m.
Seven-time Paralympian Russell Short (F12) won the shot put (ambulant) with a throw of 14.41m, and India's Amit Kumar (F51) threw 23.07m to win the men's club throw (wheelchair). The women's javelin (wheelchair) was won by Lenore Ernst (F57) with 13.69m.
The IPC Athletics Grand Prix in Canberra will conclude on Sunday (7 February).