BBC Radio's Ed Harry explores rivalry in wheelchair racing
Following marathon wins in Boston and London, can Manuela Schär challenge Tatyana McFadden's dominance in the T54 class?
29 Apr 2017
Imagen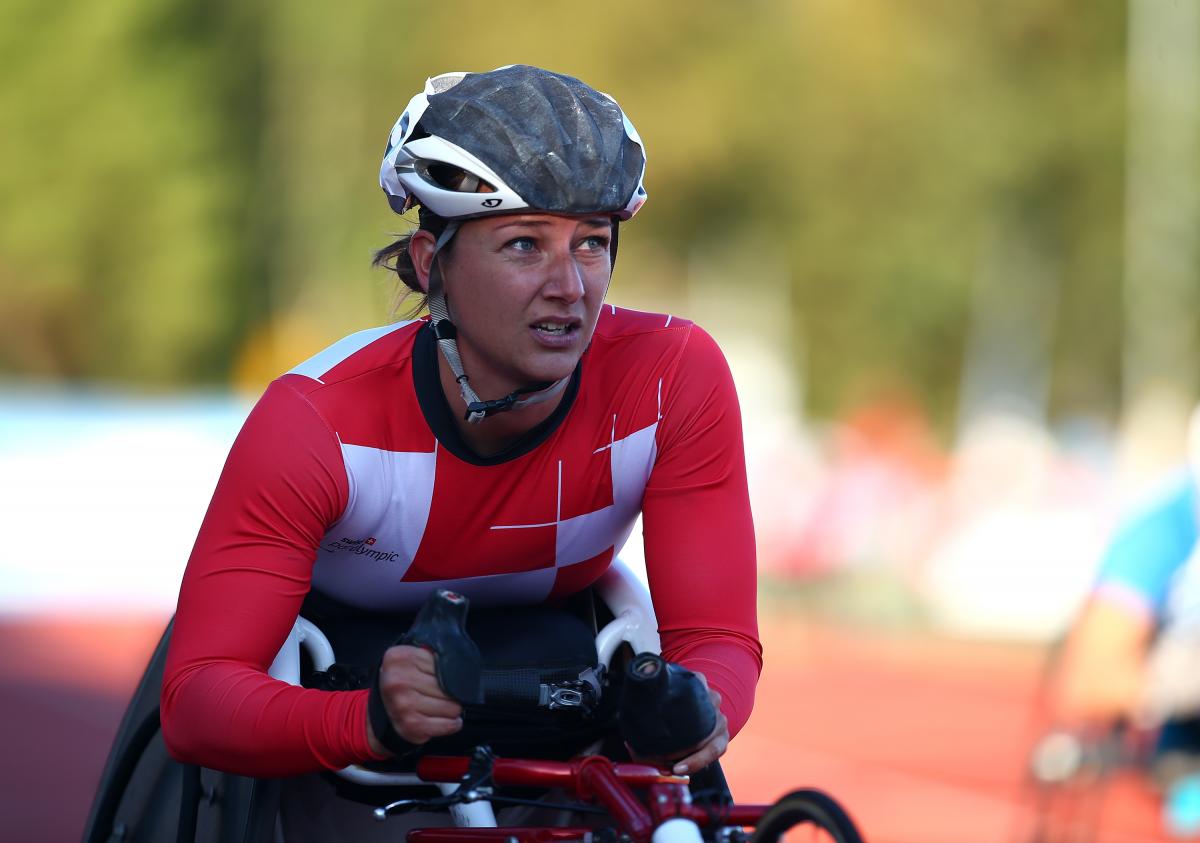 ⒸGetty Images
My job commentating on Para athletics for the BBC is about describing what happens in the moment and analysing why it's turned out that way. But the role is also about asking 'what will happen next?' in the sport, and twice that question has taken me to the Swiss town of Nottwil.
Two years after London 2012, halfway to Rio 2016, I paid my first visit there to spend some time with Marcel Hug. He'd just beaten David Weir to win the London Marathon for the first time, and their blossoming rivalry was what I wanted to explore. Although meetings when both men have been at their best have been rare, we've just seen another classic showdown on the streets of the British capital. With all the talk of Weir's possible retirement in the build up to that 2017 race, Hug told me their rivalry pushes him 'to the limit' and is 'a great motivation to push forward'.
Hug is growing into his role as world number one for the marathon. His dominance in 2016 was rewarded with the inaugural World Marathon Majors title and, of course, the Paralympic gold for the distance. The man who greeted me in London in race week this year was no longer the best wheelchair racer never to have won a Paralympic title. There was a subtle but definite difference, winning those golds 'changed a lot' in his life. He told me 'a big dream came true and a lot of pressure fell away'.
The best thing about calling Sunday's (23 April) men's wheelchair race for BBC Radio wasn't just David Weir showing us the rivalry is still alive. For me, it's the guarantee now that Weir and Hug will always belong in the same sentence. Their duels will form a key part of both their stories, long after they've retired. That two men can stand out in a division with such depth says it all.
In the women's T54s, Chantal Petitclerc was the star of the first Games I covered for the BBC in 2008. Since London 2012, it's been the era of Tatyana McFadden. I travelled to Maryland and Illinois to make a documentary about her extraordinary life and career. The following year, in Sochi, I was there when new chapters were written. But, if something is still missing from the great American's story, I believe it's that rivalry with one individual.
I thought going into Rio last year that person would be Manuela Schär. That's why I paid a second visit to Nottwil in May of 2016, where Schär told me it was 'important' to have that rivalry with McFadden. She explained that all the hard work was 'easier with a picture' of 'someone to chase'.
Schär versus McFadden didn't turn out to be the story of the Rio Paralympics. But maybe I wasn't wrong on this one; perhaps a few of us just jumped the gun. In London in race week, Schär told me that 'there was just not that little piece of luck' on her side in Rio, but nothing to suggest she shouldn't stick with her plan.
Now look at this year. With Tatyana McFadden not 100 per cent fit in Boston, Schär raced the clock instead. Her new course record is the best part of ten minutes faster than the official world record – which the Swiss athlete co-holds. Even though world records can't be set on the Boston course, Schär now knows she is the only woman ever to push a marathon in less than one hour, thirty minutes. It's shown her what's possible, 'I really, really needed this after Rio' she told me. What about the time though? 'I have to get used to people saying 'you did under 1:30'. That's pretty amazing'.
But, even after that breakthrough, she was asked whether she'd still have won if fourth-placed McFadden had been fully fit. Schär told me she'd answered that question with her performance, 'Racing a marathon from the beginning by myself, that's a pretty good statement. It gives me confidence'.
In London, with Tatyana absent, Manuela broke the American's course record. For the second time in a week, she finished almost five minutes ahead of her closest challenger Amanda McGrory.
Tatyana McFadden will, I have no doubt, return to full fitness. When she does, from a pack just as strong as in the men's division, one athlete has now emerged to challenge her. Manuela Schär is in the form of her life, perhaps one year later than she'd hoped to be. But Rio is gone, and all roads lead to Tokyo 2020. On those roads, and on the track, I can't wait for more of Schär versus McFadden.
BBC Radio will be covering the London 2017 World Para Athletics Championships between 14-23 July.
Follow Ed on Twitter @edharry1976
Related Images