Belgium win Wheelchair Rugby Euros opener
The host nation stormed to a 61-40 victory over Austria on the first day of the IWRF Wheelchair Rugby European Championships.
14 Aug 2013
Imagen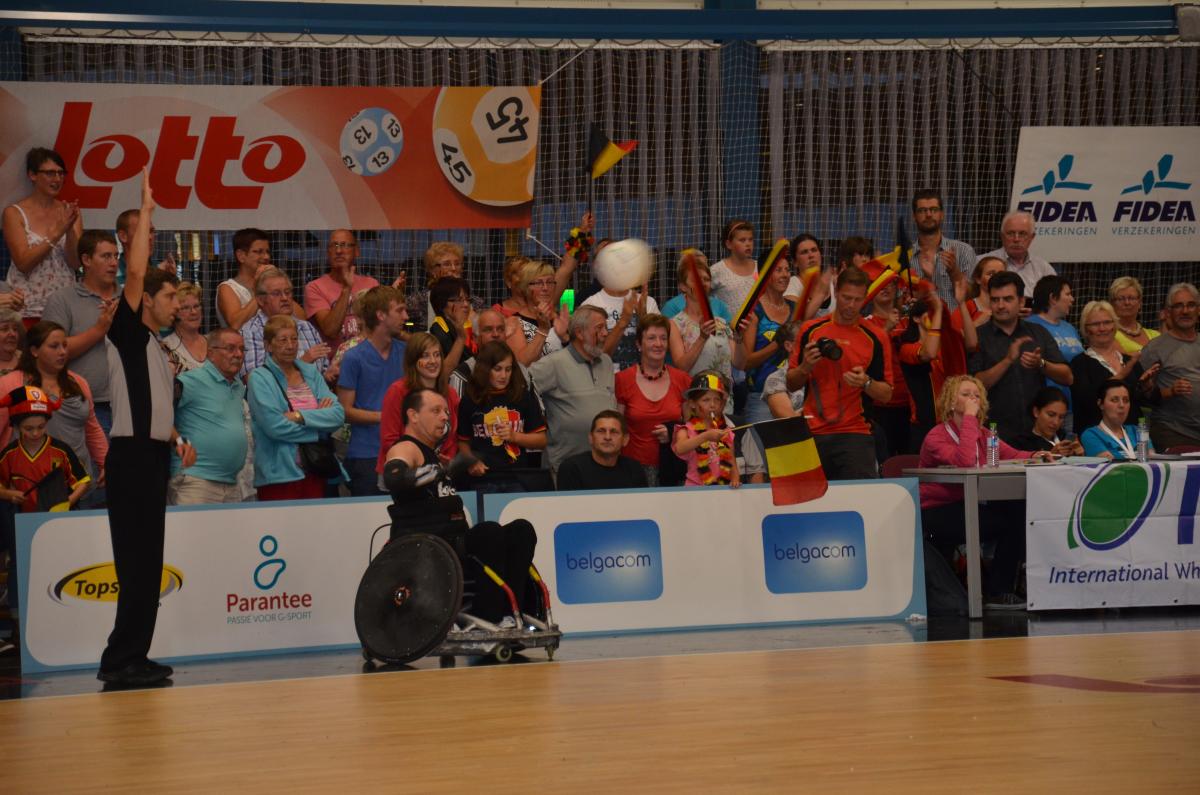 ⒸNPC Belgium
By NPC Belgium
"We couldn't have imagined a better start."
The host nation cruised to a 61-40 victory over Austria at the opening game of the 2013 IWRF Wheelchair Rugby European Championships in Antwerp, Belgium on Monday (12 August).
The Belgians went straight to an advance on the score of 17-8 in the first quarter in front of a very enthusiastic crowd of supporters. The Austrians couldn't resist their opponents, although Andreas Jurick managed to keep the difference acceptable. A powerful Raf Hendrix drew the attention, while Peter Genyn – who just recovered from a fractured hip – took the breath away from the supporters in a spectacular fall.
In the following quarter, Genyn continued to score again and again. Three substitutions decided by the coach Vanacker in the middle of the second quarter had no negative impact on the quality of the Belgians.
Theunissen and Windey maintained a very powerful defence, while Hendrix and Budeners vociferously countered to give the home team a 31-15 after two quarters.
A stronger Austria, with a powerful Bruno Bosnjak, restrained the Belgians from widening the gap, although the game was already decided eight minutes before the time when Ronald Verhaeghen scored on the buzzer, ending the third quarter on the score of 44-27. In the last quarter, Belgium delighted the public with solid shocks and went on to finish in style.
"We couldn't have imagined a better start," said Belgium's head coach Bob Vanacker.
"The support of the public really boosted us, everything was going very quick and we could even almost play running blind in the different game phases. Towards the end of the game, we could delight the supporters with attractive and strong wheelchair rugby. Austria was a must-win game. Tomorrow, we will have a first big test against Finland. Besides the Finnish team, I think we will also have to deal with Germany and Great-Britain to hopefully reach the semi-finals."
On Tuesday (13 August), defending European champions Sweden will open the day in Group B against the Denmark, the host country for the next World Championships in 2014. The Belgians will fight Finland, who finished eighth two years ago in Switzerland. Then, the favourites, Great Britain, will play against Austria.