Benoit Huot: My best and worst moments
The Canadian swimming legend reflects on an illustrious career, including the highs and lows.
06 Sep 2016
Imagen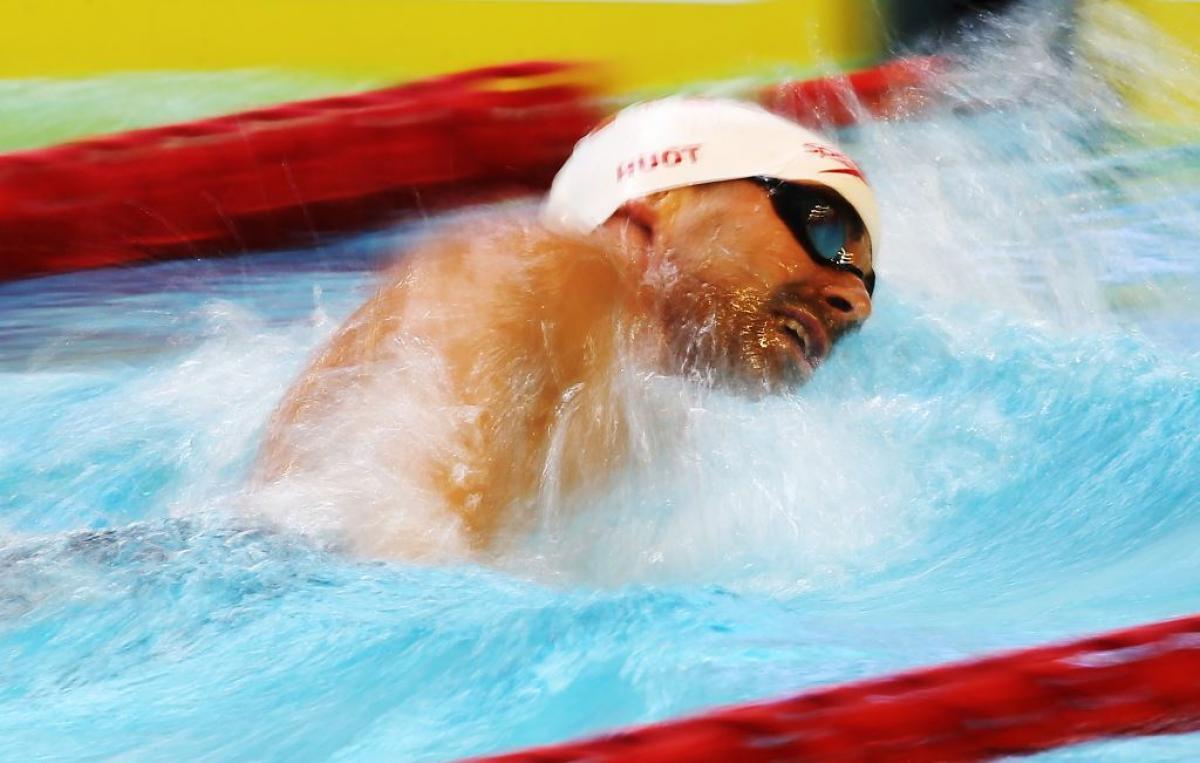 ⒸGetty Images
By Becki Ellsmore | For the IPC
Canadian swimmer Benoit Huot is a popular and enthusiastic ambassador for Para-sport.
He will be competing in his fifth Paralympic Games this year at Rio 2016. Having medalled at all four of his previous Games, hopes are high that Huot can produce results again this time.
Here he talks us through the best and worst moments of his 16 year career.
My best moments
1. The Opening Ceremony of my first Paralympic Games
Huot made his Paralympic debut at the age of 16 at the Sydney Games in 2000, having made his international debut two years earlier at the World Championships in Christchurch, New Zealand. He went on to win three gold and three silver medals in Sydney.
2. Carrying our flag at the Closing Ceremony of the London 2012 Paralympic Games
Huot described being chosen to carry the Canadian flag at the Closing Ceremony as "by far the greatest honour that I can receive as an athlete". Selection criteria for the closing ceremony flag bearer require the athlete to have 'achieved an outstanding competitive performance in the current Paralympic Games, to have maintained an exemplary standard of behaviour, to have exhibited a commitment to fair play and to have earned the respect of their peers.'
3. Being back on top of the podium after eight years in London 2012
At the London 2012 Paralympic Games, Huot won gold in the 200m individual medley SM10, as well as silver in the 400m freestyle and bronze in the 100m backstroke S10.
Although he medalled in Beijing at the 2008 Paralympic Games, he had not won a race at the Paralympic Games since Athens in 2004, where he claimed no less than five gold medals.
My worst moments
1. Having to move away from home for training
Huot had to move to Toronto for national team training, a five hour drive from his home in Montreal, Quebec. Despite being fluently bilingual, there was an element of culture shock for Huot. While Montreal is mainly French or bilingual, and considered to be broadly European in its culture and way of life, Toronto is English-speaking and more of a modern high-rise city.
2. Underperforming in Beijing after being hit by a virus
Huot won three gold and three silver medals on his Paralympic Games debut at Sydney 2000. He followed this with five gold medals and one silver medal in the next Games in Athens in 2004, breaking three world records along the way.
After suffering with a virus at the Beijing 2008 Paralympic Games, the best he could manage was four bronze medals, leading him to describe the those Games as "my worst international competition ever".
3. Struggling with anxiety
Huot has described his performance at Beijing 2008 as a low point in his career, leading him to realise that he was no longer enjoying the sport in the way that he was approaching it at the time.
"Being a champion is a whole new set of pressures. Carrying all of those expectations on your shoulders can end up being very destructive," he said. He has since worked hard on maintaining a sustainable approach to swimming and his future career in general. These days, he works hard on staying relaxed and trying to behave as normally as possible, in an effort to reduce stress before a competition.