Berlin 2021: Third triumph leaves Italy one win away from Beijing qualification
Slovakia suffers first defeat while Norway recovers against rivals Sweden and hosts Germany picks closely fought victory over Japan
28 Nov 2021
Imagen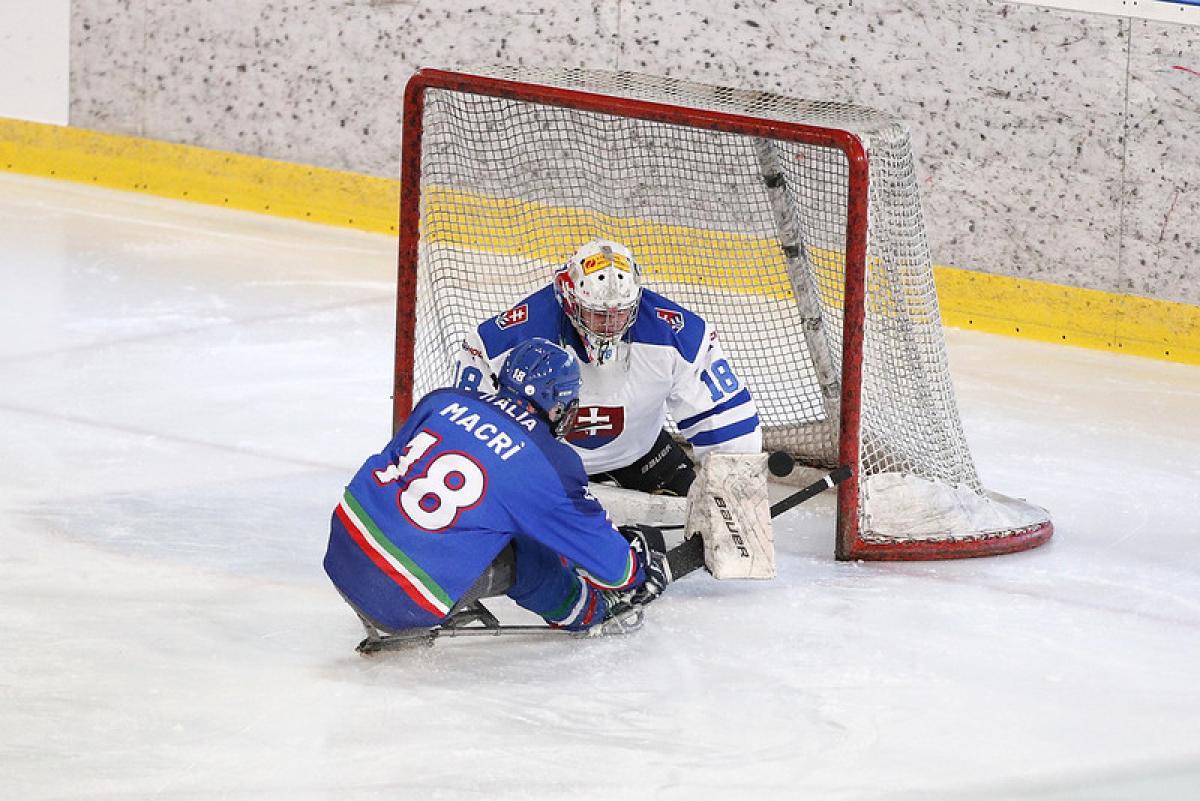 ⒸJoachim Sielski/DBS
By Stuart Lieberman and Sian Melton | For World Para Ice Hockey
Italy remains the only undefeated nation at the Paralympic Winter Games Qualification Tournament in Berlin after winning against Slovakia in a battle of unbeaten teams on Sunday (28 November), while Norway and Germany picked up their second victories.
After three days of action, Italy sits atop the standings with nine points, followed by Slovakia, Germany and Norway with six points apiece. Japan and Sweden are still looking for their first points in Berlin.
The top two finishers at the six-team, round-robin style tournament will earn their spots at the Beijing 2022 Games.
Italy 3, Slovakia 2
In a back-and-forth affair, two-time Paralympian Nils Larch scored twice and veteran forward Stephan Kafmann added a tally to help Italy squeak out a one-goal victory against Slovakia. 
Kafmann found the net with 49 seconds remaining in the first period off a pass from forward Christoph Depaoli to become the first player to score on Slovakia in Berlin. Then, Slovakian star forward Martin Joppa responded midway through the second stanza with his third goal at the event to even the score. 
While Miroslav Stasak notched another goal for Slovakia in the third period, it was not enough, as Larch crashed the net twice with the puck, including once on the power play, to secure the one-goal win for Italy.
"We knew from the beginning it would be a very, very intense game, and it was" Depaoli said. "There were a bunch of ties, and we tried to play every puck, and in the end we got lucky and won. It was a very important win for us going into the rest of the tournament." 
Italy's Gabriele Araudo had nine saves on the day, while Slovakia's Eduard Lepacek had 12 saves.
Italian head coach Massimo da Rin de Lorenzo was jubilant following the game, calling his team's effort "unbelievable." Italy has now won two of its last three international contests against Slovakia — the squads split their two games at the World Para Ice Hockey A-Pool Championships earlier this year.
Fourth place at PyeongChang 2018, the Italian team is one victory away from booking their ticket to Beijing.
Norway 4, Sweden 1
Four different players scored in Norway's 4-1 victory over its Scandinavian rivals, as Norway bounced back with its second victory in Berlin following an upset loss to the host nation the day prior.
In the first period, both two-time Paralympic medalist Morten Vaernes and rising star Ola Oiseth scored to provide Norway a comfortable lead early on; Oiseth's goal marked his team-high fourth of the tournament. 
Assistant captain Loyd Remi Solberg and three-time Paralympian Audun Bakke each scored in the third period to double Norway's tally, with Per Kasperi notching the lone goal for Sweden in the final frame on the power play.
Between the pipes, Johan Groenlie recorded 14 saves for Norway, and Ulf Nilsson had 11 saves for Sweden.
"It was really fun to win against our neighbors Sweden, and we almost allowed no goals," said Norwegian forward Alexander Lyngroth. "I'd like to give a shoutout to our goalie today as I think he should have won Best Player that game."
Germany 2, Japan 1
In the day's final game, the host nation picked up its second consecutive victory with a closely fought 2-1 win over Japan. Bernhard Herring and Frank Rennhack — both German national team members for more than a decade — scored power-play goals in the first and second periods, respectively. 
Mamoru Yoshikawa, who has been competing since the Nagano 1998 Winter Paralympics, put up Japan's first goal of the tournament with 6:39 to go in the game on a power play, sneaking past German goaltender Simon Kunst for the score. But Japan did not have enough left in the tank after that to pull off the upset.
Kunst finished the day with four saves, while Kazuya Mochizuki had 17 saves for Japan.
"It didn't really feel much like a win, but regardless we are happy to have another three points in the standings," Rennhack said.
The teams will have the day off on Monday (29 November) before the tournament continues with three more round-robin games on Tuesday (30): Italy vs. Japan, Slovakia vs. Norway and Germany vs. Sweden.  
All games are being streamed live on World Para Ice Hockey official website.