Berlin to play host to 600 leading swimmers this week
Around 600 swimmers from 30 countries are set to compete in the 28th Internationale Deutsche Meisterschaft
24 Apr 2014
Imagen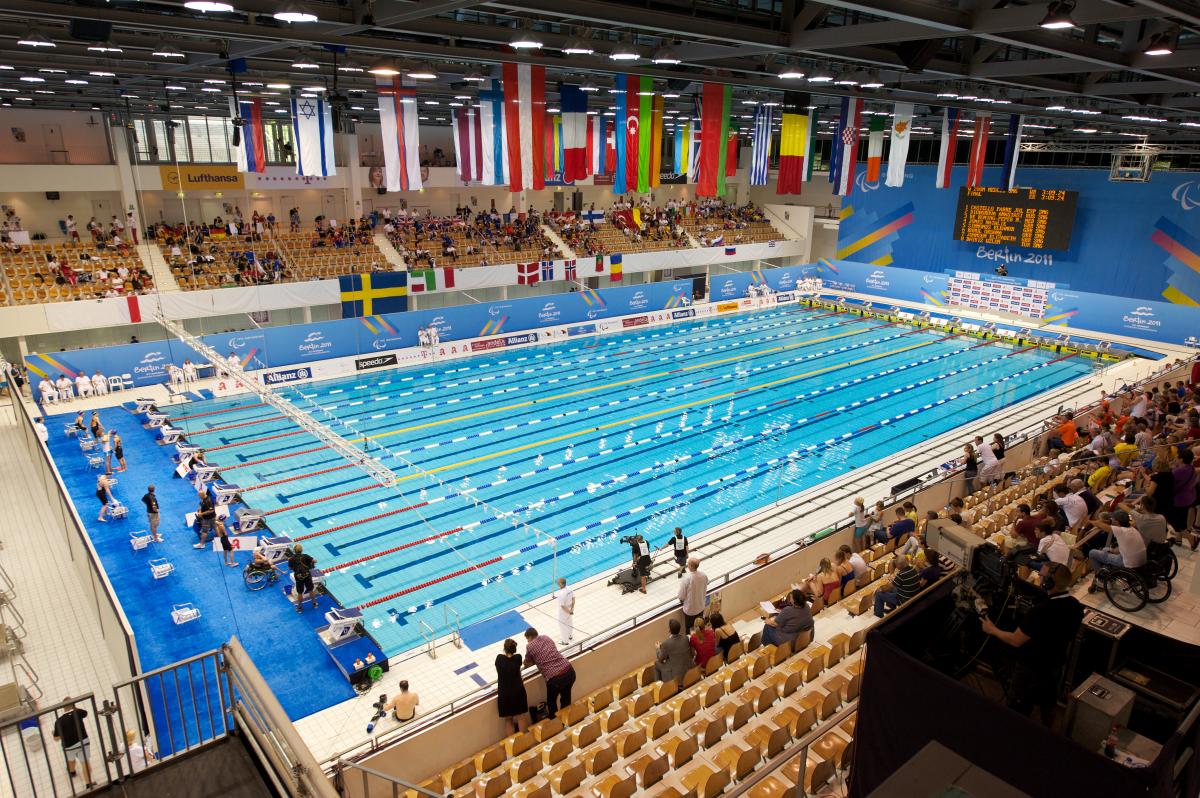 By IPC
Amongst the leading German swimmers set to compete in home water are world champions Daniela Schulte and Vera Thamm.
Around 600 swimmers from 30 countries, including a number of Paralympic and world champions, are heading to Berlin, Germany this week (24-27 April) for the 28th Internationale Deutsche Meisterschaft.
It is the 15th time the event has been held in Berlin and it will be staged in the Europa Sport Park, the same venue that staged the 2011 IPC Swimming European Championships.
Amongst the leading German swimmers set to compete in home water are world champions Daniela Schulte and Vera Thamm.
Schulte, 31, impressed last year, following up her London 2012 gold with a world title and three silver medals at the IPC Swimming World Championships in Montreal in the S11 class. S3 swimmer Thamm also had a successful 2013 winning a gold and a bronze in Montreal and both swimmers will be looking to use the high quality field in Berlin to test their form ahead of August's IPC Swimming European Championships in Eindhoven, the Netherlands.
Of the overseas teams set to compete, Great Britain is sending 25 athletes, the most of any other nation, and many were in action over the Easter weekend in Glasgow, Great Britain in an effort to qualify for the European Championships.
Arguably the star name in the British line-up is Eleanor Simmonds, a winner of four Paralympic and seven world titles.
Challenging Simmonds for the crown of "British golden girl" is 15-year-old S9 swimmer Amy Marren who made a name for herself last year winning won four gold and two silvers medals at her first World Championships. She will be joined by the likes of Ollie Hynd and Josef Craig, two athletes who each have won one Paralympic and two world titles, in Berlin.
The USA is sending eight swimmers to Berlin including Jessica Long, the 22-year-old who has won 12 Paralympic and 18 world titles in the S8 class since her first Games in 2004. She will be joined by teammates Roy Perkins, Ian Silverman and Cortney Jordan who, between them, won 14 World Championship medals last year, including five golds.
Russia's Oxana Savchenko will be one of the most decorated athletes competing in the German capital having won eight Paralympic and five world titles already during her career, despite being only 23 years old. The S12 swimmer is joined by a number of other leading Russian visually impaired athletes including fellow London 2012 gold medallists Roman Makarov, Aleksandr Nevolin-svetov and Sergey Punko.
Other stand-out names set to feature in Berlin include Belarus' Ihar Boki - a winner of five Paralympic London 2012 golds and five world titles last year - and Norway's Sarah Louise Rung, who followed up on her two gold medals from London 2012 with four world titles in 2013.
Starting on Thursday (24 April), the 28th Internationale Deutsche Meisterschaft will feature around 40 different swimming events, including heats and finals.
In addition, IPC Swimming will also be hosting a number of classification sessions
For further information, please visit the event homepage.