Imagen
Eleanor Simmonds
Swimming
Aged just 13 at the time, Ellie Simmonds was the second youngest Paralympian in British history to win a medal of any colour when she competed at the Beijing 2008 Paralympic Games.
The fact that she went on to win two gold medals in her first Games and follows the simple philosophy "work hard and be yourself" won her the hearts of the British nation. Thanks to her success she also picked up the BBC's Young Sports Personality of the Year award in the same year.
In February 2009 she became the youngest person ever to be appointed a Member of the Order of the British Empire (MBE) and later that year won six gold and a silver medal at the IPC Swimming World Championships Short Course in Rio de Janeiro, Brazil.
Born with achondroplasia (dwarfism), Simmonds followed up her 2008 and 2009 successes with four gold, one silver and one bronze medal at the 2010 IPC Swimming World Championships in Eindhoven, the Netherlands.
At the 2011 IPC Swimming European Championships in Berlin, Simmonds went head-to-head with her Dutch rival Miriam de Koning-Peper, and ended up winning two gold, one silver and bronze medal.
Going into London she was one of the 'poster girls' of the Games and thanks to one of her sponsors, a giant image of Simmonds appeared down the side on one of the building's facing the Olympic Park.
Despite the immense pressure on her, she duly delivered in front of her home crowd claiming two gold, one silver and one bronze medal. She also broke two world records.
In the 2013 New Year's Honours list, she was awarded an Order of the British Empire by Queen Elizabeth II.
Her success in the pool continued into 2013 with triple gold and one bronze at the 2013 IPC Swimnming World Championships in Montreal, Canada.
Prior to the 2015 World Championships in Glasgow, Great Britain, Simmonds had not lost the 400m freestyle at a Worlds or Paralympic Games since 2008. That all changed thanks to Ukraine's Yelyzaveta Mereshko, who on her Championships debut beat Simmonds in a thrilling final and claimed a further two gold medals.
Simmonds could not return to the top at the 2016 IPC Swimming Europeans in Funchal, Portugal, claiming one silver and three bronzes.
But the Briton showed at Rio 2016 she is still a force to be reckoned with, breaking the world record in the 200m individual medley by swimming under three minutes for the first time (2:59.81) and winning her fifth Paralympic gold. She went on to seal a bronze in the 400m freestyle behind Mereshko and China's Lingling Song.
Photo Gallery
Imagen
Imagen
Imagen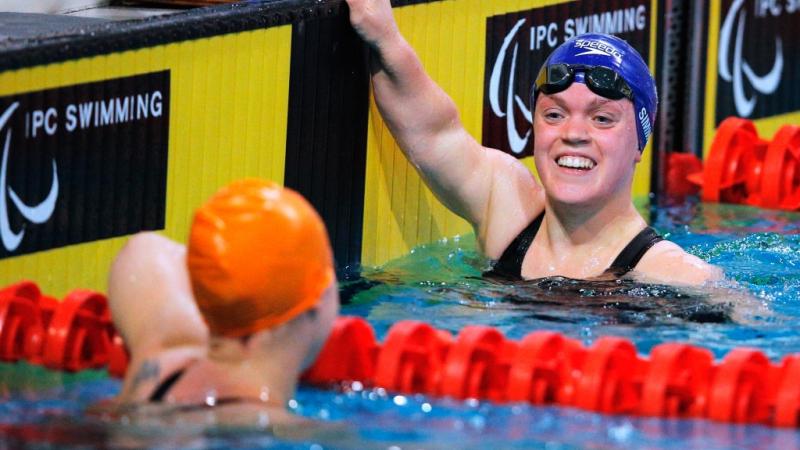 Imagen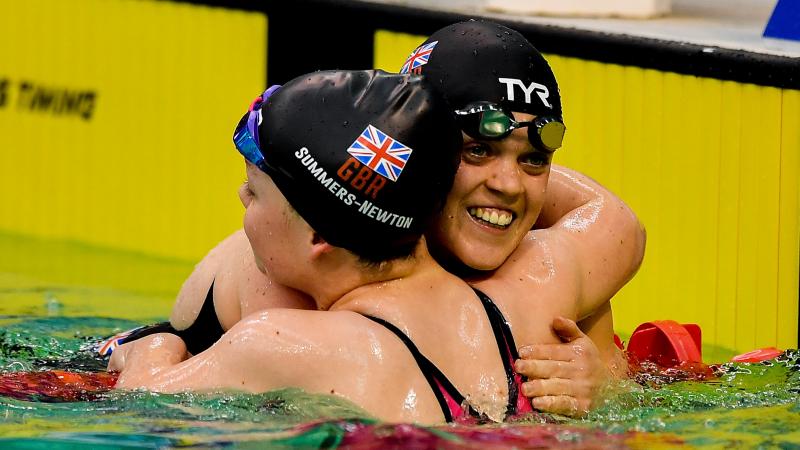 Imagen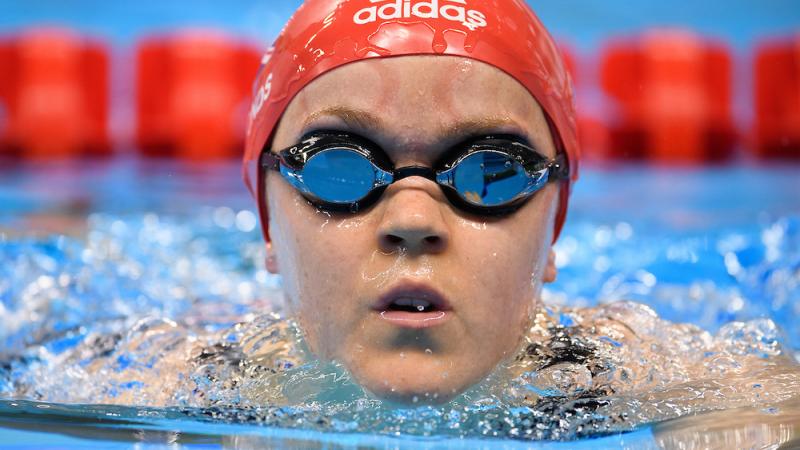 Imagen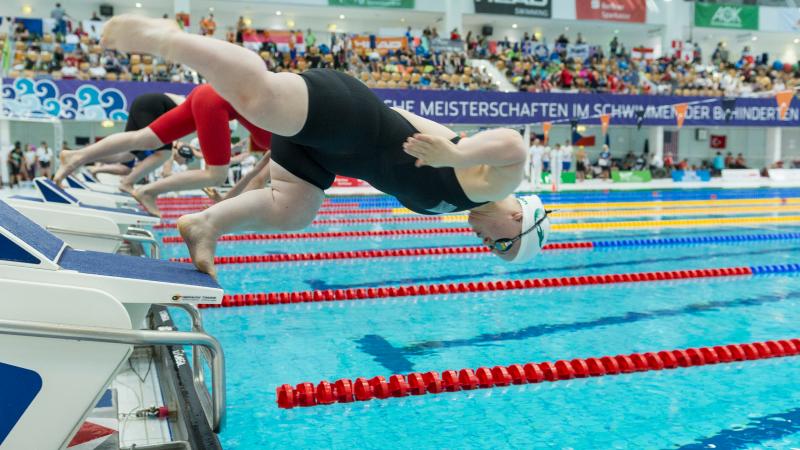 Imagen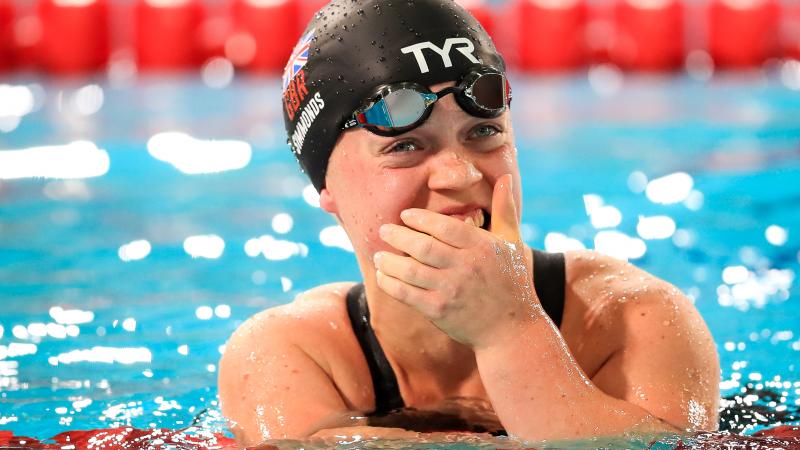 Results
IPC Swimming World Championships Eindhoven 2010 (Eindhoven, Netherlands)

| Event | Medal | Unit | Date | Rank |
| --- | --- | --- | --- | --- |
| Women's 50 m Freestyle S6 | | Final Round | | 1 |
| Women's 100 m Freestyle S6 | | Heat 2 | | 1 |
| Women's 100 m Freestyle S6 | | Final Round | | 1 |
| Women's 200 m Individual Medley SM6 | | Heat 3 | | 1 |
| Women's 200 m Individual Medley SM6 | | Final Round | | 1 |
| Women's 400 m Freestyle S6 | | Heat 2 | | 1 |
| Women's 400 m Freestyle S6 | | Final Round | | 1 |
| Women's 4x100 m Freestyle 34pts | | Heat 2 | | 1 |
| Women's 4x100 m Freestyle 34pts | | Final Round | | 2 |
| Women's 4x100 m Medley 34pts | | Heat 2 | | 1 |
| Women's 4x100 m Medley 34pts | | Final Round | | 2 |
| Women's 4x50 m Medley 20pts | | Heat 2 | | 3 |
| Women's 4x50 m Medley 20pts | | Final Round | | 3 |
| Women's 50 m Freestyle S6 | | Heat 1 | | 1 |
IPC Swimming World Championships Durban 2006 (Durban, South Africa)

| Event | Medal | Unit | Date | Rank |
| --- | --- | --- | --- | --- |
| Women's 50 m Butterfly S6 | | Final Round | | 8 |
| Women's 50 m Butterfly S6 | | Heats | | 8 |
| Women's 400 m Freestyle S6 | | Final Round | | 5 |
| Women's 100 m Freestyle S6 | | Final Round | | 7 |
| Women's 100 m Freestyle S6 | | Heats | | 7 |
| Women's 100 m Backstroke S6 | | Heats | | 9999 |
| Women's 50 m Freestyle S6 | | Heats | | 6 |
| Women's 50 m Freestyle S6 | | Final Round | | 7 |
2013 IPC Swimming World Championships (Montreal, Canada)

| Event | Medal | Unit | Date | Rank |
| --- | --- | --- | --- | --- |
| Women's 400 m Freestyle S6 | | Heat 2 | 2013-08-12 | 1 |
| Women's 400 m Freestyle S6 | | Final 1 | 2013-08-12 | 1 |
| Women's 100 m Breaststroke SB6 | | Heat 1 | 2013-08-13 | 2 |
| Women's 100 m Breaststroke SB6 | | Final 1 | 2013-08-13 | 4 |
| Women's 50 m Freestyle S6 | | Heat 1 | 2013-08-14 | 4 |
| Women's 50 m Freestyle S6 | | Final 1 | 2013-08-14 | 3 |
| Women's 200 m Individual Medley SM6 | | Heat 2 | 2013-08-15 | 1 |
| Women's 200 m Individual Medley SM6 | | Final 1 | 2013-08-15 | 1 |
| Women's 100 m Backstroke S6 | | Final 1 | 2013-08-17 | 4 |
| Women's 100 m Backstroke S6 | | Heat 2 | 2013-08-17 | 4 |
| Women's 100 m Freestyle S6 | | Final 1 | 2013-08-18 | 1 |
| Women's 100 m Freestyle S6 | | Heat 2 | 2013-08-18 | 2 |
2015 IPC Swimming World Championships (Glasgow, Great Britain)

| Event | Medal | Unit | Date | Rank |
| --- | --- | --- | --- | --- |
| Women's 400 m Freestyle S6 | | Heat 1 | 2015-07-13 | 1 |
| Women's 400 m Freestyle S6 | | Final 1 | 2015-07-13 | 2 |
| Women's 100 m Breaststroke SB6 | | Heat 1 | 2015-07-14 | 3 |
| Women's 100 m Breaststroke SB6 | | Final 1 | 2015-07-14 | 3 |
| Women's 4x100 m Freestyle 34pts | | Final 1 | 2015-07-16 | 3 |
| Women's 50 m Freestyle S6 | | Heat 1 | 2015-07-16 | 5 |
| Women's 50 m Freestyle S6 | | Final 1 | 2015-07-16 | 5 |
| Women's 200 m Individual Medley SM6 | | Final 1 | 2015-07-17 | 1 |
| Women's 200 m Individual Medley SM6 | | Heat 2 | 2015-07-17 | 1 |
| Women's 100 m Freestyle S6 | | Final 1 | 2015-07-19 | 4 |
| Women's 100 m Freestyle S6 | | Heat 1 | 2015-07-19 | 4 |
London 2019 World Para Swimming Championships (London, Great Britain)

| Event | Medal | Unit | Date | Rank |
| --- | --- | --- | --- | --- |
| Women's 400 m Freestyle S6 | | Final 1 | 2019-09-09 | 3 |
| Women's 400 m Freestyle S6 | | Heat 1 | 2019-09-09 | 3 |
| Women's 200 m Individual Medley SM6 | | Final 1 | 2019-09-11 | 4 |
| Women's 200 m Individual Medley SM6 | | Heat 2 | 2019-09-11 | 4 |
| Women's 100 m Breaststroke SB6 | | Heat 1 | 2019-09-15 | 3 |
| Women's 100 m Breaststroke SB6 | | Final 1 | 2019-09-15 | 3 |