Best of British: Aled Davies
Training alongside Olympic champions in the USA helped the reigning Paralympic shot put F42 champion recover his hunger for victory.
16 May 2017
Imagen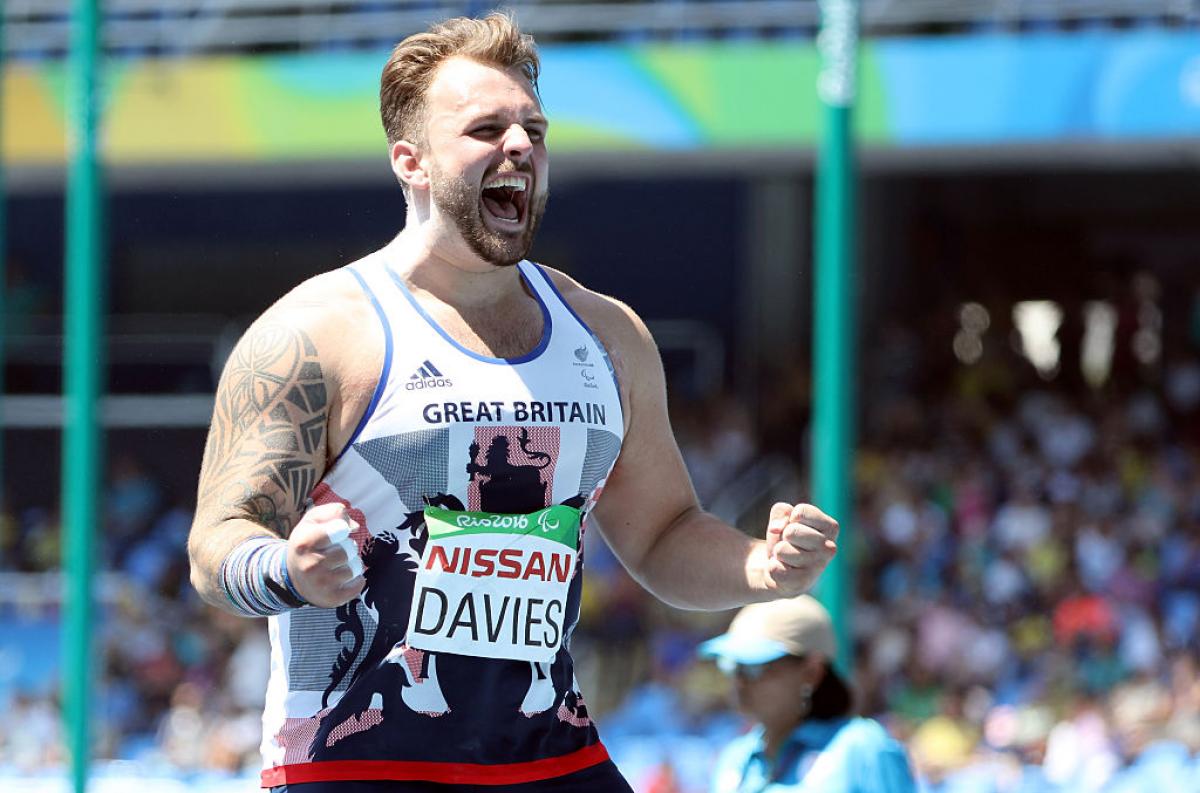 ⒸGetty Images
By IPC
Aled Davies is the reigning Paralympic, world and European shot put F42 champion. He is a world record holder; the best in his class, on top of the world.
But even the best can struggle to find the motivation to keep going.
That happened to Davies after he returned home from Rio 2016 – even though he returned as Paralympic champion.
It takes a special athlete to find a way out of the gloom and come back even better than before – and Davies has done that with a vengeance, inspired by some of the best shot putters in the world.
"To be honest after Rio I found it really hard to get back into things," explained the 25-year-old.
"I just really struggled, everything was perfect but I seemed very unhappy and I got myself in to a rut that I couldn't get out of.
"But I focussed all my energy and everything that I had into training, and I've had probably the best winter of my life. I thought with London 2017 coming I had to dig in and hopefully come out the other end in a good way – and we did."
In March, Davies travelled to the United States to train. Remarkably, within one month he had added more than one metre onto his shot put world record, throwing a phenomenal 17.40m.
He also improved his discus world record, throwing 54.85m – over half a metre further than the previous best he set last year.
"We didn't really plan on it to be honest. I went to America for a training camp and I wanted to work with the best guys in the world in able-bodied throwing, and learn from them," said the Welshman.
"I knew I was in good shape – I've had an incredible winter since Rio and we thought we'd come out, test the waters, and we actually surprised ourselves.
"I was actually worried. I thought 'Well I've thrown that so far, am I ever going to come near that distance again?' But then the next competition I did 17.20m so I thought that's not too bad, at least I backed it up. To think in Rio I threw 15.97m, we've come a long way in a few months."
One big game changer for Davies was the time he spent with some of the best in the business.
"I did a camp in Arizona, then went to Chula Vista in California to the Olympic training centre and learned off some of the best guys like (1976 Olympic discus gold medallist and current coach) Mac Wilkins.
"It was a proper learning curve for me, I was absolutely blown away by the knowledge people have. When you think you are at the top and you know everything, you go to somewhere like that and you are like 'I don't know anything'.
Davies was delighted by the chance to learn from the best.
"I was out there and was lucky enough to watch (Olympic silver medallist) Joe Kovacs and (Olympic champion) Ryan Crouser train, and they are the best shot putters in the world. Me and my coach got to sit alongside and watch them.
"I was just blown away by every training session, they treated it like an Olympic final, the passion and the aggression, the intensity. There was no going through the motions, they were giving it 110 per cent every single session and I think that was quite eye opening."
In another competition, Davies lined up against a world-class field including Kovacs, Crouser and Jamaica's Pan American discus champion Fedrick Dacres. For once, Davies was not the focus of everyone's attention.
"Nobody really cared, or even noticed I was there, because you had the big 22 metre throwers – the best guys in the world.
"I thrived under that, it actually brought out a different side of me and it was an exciting experience. It's taking that now and applying it in the IPC competitions."
Come London 2017, Davies will be the centre of attention once again; the man to beat. But even after such a terrific start to the season he knows he is capable of more.
"We haven't really come down to taper to compete yet which seems exciting. This year I had aimed to break the 17-metre mark but seeing as we did it already I've got to keep my aspirations high, so I'm going to be chasing 18 metres now.
"I can't wait to be honest. I'm hoping I will just be able to enjoy the whole experience as we might not ever have this opportunity in our back garden again. There's nothing like having a home advantage."
The next World Para Athletics Championships will take place in London, Great Britain, from 14-23 July 2017.
The event will form part of London's Summer of World Athletics, when for the first time the World Para Athletics Championships and the IAAF World Championships will be held in the same city.