Best of British: Jo Butterfield
The first time Great Britain's Jo Butterfield entered the London Stadium, the venue for July's World Para Athletics Championships, competing was a pipe dream.
06 Jun 2017
Imagen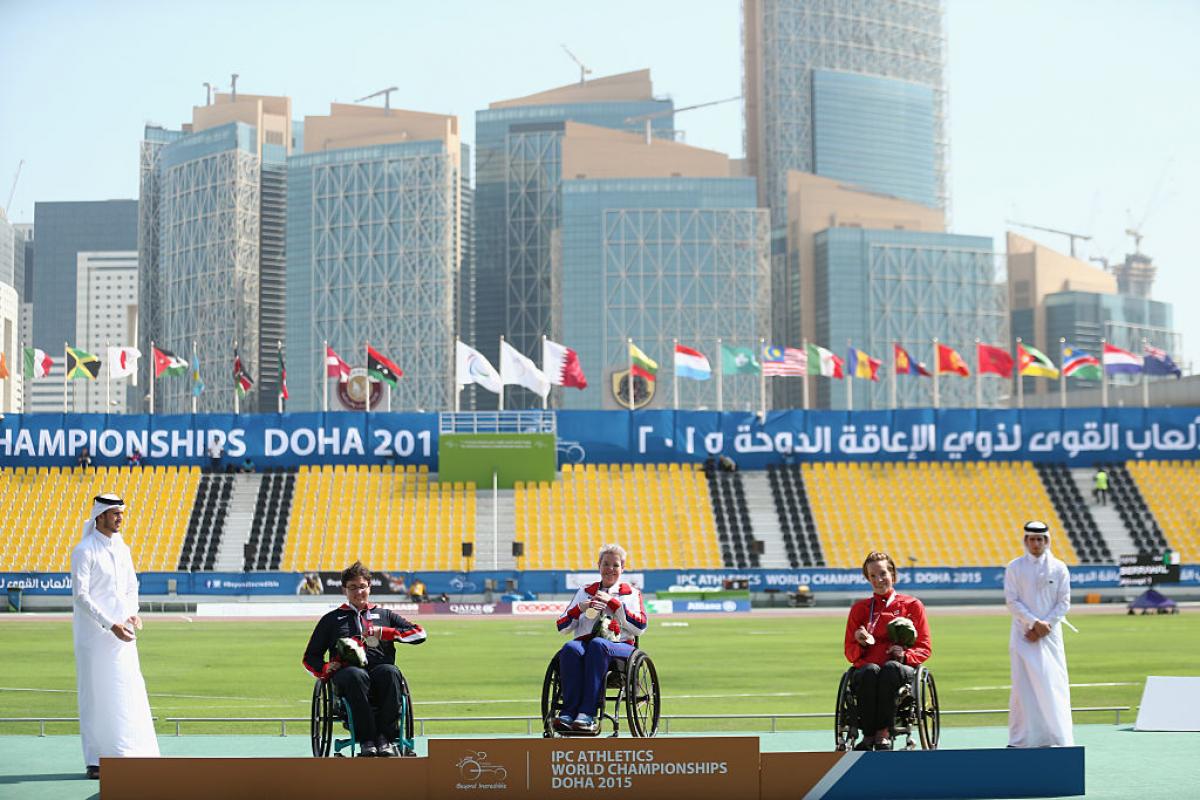 ⒸGetty Images
By IPC
Back in 2012, Butterfield had made the trip south from her home in Glasgow, Scotland, to the London Paralympic Games primarily to watch her friend Michael Kerr compete for Team GB in the men's wheelchair rugby competition.
The pair had met in 2011, not long after Butterfield underwent an operation to remove a tumour from her spinal cord. The procedure left her paralysed. When Butterfield came out of hospital she met Kerr and began training with the Scot purely to help her fitness and rehabilitation.
During her trip to the London 2012 Games, Butterfield had one ticket to go and watch Para athletics. Little did she know she would be watching the very event that she now dominates.
"I'd come out of hospital and I'd just started back at work - I was just getting in to normal life and then gone along to play wheelchair rugby," explains Butterfield, who has no grip in her hands, no wrist control and very little movement in her triceps.
"It was really the early days of joining a club. I'd met Michael and had gone down to London to watch him play rugby, but I saw a bit of every sport. The strange thing was, I had tickets to one of the athletics sessions – and it was the session with the event that I now do.
"I do remember the whole atmosphere of London just being completely inspiring and overwhelming. The support of the crowd, that feeling of 'Wow, this is actually pretty cool.'
"But it was a pipe dream then – imagine if this was what you could do…how amazing it would be? It was never a thought of 'I'm going to do this.' That came a bit later. I didn't think it was real, I didn't think I would be able to."
After the Games, Butterfield continued playing wheelchair rugby for her local club, until she was spotted by Scottish Athletics and invited to attend a talent identification day. She joined the 'Girls4Gold' programme and began throwing in March 2014.
By August that year Butterfield lined up in her first major international competition, the Swansea 2014 European Championships, where she won club throw F32/51 gold.
The world title followed in 2015, then in 2016 Butterfield retained her European title with a new world record throw in Grosseto, Italy, before going on to seal Paralympic gold with yet another new world record. That was despite injuring the tendons in her shoulder during the holding camp, when the bus she was travelling in jerked suddenly. Sometimes she can't quite believe it all herself.
"I do pinch myself and think 'Is this really true' on a daily basis. But I work hard for it as well. I get up every day and do my training sessions. But I think I'm a very fortunate person because I'm doing something that I enjoy doing.
"It's only when I hear it said – if I hear 'Double European, world and Paralympic champion' I kind of turn around and think 'Who are they talking about?' Then realise that's me and I get a bit embarrassed. I'm not a showy off kind of person, I do what I do. It just happens to be that I'm quite good at it."
The 38-year-old now hopes to return to London's Olympic Park as a key contender for gold in the women's club throw F51.
"I can't wait," she admits. "I do like the crowd, I love the support and when there's a little bit of pressure I perform my best – I do my best at major championships. So I'm looking forward to that home crowd."