The best judo quotes of the Paralympic Games
"I am a mother normally, but a warrior on the mat." Here's what the judokas had to say after they came off the Rio 2016 tatami.
11 Sep 2016
Imagen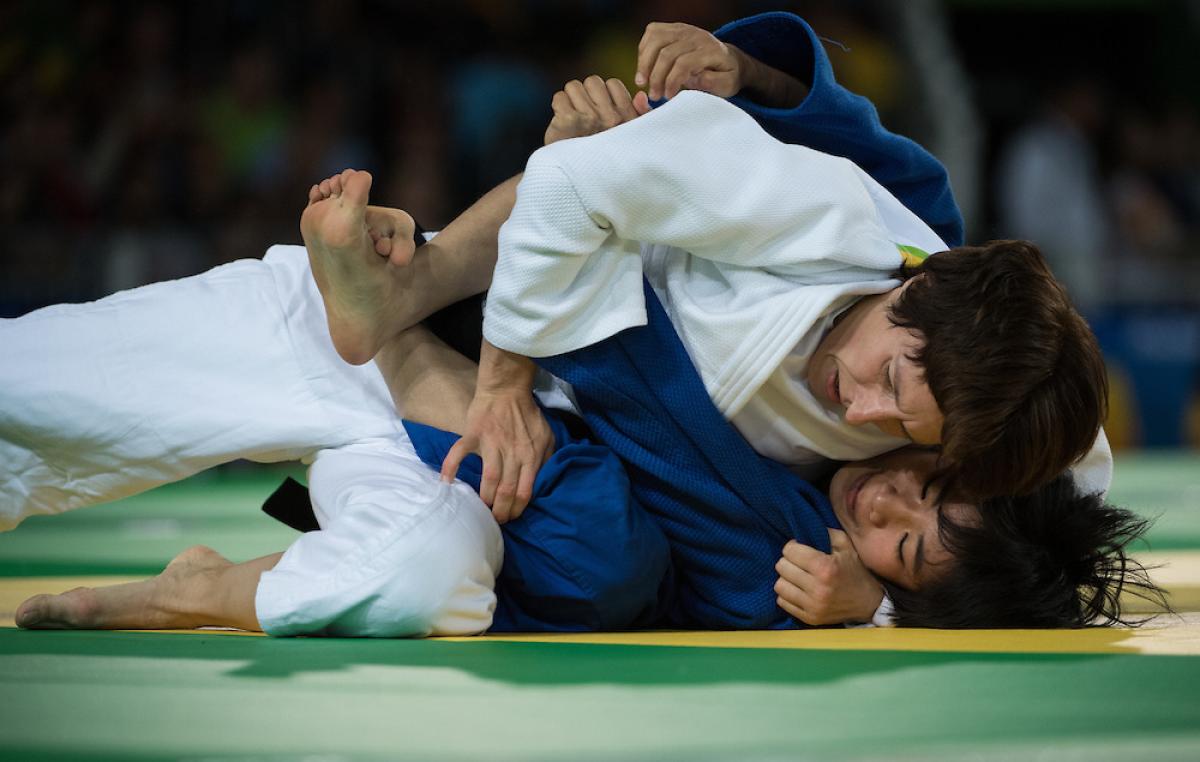 ⒸThomas Lovelock for OIS/IOC
By IPC
Sandrine Martinet, France, up to 52kg gold medallist
"I am very happy. It was a lot of sacrifice with injuries and family. Today, mentally I was very good. That makes a difference. Today was my day.
"I am a mother normally, but a warrior on the mat. That is something I've been working on.
"To know I had a son in the stadium watching and a daughter in France gave me a lot of strength to help me to win."
Li Liqing, China, up to 48kg gold medallist
"I have been with my coach for seven years. He is like a father to me. That is why it (the win) was so emotional. I was doing massage when he discovered me and said that I could do judo. He taught me everything. I owe this gold medal to him."
Carmen Brussig, Germany, up to 48kg silver medallist
"It was a very hard competition, harder than the world championships, even harder than London 2012. It's fair to get the silver medal. It (the final) was a very tough match, but I'm happy with what I've got.
"I hope to inspire many children in Rio, if they're coming here, searching for a sport, wanting to make it to the Olympics or Paralympics."
Inna Cherniak, Ukraine, up to 57kg gold medallist
"I was very nervous because the crowd were of course supporting the Brazilian judoka. But their emotions helped me too.
"This day was the perfect day. This medal represents four years of work. It's everything I wanted."
Lucia Araujo, Brazil, up 57kg silver medallist
"Winning silver at London 2012 was fantastic preparation for this, it helped me to be here and get the medal. It is amazing for me.
"Even though it was the silver medal, I still got supported by the people. I didn't have time to think about losing the gold medal. I was sad but then everybody started cheering and I felt very good about it.
"But I am after the gold medal now."
Ramil Gasimov, Azerbaijan, up to 73kg gold medallist
"I came here for the gold and I got it. My son has a birthday on 16 September and I promised to win gold, and I kept my word.
"I loved everything. I was especially happy with the spectators, for their support. It felt like they gave me strength to go for it.
"I've been dreaming about this for a very long time. Dreaming about listening to my country's anthem and seeing my flag."
Antonio Tenorio, Brazil, up to 100kg silver medallist
"Twenty-five percent of the population of Brazil has some visual deficiency. I hope to inspire those people, and get many more people doing judo after these Games."
Dartanyon Crockett, USA, up to 90 kg bronze medallist
"It (the bronze medal) is the physical manifestation of the entire four years that I put in.
"I don't think there are enough words in the English dictionary to describe the feeling that I have right now. It's absolutely incredible, it's a wonderful feeling."