Blair targets Paralympic gold after over a decade away from sport
The world record holder will make his Paralympic debut at the age of 41 years.
29 Aug 2016
Imagen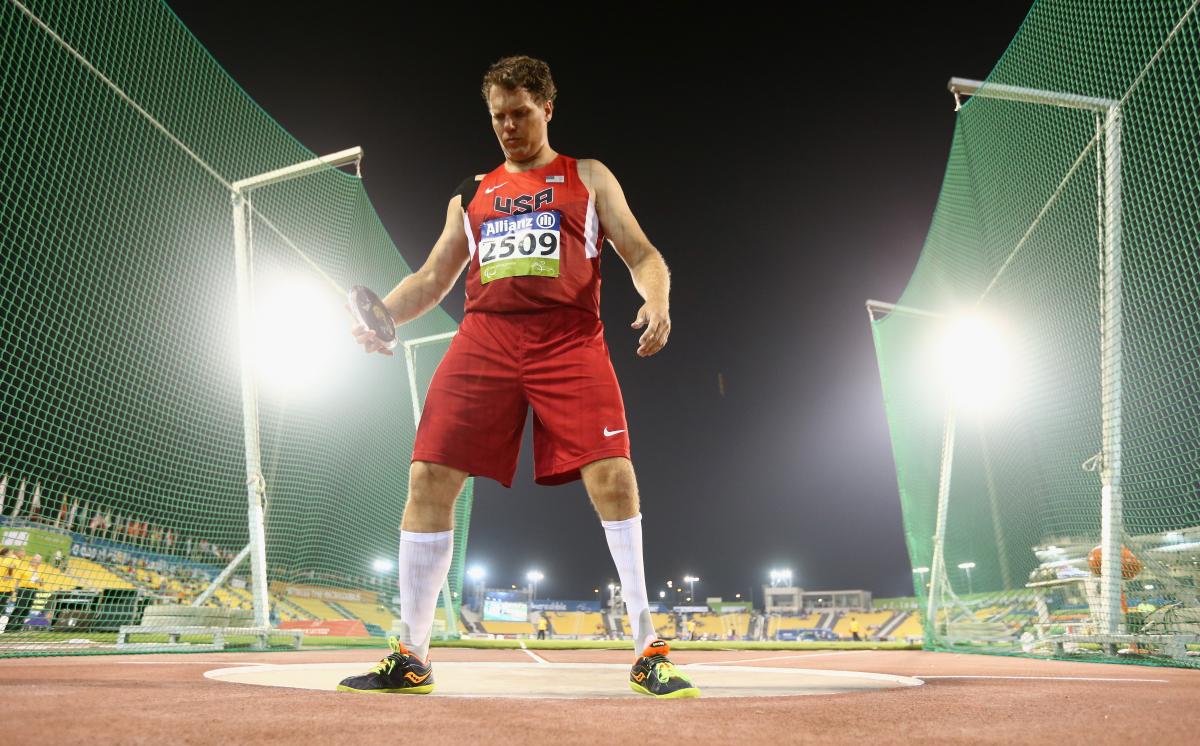 ⒸGetty Images
By IPC
After a 16-year break from track and field, US thrower David Blair is back - with a vengeance.
The Utah-based Para athlete lines up in the discus F44 in his first Paralympic Games in September, but he's no stranger to competing – and succeeding – on the big stage.
Blair was a hugely successful hammer and discus thrower throughout school and college – but he took a 16-year break from the sport to concentrate on supporting his family and establishing his career as a database programmer.
Last year Blair, who has club foot, started throwing again.
He picked up a discus in February 2015 and by October had won world silver behind his US teammate and reigning Paralympic champion Jeremy Campbell.
Then at this May's IPC Athletics Grand Prix in Arizona, USA, Blair threw 63.61m – breaking Campbell's world record mark which had stood for four years.
"I didn't know that I could get to this," admitted Blair, who added 15 centimetres on to Campbell's best.
"I had people tell me that I could, but at the Games I'll be almost 41. I'm happy to be there and surprised that I am. I love it. It's something that I missed my whole life, and so to have it back it's been great."
Blair first started throwing at junior high school; his aim was to win a scholarship to fund him through college. By the time he was in high school, the teenager was making his mark - in 1993 he won the Utah State Championships.
College and freshman records followed – in the hammer, discus and indoor weight. By the time he graduated from Weber State University in 1999, Blair was throwing over 54 metres – just a few metres shy of the mark that would have enabled him to compete at the Olympic Trials.
"But I'd already gotten married and I had a child, and my foot has severe arthritis on the sides - I still remember how much pain I was in my very last meet of my senior year," explained Blair.
"So I decided it was time to move on to something more productive for myself and my family, and that was to pursue a career."
The years passed and despite missing track and field – especially each spring, when the snow would melt and the athletics season begin - Blair had other priorities.
Then in 2012 Blair was watching South African Oscar Pistorius race at the London Olympics.
"I looked at him and thought 'He's a Paralympian? That's interesting, he has more movement in his blade than I do in my foot. I can't move my foot at all, it's fused.
"It got me wondering - I didn't know that there were Paralympic throws for men or women that weren't in a wheelchair. I had competed with able-bodied athletes my whole life so to me that's how it was."
But Blair couldn't find any record of the hammer throw - his favourite event - in Para athletics, and the idea slipped away.
"Then in February 2015 I was at home and I just thought 'Oh yeah, remember you were going to look in to that Paralympic thing?' and so I found out about it.
"I asked my wife and children what they would think if I took up competing again – if they would be okay with that, if it wouldn't be too much of a strain on the family. They were excited and I got their support. I started training once the snow melted, went to my first collegiate meeting in 16 years and threw almost 55 metres."
Blair joined forces with his coach, the former Olympian and three-time national champion James Parker, last year – the pair have been friends since their college days.
"He is an enormous part of my success this year," acknowledged Blair, who won the 2016 US Trials in July with 61.82m – one of three throws at the meeting that registered over the 61 metre mark.
The American also finished first at the IPC Athletics Grand Prix Final in July, throwing 63.44m – his consistency over the 60m mark has set him apart from his rivals this year and makes Paralympic gold seem a real possibility.
He also believes he can throw further – "I do, yes, I do," he acknowledged.
It may have been a long time coming, but Blair's rise to the top looks set to continue.
__
Sport fans from around the world can now buy their Paralympic tickets for Rio 2016 from authorised ticket resellers (ATRs)
The IPC's Global ATR is Jet Set Sports, and Rio 2016 tickets and packages can be purchased on the CoSport website.
Residents of Brazil can buy 2016 Paralympics tickets directly from the Rio 2016 website.
Visa International is the exclusive payment card and the official payment system for the Paralympic Games.