Brazil's 7-a-side footballers tell rivals: "We're ready to win gold at Rio 2016"
Seven-a-side team say they have the skill and flair to overcome Russia and Ukraine, who have dominated the sport in recent years
23 Mar 2015
Imagen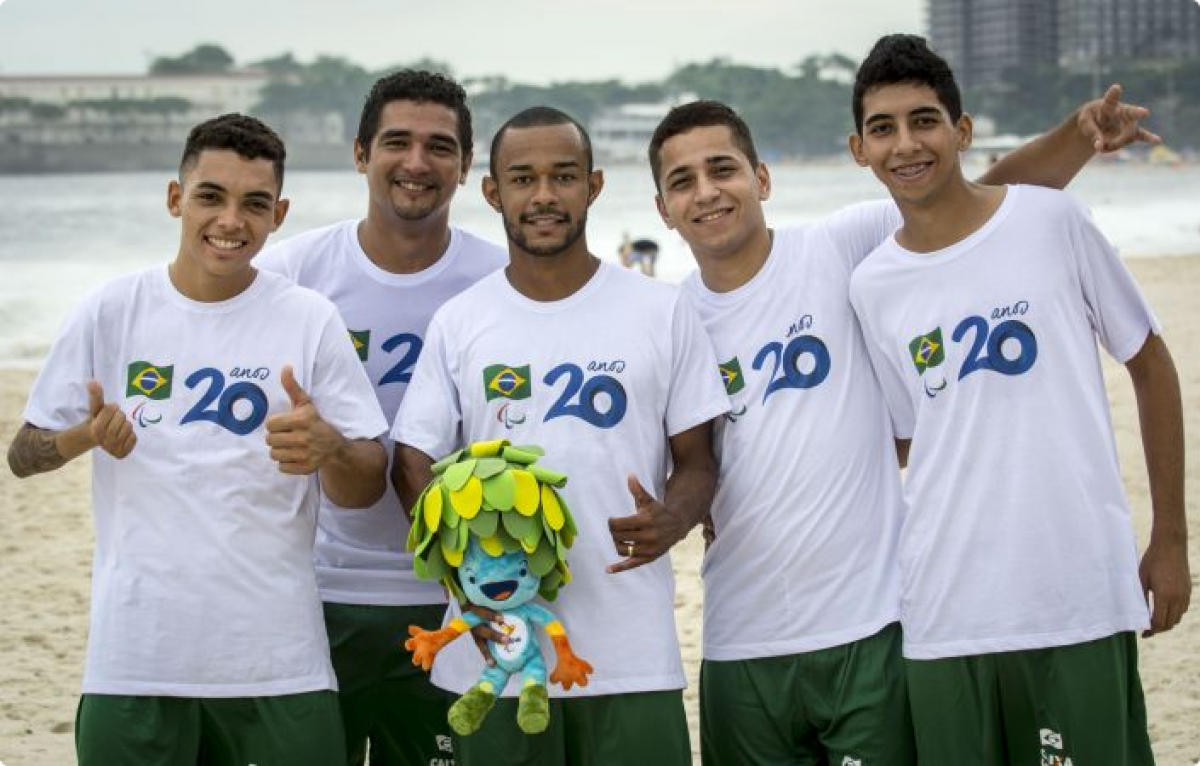 ⒸDaniel Zappe/CPB/MPIX
Brazil's 7-a-side footballers are confident of winning a first Paralympic Games gold medal on home soil next year. That was the message that emerged loud and clear during an event on Copacabana beach on Saturday (21 March) afternoon, when the players trained with local children.
Russia and Ukraine have dominated football 7-a-side in recent years, but the Brazilians believe that now, one year before the Rio 2016 Paralympic Games, they are on the same level.
"I believe we are the strongest team the world at the moment," said midfielder Wanderson Oliveira. "Russia and Ukraine have been the best for best for many years, but the scene is changing. We are very confident for the world championship (in June this year) and the Paralympic Games.
"Ukraine and Russia are very methodological, very tactical, but us Brazilians always have a card up our sleeve. We can always produce a special move that makes a difference."
Brazil has won two Paralympic Games medals in football 7-a-side: bronze at the Sydney 2000 Games and silver four years later in Athens, Greece. Ukraine and Russia, meanwhile, have both medalled at the last four editions of the Games (two golds and two silvers for Ukraine; two golds, one silver, one bronze for Russia), while Iran have taken bronze at the last two Games.
Evidence of Brazil's improvement came at the 2013 Intercontinental Cup in Barcelona, when they beat Russia 2-0 in semi-finals before losing narrowly to Ukraine, 1-0, in final. They followed that up in 2014 by winning the Americas Cup and International Tournament in the Netherlands.
Now they are preparing for June's World Championships in Great Britain, where Russia will defend their title, and August's Toronto 2015 Parapan American Games. But their minds are never far from the Rio 2016 Games.
"It will be amazing to play in front of our own fans," said defender Diego Silva. "We're very confident and working hard to win the gold medal in 2016. Ukraine and Russia are very strong, very muscular, but we will use our Brazilian style – our skill and our passing."
Silva is nicknamed Ángel di María due to his similar appearance to the Argentina and Manchester United winger. "On my first training session with my club, Vasco da Gama, they gave me the nickname and it has stuck. Some people at the club don't even know my real name is Diego. I like it – he's a star of world football, so it's an honour."
The Brazilian players were taking part in the 'Curta a Praia' (Enjoy the Beach) event organised by the Rede Globo television company. Among the children who trained with them was six-year-old Italo Martins, who said: "I liked it a lot, they were really friendly and they're really good players. I'll be cheering for them at the Paralympic Games."
Ukraine and Iran are the only teams to have already confirmed their presence at the Rio 2016 Games, alongside hosts Brazil. The remaining five slots will be decided at the world championship and Parapan American Games this year.
Tickets for August's Parapan American Games go on-sale on Monday 23 March and can be purchased at: TORONTO2015.org/tickets
Related Images