Brazil wins five out of 16 TO2015 swimming golds
The Rio 2016 hosts have now won 41 medals in three days of swimming at the Parapan American Games
10 Aug 2015
Imagen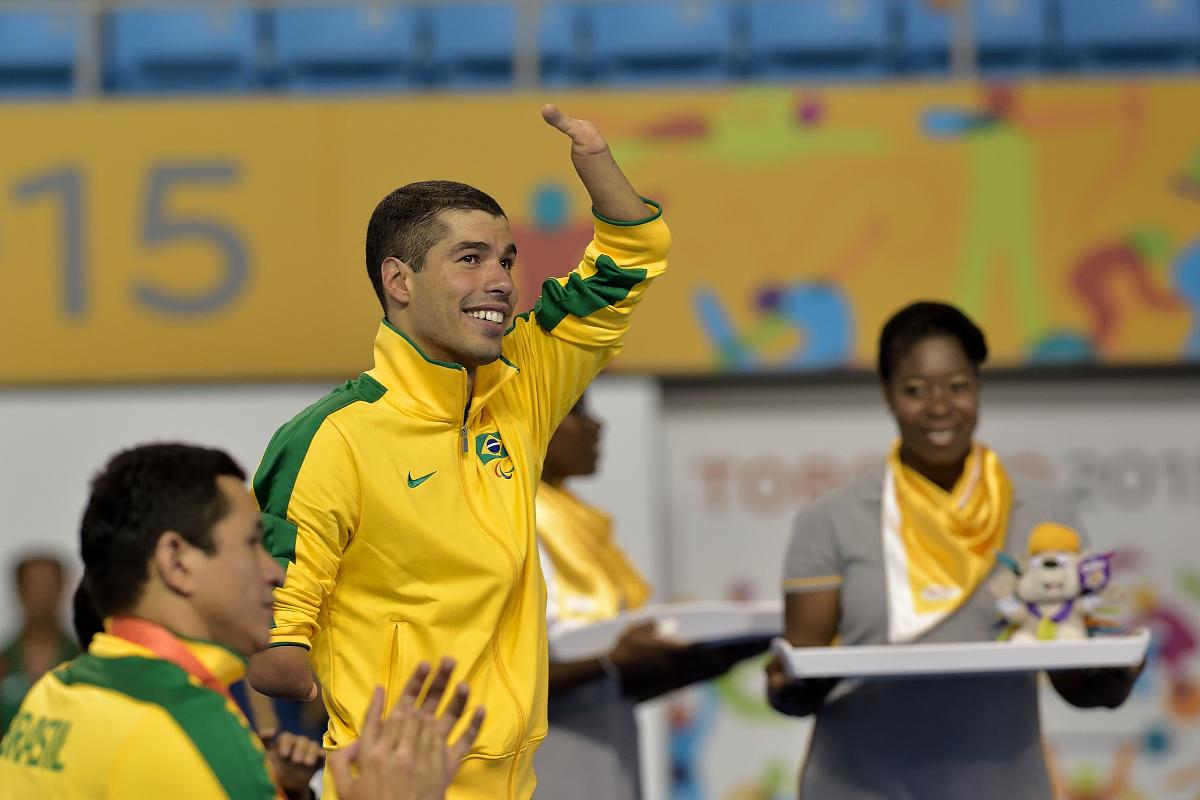 ⒸLaura Godenzi
By IPC
Brazil won five out of 16 medal events on Monday (11 August) evening as the third day of swimming at the Toronto 2015 Parapan American Games came to a close.
Multi-world and Paralympic champion Daniel Dias claimed his country's first gold of the night, his third of the Games, in the men's 50m butterfly S5 with a Games record. Mexico's Edgar Pineda (37.64) and Juan Reyes (46.58) completed the top three.
"I'm really happy right now. It's my third day, third competition and third medal, so I'm happy," Dias said.
Dias' compatriot Joana Da Silva (47.55) set a new Games record in the women's equivalent race finishing ahead of the USA's Haley Beranbaum (52.95) and teammate Leticia Lucas (53.70) on the podium.
Guilherme Batista (1:14.30) lowered the Americas record by 0.07 seconds as he won gold in the men's 100m breaststroke SB13. Canada's Tyler Mrak (1:16.23) was second, with Brazilian Renato Nunes (1:18.35) was third.
Brazil performed a clean sweep of the podium in the men's 50m freestyle S9. Matheus Da Silva (27.07) secured gold just ahead of teammates Vanilton Do Nascimento (27.08) and Ruiter Silva (27.19).
Philipe Melo (23.42) was the winner of Brazil's final gold of the evening, edging out teammate and world record holder Andre Brasil (23.51) into silver. Canada's Nathan Stein (23.67) completed the podium.
Canada's two-time world champion Aurelie Rivard is now a two-time Parapan gold medallist.
Her first gold came in a Canadian one-two finish in the women's 100m butterfly S10 in which she broke the Games record with a time of 1:10.00. Teammate Samantha Ryan (1:11.03) claimed silver ahead of Argentina's Daniela Gimenez (1:12.20).
In the final race of the day, Rivard (27.90) won the women's 50m freestyle S10 ahead of Mexico's Rubi Cristino (29.77) and Brazil's Mariana Gesteira (29.83).
Colombia's Nelson Crispin (29.14) set a new Americas record in the men's 50m freestyle S6 to claim his first gold medal at Toronto 2015. Cuba's Lorenzo Perez (29.55) and Brazil's Talisson Glock (32.78) completed the podium.
"I am very happy. I worked so hard for this medal and I got it. Today I really focused on leaving everything in the pool and I did that," said Crispin.
Crispin's compatriot Carlos Serrano (29.93) made it onto the top of the podium in the men's 50m freestyle S7. Canada's Jean-Michel Lavalliere (31.59) claimed the silver ahead of Brazil's Italo Gomes (32.52).
Mexico's Armando Andrade (1:03.16) won his second medal at Toronto 2015 and his first gold in the men's 100m butterfly S8. His teammate Angel Buitian (1:07.75) grabbed silver and Canada's Zach Zona (1:10.36) bronze.
Doramitzi Hernandez (37.10) continued a great evening for Mexico, winning the gold in the women's 50m freestyle S6. Her teammate Naomi Somellera (37.65) and USA's Sophia Elizabeth Herzog (39.71) completed the medal positions.
"It feels so good because my goal is Rio and this time is closer to the time I want to go in 2016. I'm very proud because I have had to do a lot of work with training," Hernandez assured.
Anabel Moro (1:26.24) claimed Argentina's first swimming gold medal of the day in the women's 100m breaststroke SB13, ahead of Brazil's Raquel Viel (1:26.93) and Venezuela's Belkys Mota (1:30.90).
Gimenez (30.18) won the women's 50m freestyle S9, beating Canada's Katarina Roxon (30.88) and Brazil's Camille Rodrigues (31.10).
Canada's Tess Routliffe (34.55) registered a new Games record in the women's 50m freestyle S7. She finished ahead of her teammate Sarah Mehain (35.59) and Brazil's Veronica Almeida (38.13).
"It went well. I feel really good. It's my second race, so it's good to get into things and get it going right. I was focusing on staying long and strong. That was the main goal of that race," Routtliffe said.
Routliffe's compatriot Gordie Michie (1:03.46) took gold in the men's 100m backstroke S14. Teammate Adam Rahier (1:07.66) secured silver and Venezuela's Alberto Jesus Vera (1:08.08) was third.
USA's Leslie Cichocki (1:16.01) took victory in the women's 100m backstroke S14, ahead of Canadian duo of Kirstie Kasko (1:16.34) and Justine Morrier (1:18.54).
Swimming continues at Toronto 2015 on Tuesday.