British home glory at the 2018 London Marathon
Australia, Spain, Japan and USA athletes also emerge triumphant
22 Apr 2018
Imagen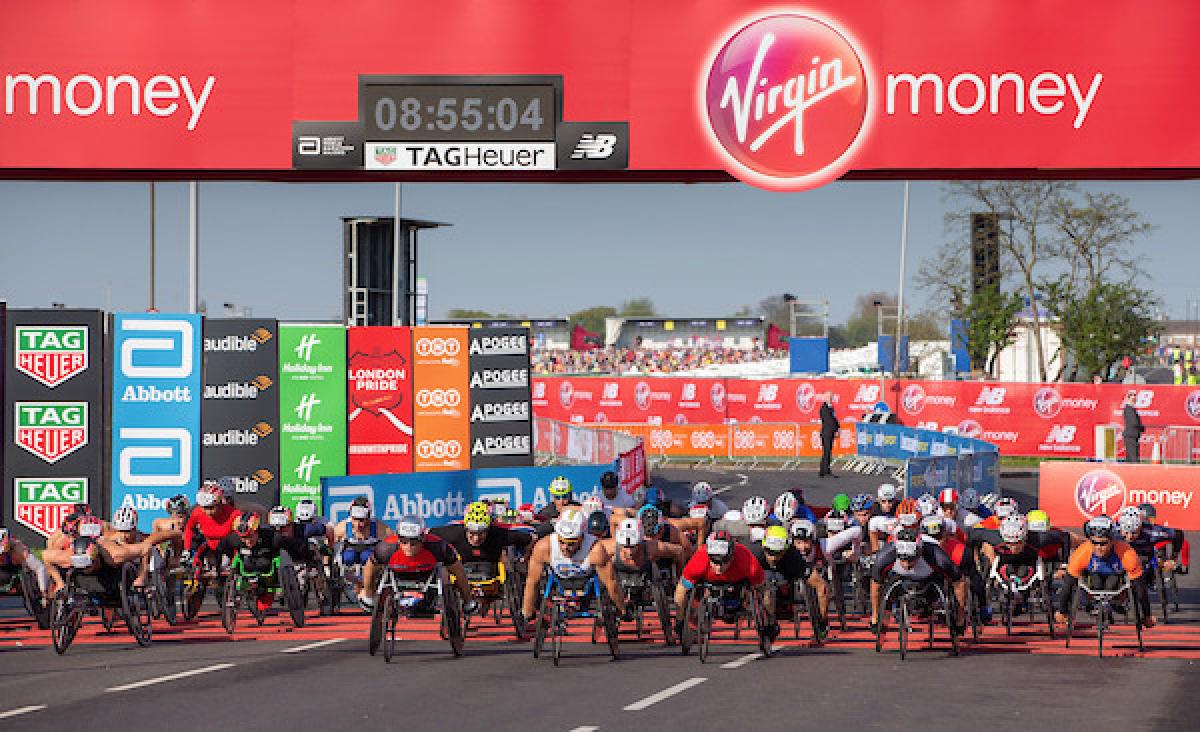 ⒸVirgin Money London Marathon 2018
British Para athletes David Weir, Rob Smith and Derek Rae gave the local crowds plenty to cheer about with wins in the World Para Athletics Marathon World Cup at the Virgin Money London Marathon on Sunday (22 April).
Weir (1:31:15) claimed his eighth London marathon title as he took victory ahead of Paralympic champion Marcel Hug (1:31:15) and the USA's Daniel Romanchuk (1:31:16) in the men's T53/54 race.
"I'm very hungry again," said the 38-year-old, who took time out from competing after winning in the British capital twelve months ago.
"It's always a pleasure to race on the streets of London. Last year was a funny year for me, I didn't know what state of mind I was in going in to the race, or the physical state I was in – it felt weird and I couldn't really celebrate it.
"This time training has been great and my head's in a better place. I think I raced a perfect race to be honest. I just feel great. I feel like I've got the buzz back for the sport and I feel amazing."
Smith (2:00:17) took gold in the men's T51/52 event, his first victory in London, having finished fourth for the past three years. Colombia's Cristian Torres (2:02:21) finished second and (2:53:04) was third.
"I am really pleased with that. Cristian and I were swapping places all the way. Every time it got to a hill, he had the strength to power ahead of me but on the flat I would pull it back and go into the lead," said Smith.
"I caught him after about 24.5 miles and I kept going and didn't let him get on the back of me. I put my head down and I am so pleased to get the win on that. It was my fastest time in London and I am really happy with that, it was a good race."
Scotsman Derek Rae also claimed his first ever World Para Athletics World Cup win as he came home in 2:36:13 in the men's T45/46 event.
"To come away with first position is what dreams are made of," said a delighted Rae after the race.
"That's what all the hard work's been for and I'm exceptionally proud of myself, proud of the team, proud of the support. My wife's been a massive support too and I'd like to dedicate this to her."
Rae crossed the line more than five minutes ahead of his nearest rival, Portugal's Manuel Mendes (2:41:29).
"It was just a case of keep focussed, keep the head down. I worked hard for that to happen and I think it shone through in the end so I was able to finish strong enough to take the win," explained the 32-year-old.
"I think the gap that I created benefitted me in the end when I was starting to tire. I knew if I just kept my head down and kept my foot on the gas the victory would come."
With temperatures rising – thermometers reached the high teens by mid-morning – Rae knew it was going to be tough, but the crowd buoyed him on just when he needed it most.
"The support is always massive at the London Marathon and it really does help when you are digging deep. I think they saw I was working hard and they just encouraged me even more," he added.
International stars also excelled, with Australia's Madison de Rozario (1:42:58) adding to her Commonwealth gold from one week ago with a win in the women's T53/54.
De Rozario saw off US duo Tatyana McFadden (1:42:58) and Susannah Scaroni (1:43:00) as well as Switzerland's defending champion Manuela Schar (1:43:01) to take the top spot in only her second outing round London's streets.
"Just physically doing the 42km felt a lot easier after doing it last weekend and knowing that my body is happy to do it," said the 24-year-old.
"Then you throw in the competitive part on top of it and I had a bit more confidence going in, knowing that I could stay and that I could maybe sprint finish."
Spain's Alberto Suarez Laso (2:28:49) was the first of the visually impaired athletes over the line.
Laso, who claimed marathon gold on the same course at the 2012 Games, won the T11/12 event ahead of Morocco's 2015 world champion El Amin Chentouf (2:29:05), with Japan's 2016 World Cup winner Yutaka Kumagai (2:39:10) in third.
"It was better than I expected, I prepared a lot for the World Cup here in London. However it was very complicated to keep the pace that we had planned because of the heat," said Laso.
"I came here with a target that I didn't achieve but I am happy because I won against my biggest rivals. The experience in London was spectacular. It's a pleasure to come and run here, the people are great and the organisation is fabulous, especially how they treat the Para athletes."
Japan also struck gold thanks to Toshiharu Takai (2:38:23) in the men's T13 race and his teammate Misato Michishita (3:04:00) won the women's T11/12 event, retaining the title she won 12 months ago.
Brazil's Paralympic bronze medallist Edenusa de Jesus Santos Dorta (3:10:12) finished second with Spain's Maria Paredes Rodriguez (3:13:20) third.
The USA's Brian Reynolds (3:03:35) won the men's T62-64 on his London Marathon debut.