British team named for London 2017
49 athletes will compete at their home World Championships in July.
07 Jun 2017
Imagen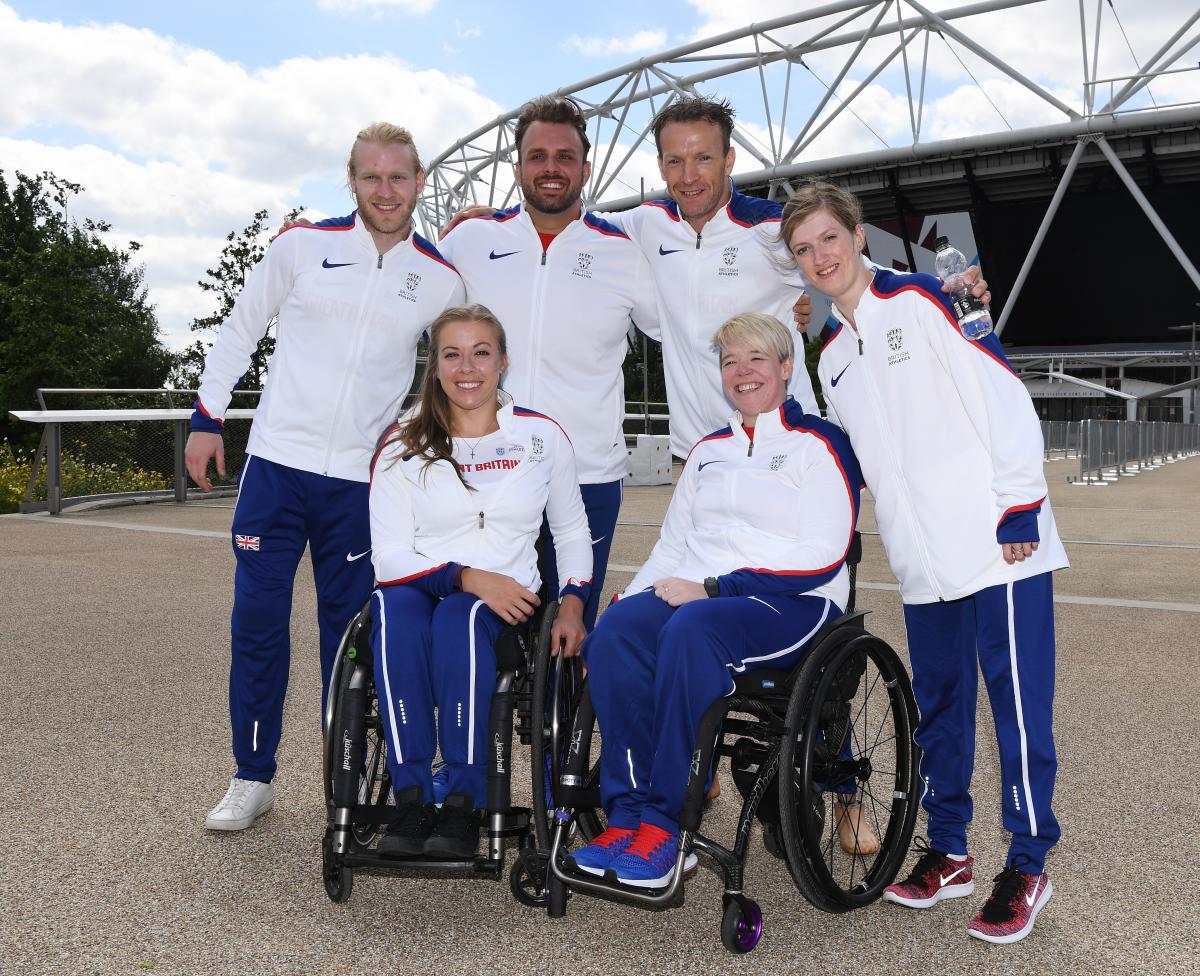 ⒸMike Hewitt - Getty Images
British Athletics has announced a 49-strong team that will represent the country at the World Para Athletics Championships from 14-23 July in London, including 21 medallists from the 2016 Rio Paralympic Games.
Ten 2016 Paralympic Games gold medallists have been selected including Hannah Cockroft, Aled Davies, Jonnie Peacock and Richard Whitehead.
Cockroft set a remarkable five world records at the Grand Prix in Nottwil, Switzerland, earlier in June. With seven world titles already to her name, the Yorkshire born-athlete is seeking to continue her legend as she seeks to replicate her triple success from Doha, two years ago in the 100m, 400m and 800m T34.
One of the iconic moments of the 2012 Paralympic Games in the London Stadium was Peacock silencing the crowd before he captured 100m T44 gold. He will have a chance to experience that atmosphere once again on 16 July as he targets a second world title over the distance.
Like Cockroft, Davies and Whitehead have also been in world record breaking form in 2017. The former has thrown 17.40m in the shot put and 54.85m in the discus respectively and will be looking to recapture the double he achieved in Doha two years ago. Whitehead, meanwhile, lowered his best over 200m in Nottwil last week to 23.01, and will be targeting double success in the T42 100m and 200m in London.
Fellow Rio gold medallists Hollie Arnold, Paul Blake, Jo Butterfield, Kadeena Cox, Sophie Hahn and Georgie Hermitage will all be eyeing the podium on their quest for further world glory.
Teenage talents Kare Adenegan and Maria Lyle, who are already world medallists after joy in Doha 2015, will again excite the home crowds in Stratford. They will be complemented by the experienced hands in the team with Stephen Miller looking to make his seventh appearance at a World Championships representing the British team, whilst Graeme Ballard and Dan Greaves add to their wealth of Championships.
There are a trio of debutants who will represent the British team for the first time, on home soil. T13 sprinter and jumper, Zak Skinner, has been in exceptional form so far in 2017, revising his 100m personal best to 11.24 and his long jump to 6.54m. T20 athlete Martina Barber and T42 long jumper Luke Sinnott, an Invictus Games medallist, also earn a call-up to their first ever senior British Athletics team.
Great Britain's Para athletics head coach Paula Dunn said: "We have selected a very strong team for the World Para Athletics Championships in London, and I am delighted to see so many medallists from Rio lining up alongside some new faces at the senior level. Having a home World Championship is very special for all the athletes, coaches and team staff, so we are all very honoured to be representing the British team this summer.
"We have selected five athletes who topped the podium at the Paralympic Games in 2012, so they have valuable experience of a home championship. I expect the British public will throw their support behind the team once more, and our team will create some unforgettable memories for them once again in the London Stadium."
British Athletics Team:
Kare Adenegan –100m, 400m and 800m T34
Hollie Arnold – javelin F46
Graeme Ballard – 100m and 200m T36
Martina Barber– long jump T20
Paul Blake –100m, 200m and 400m T36
Dan Bramall – 100m T33
Olivia Breen – long jump, 100m and 4x100m relay T38
Jonathan Broom-Edwards – high jump T44
Mickey Bushell – 100m T53
Jo Butterfield – club throw and discus F51
Richard Chiassaro – 200m, 400m, 800m and 1500m T54
Hannah Cockroft – 100m, 400m and 800m T34
Kadeena Cox – 100m, 200m, 400m and 4x100m relay T38
Aled Davies – shot put and discus F42
Kyron Duke – shot put F41
Sabrina Fortune – shot put F20
Toby Gold – 100m T33
Dan Greaves – discuss F44
Kylie Grimes – club throw F51
Sophie Hahn – 100m, 200m and 4x100m relay T38
James Hamilton – 800m and 1500m T20
David Henson -- 100m and 200m T42
Georgie Hermitage – 100m, 400m and 4x100m relay T37
Jordan Howe – 100m T35
Abbie Hunnisett – club throw F32
Jade Jones – 800m, 1500m and 5000m T54
Rhys Jones – 100m T37
Sophie Kamlish – 100m T44
Sammi Kinghorn – 100m, 200m, 400m and 800m T53
Maria Lyle – 100m, 200m and 4x100m relay T35
Nathan Maguire – 200m, 400m and 800m T54
Polly Maton – 100m and long jump T47
Stephen Miller – club throw F32
Stephen Morris – 800m, 1500m and 5000m T20
Jonnie Peacock – 100m T44
Gemma Prescott – club throw F32
Stefanie Reid – long jump T44
Ben Rowlings – 400m and 800m T34
Sam Ruddock – shot put F35
Zac Shaw – 100m and 200m T12
Luke Sinnott – long jump T42
Zak Skinner – 100m and long jump T13
Andrew Small – 100m T33
Laura Sugar – 100m and 200m T44
Carly Tait – 100m, 400m and 800m T34
Kieran Tscherniawsky – shot put F33
Isaac Towers – 400m and 800m T34
Vanessa Wallace – shot put F34
Richard Whitehead – 100m and 200m T42