Buoyant Nigeria net two more powerlifting golds
Ndidi Nwosu is the shock winner of the day as she sees off favourite and defending champion Souhad Ghazouani.
12 Sep 2016
Imagen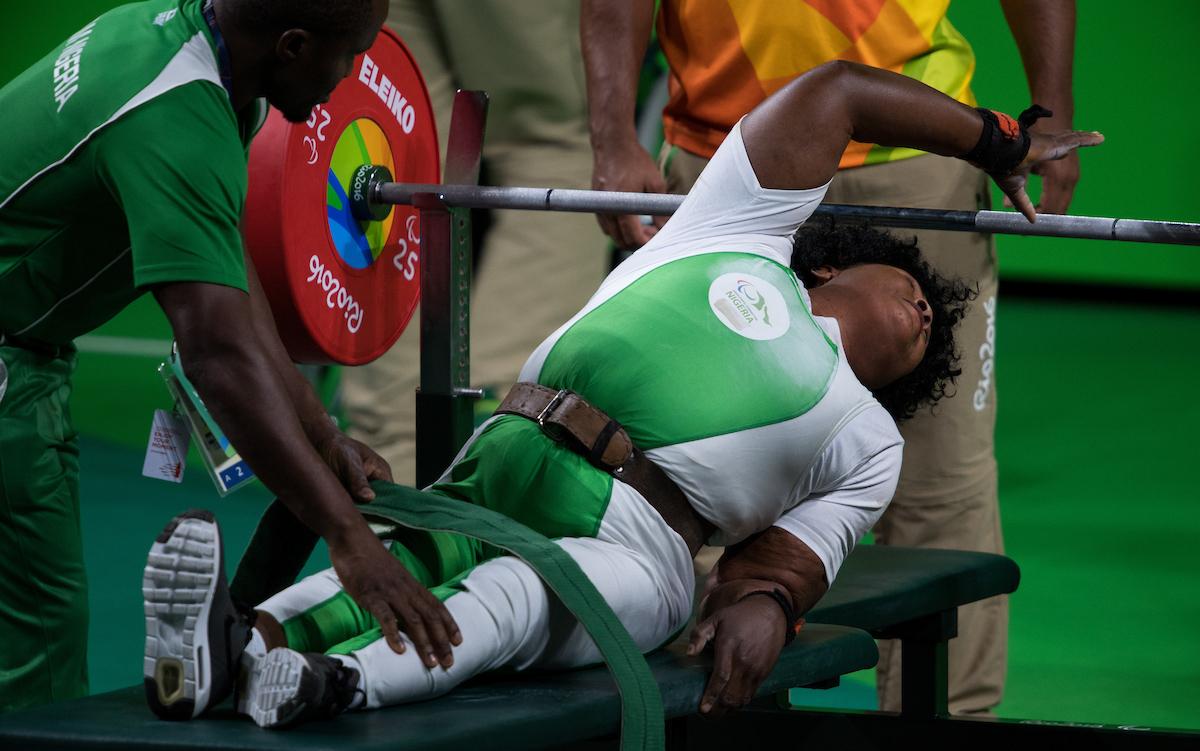 ⒸOIS
By By Beau Greenway
"It was my first Paralympics and I broke the world record and next time I will do better."
Drama surrounded day five of the powerlifting competition at Rio 2016 on Monday (12 September), with two more records being eclipsed as Nigeria tightened its grip on the overall medal tally at Riocentro Pavilion 2.
Nigeria's Ndidi Nwosu was a shock winner of the women's up to 73kg event to commence the day's proceedings, clearing 140kg to upstage heavy favourite and defending champion Souhad Ghazouani, of France.
Ghazouani led the competition until Nwosu's final lift, 15kg more than her second attempt of 125kg, forced the Frenchwoman to produce a successful final attempt, which she was unable to do at 145kg, leaving her in second position.
The bronze medal went to Egpyt's Amany Ali, who cleared all three of her attempts, finishing with 127kg.
"I feel happy; I feel great," said a very excited Nwosu after pulling off one of the biggest upsets of the entire powerlifting competition.
"It was not me that lifted it; it was the power I've got.
The 140kg effort was a personal best for the Nigerian, who even surprised herself with the result.
"She is the champion and I didn't think I could beat her, but I drew on the power I've got and did it," Nwosu said.
She first started training for the sport in 2002, but has taken 14 years to reach her first Paralympics after taking a break to get married and start a family.
Nwosu admitted it was seeing the success of her fellow Nigerian athletes that inspired her to return to training in 2014 – and ultimately become the Paralympic champion.
There has been a great feeling within the Nigerian powerlifting team which has won multiple gold medals during the competition, with Nwosu already eyeing the world record and a repeat performance at Tokyo 2020.
Nigeria's winning ways continued in the women's up to 79kg category when Bose Omolayo claimed gold and added to her previous world record mark with a massive lift of 138kg.
Omolayo held off China's Lili Xu who took the silver with 135kg, while Chinese Taipei won its first medal of the competition thanks to a 125kg effort from Tzu-Hui Lin.
The Paralympic debut couldn't have gone more smoothly for Omolayo who became Nigeria's fifth gold medallist of the powerlifting competition.
"It's the time of my life, I've made Nigeria proud, I've made my fans proud and I'm so thankful for my coach," she said.
"It was my first Paralympics and I broke the world record and next time I will do better."
After commencing training in 2007, her international debut came at the Commonwealth Games in Glasgow in 2014, where she claimed silver, and, she has gone from strength to strength since then.
"In Kazakhstan I won gold, in Congo I won gold and now in Rio I've won gold," Omolayo added.
The men's up to 80kg class completed another day at the arena and saw Iran claim its first gold medal of the powerlifting competition through Majid Farzin.
Farzin retained his gold medal from London 2012 with a world record-breaking effort of 240kg to finish ahead of China's Xiaofei Gu (228kg) and surprise bronze medallist Akhror Bozorov, from Uzbekistan, who cleared 207kg with his final attempt.
"I'm delighted and I thank God I was successful. With the hand of God I was able to win this medal and break the world record," Farzin said.
"Rio 2016 will always be in my memories."
The two-time Paralympic champion can now be considered a legend of the sport and of his country for his outstanding efforts in the arena on the world stage.
"It has been written down (his legacy). But God almighty, I'm very thankful that I've been gifted and have been given the chance by him (God) to win all these medals," Farzin said.
The Iranian added that he was unsure if he will defend his crown at Tokyo 2020 and attempt the rare feat of collecting a hat trick of Paralympic gold medals.