Campos dreams of P2 finals in Rio
With a new Brazilian record under her belt, Paralympics newcomer Debora Campos wants to ultimately secure her place among the shooting elite
22 Aug 2016
Imagen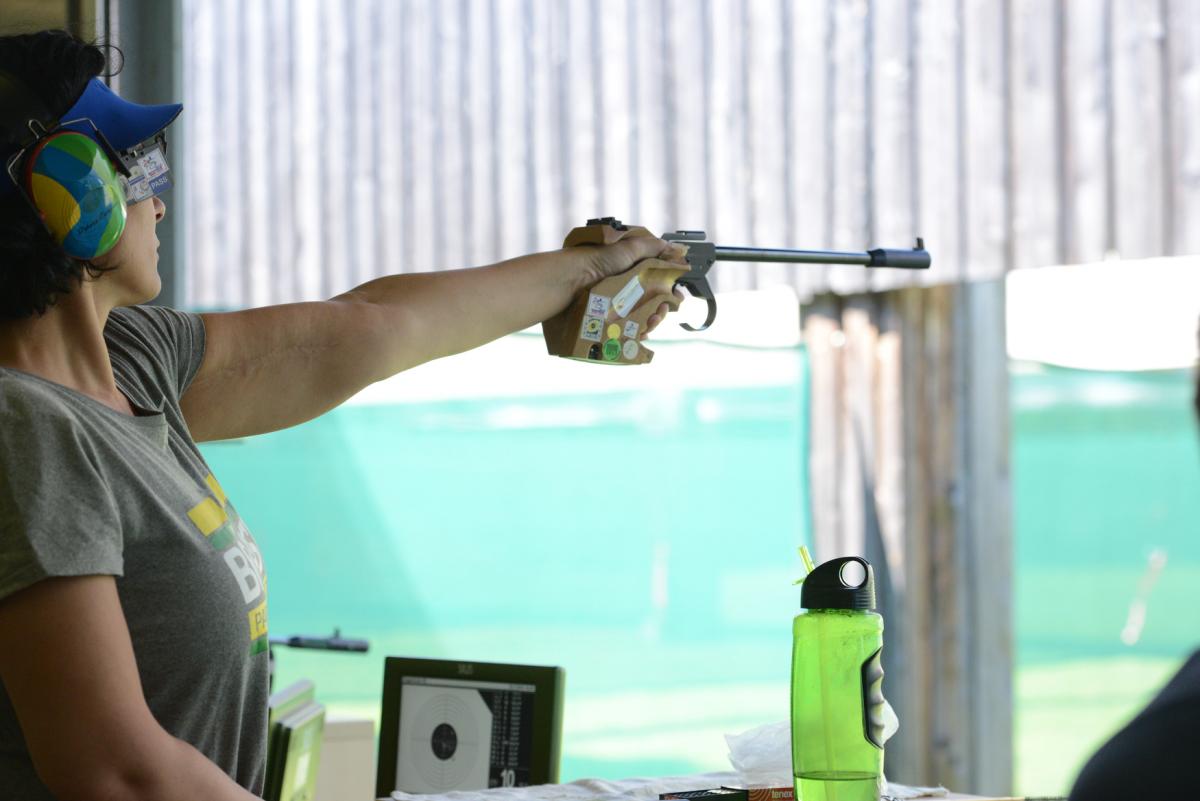 ⒸIPC
By Rebecca Schaefer | For the IPC
"People are more interested in our sport than they used to be and more aware and proud of what Para athletes can achieve."
There a worse ways to enter the final stages of preparation for your first Paralympic Games in your home country than by winning your first international gold medal and setting a new P2 (women's 10 m air pistol SH1) personal best and Brazilian record.
That is exactly what Debora Campos did at the 2016 USA National Open Championships in Fort Benning, USA, in late June.
A welcome, well-timed ego boost for the 40-year-old Brazilian pistol shooter – her maxim for the Paralympics is now "I can" – whose 2016 season has been one of ups and downs so far. Before this recent, all-time best performance, she experienced one of the most disappointing setbacks of her relatively short career: At the IPC Shooting World Cup in Bangkok, Thailand, earlier this year, she shot her worst P2 result of the past five years.
Moreover, Campos is still battling with injuries on both shoulders. "It does affect me and sometimes I have to change my practice in order to accommodate my condition but I still have been able to largely follow through with the training schedule my shooting coach and physical trainer have worked out for me. Right now, my preparation is going very well. I feel that I will be able to deliver the best performance I am capable of at the Games."
If that meant nearing or even pushing her personal best in the P2 once more, Campos should be able to reach her personal goal, a place in the P2 finals. She will compete in the P3 as well but her main focus, she said, is the P2. "I am simply better at P2."
While talking about Rio, she admitted that, despite the utmost excitement and pride she feels ahead of her very first Paralympics, there are also moments when she experiences pressure.
"Certainly. Sometimes I feel the weight of responsibility on my shoulders, mainly because these are my home Games and I want to give my best in front of my family and friends," Campos said. "But then I have to remind myself that pressure weighs much heavier on the more experienced shooters and favorites [she counts Sareh Javanmardidodmani, Iran, Olivera Nakovska-Bikova, Macedonia, and Olga Kovalchuk, Ukraine, among them] in the field than it should weigh on me. I am just very proud to be able to represent my country in Rio. Life in Brazil is so hard for many at the moment. I just hope that the Games will bring some joy to the Brazilian people."
On a wider scale, the two-time Brazilian Para shooter of the year also hopes that the Games will increase the visibility of Para sport and the broader acceptance of people with impairments in Brazil, and she has already perceived some changes for the better.
According to Campos: "People are more interested in our sport than they used to be and more aware and proud of what Para athletes can achieve."
But there is still work to do. "Sadly, many people in Brazil still falsely link shooting as a sport to violence. I desperately want to do away with that total misconception."
If Campos achieves her second goal, to claim the best Brazilian shooting result at the 2016 Paralympics, she very well might be able to.
__
Sport fans from around the world can now buy their Paralympic tickets for Rio 2016 from authorised ticket resellers (ATRs)
The IPC's Global ATR is Jet Set Sports, and Rio 2016 tickets and packages can be purchased on the CoSport website.
Residents of Brazil can buy 2016 Paralympics tickets directly from the Rio 2016 website.
Visa International is the exclusive payment card and the official payment system for the Paralympic Games.