Canada and Brazil steal the show at TO2015 athletics
The 2015 Parapan Am and the 2016 Paralympics hosts showed their dominance on the third day of athletics.
12 Aug 2015
Imagen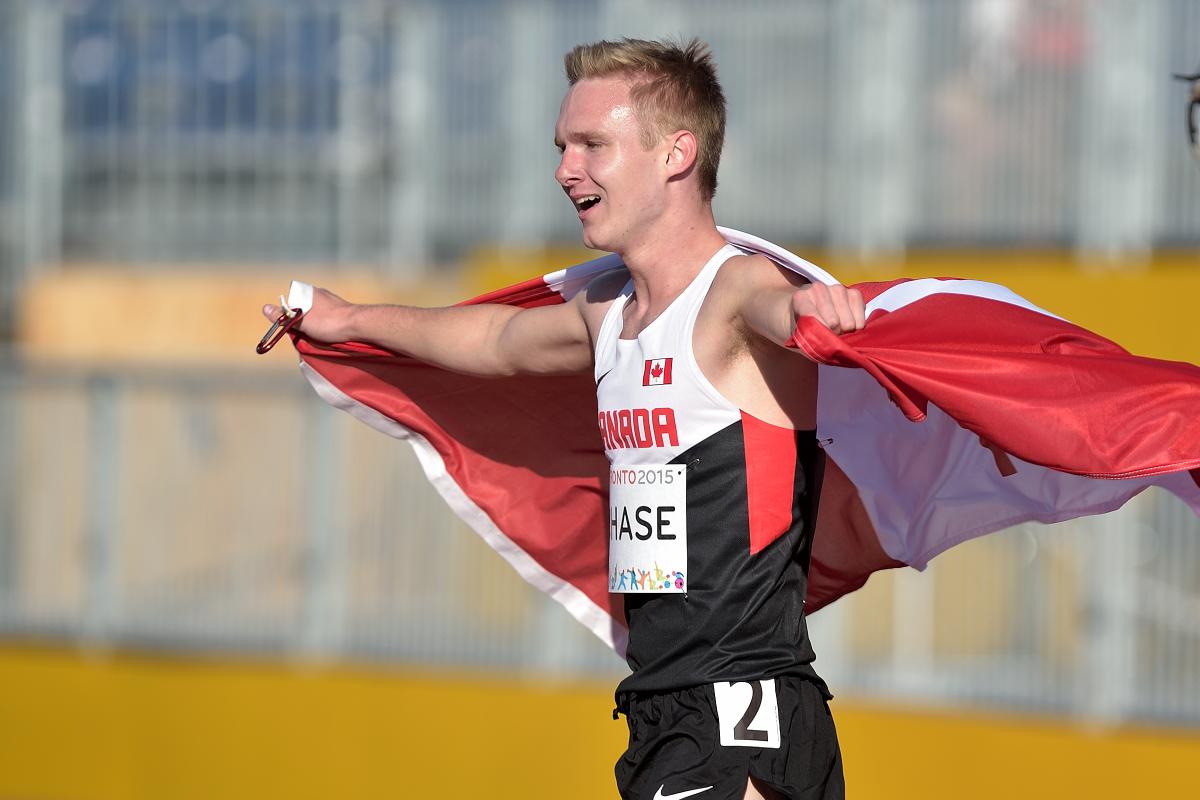 ⒸLaura Godenzi
By IPC
The third day of athletics at the Toronto 2015 Parapan American Games on Wednesday (12 August) saw athletes from Canada and Brazil win 13 out of 19 gold medals. Cuba also had a day to remember winning four gold medals on the track.
Track events
Canada's first gold of the day on the track came through Mitchell Chase (4:34.68) in the men's 1500m T38 with an Americas record time, whilst the USA's Austin Handley (4:36.57) and Colombia's Juan Carlos Medina Valencia (4:38.13) completed the top three.
"It was my first international competition. Just the overall experience on home soil it was excellent and winning I guess. I guess my name is out there now," said Chase.
The second one was won by Guillaume Ouellet (4:07.27), who was dominant in the men's 1500m T13, finishing ahead of Francisco Estrada (4:09.47) and David Garza (4:14.81) who are both from Mexico.
"Honestly, I'm not the speedy guy so I did not expect a good 200m finish lap. But with the wind, it was so hard and the Mexican (Francisco Estrada) made some strong moves but I knew that if I could hang until the 200, I could win," said Ouellet.
Alex Dupont (49.77) claimed Canada's third gold medal in the men's 400m T54, whilst the USA's Erik Hightower (50.50) and Colombia's Sairo Moises Fernandez Lopez (50.52) finished second and third, respectively.
Lis Scaroni (31.33) won Argentina's third athletics gold medal in the women's 200m T37. Venezuela's Berliana Castellanos (31.88) picked up the silver ahead of Canada's Leah Ainslie Robinson (31.94).
"I feel great, I improved my result. It is my first tournament here in Toronto. I would like to thank my family, my boyfriend, my mother and my father," said Scaroni.
Cuba's first gold came through Ernesto Blanco who stopped the clock at 49.07 to win the men's 400m T47, finishing ahead of Jamaica's Shane Hudson (49.97) and Blanco's teammate Ettiam Calderon (50.21).
Omara Durand (56.96), the world's fastest female para-athlete, was the quickest in the women's 400m T12. Mexico's Daniela Velasco (1:00.91) and Colombia's Marcela Gonzalez Arias (1:02.03) claimed the silver and the bronze.
Paralympic and world champion Yunidis Castillo (12.49) sealed Cuba's third gold of the day in the women's 100m T47. Brazil's Teresinha De Jesus Correia Dos Santos (12.92) led her teammate Sheila Finder (12.99) onto the podium.
Leinier Savon (22.60) was the fastest in the men's 200m T12, lowering the Americas record by 0.37 seconds. Brazil's Diogo Jeronimo Da Silva (22.55) and Mexico's Manuel Martinez (22.87) completed the podium.
Brazil's Paulo Pereira (55.46) eased to gold in the men's 400m T37, ahead of Venezuela's Omar Monterola (56.07) and Argentina's Mariano Dominguez (56.78).
The men's 800m T53, which had been won by Canada's Brent Lakatos, will be re-run on August 13 at 15:10 after a crash saw Canada's Jean-Philippe Maranda disqualified.
Field events
Brazil's Alessandro Da Silva (12.54m/942 points) set a new Americas record in the men's shot put F11/12. Colombia's Edwin Rodriguez Gonzalez (12.26m/916 points) sealed silver ahead of Venezuela's Anibal Bello (10.68m/728 points).
Canada's Jason Roberts (10.33m/690 points) claimed the gold in the men's shot put F32/33/34, ahead of Colombia's Mauricio Valencia (10.19m/669 points) and Roberts' teammate Kyle Pettey (8.93m/459 points).
"Honestly, as of right now, it hasn't sunk in yet. I'm grateful for this opportunity to represent my country and to set new records. Thank you for everyone who supported me," said Roberts.
Pamela Lejean (4.22m/844 points) won Canada's second gold medal in the field, in the women's shot put F53/54/55. Brazil's Elizabeth Rodrigues Gomes (6.16m/774 points) was second and Colombia's Erica Castaño Salazar (6.65m/738 points) third.
A Parapan American record was broken on his way to gold by the USA's Lex Gillette (6.73m/1042 points) in the men's long jump T11/12. Cuba's Leinier Savon (6.62m/833 points) and Yohannis Lastre (6.60m/826 points) took the remaining positions.
"It's great. It's another stepping stone to the world championships in October and the Paralympics next year," said Gillette.
Brazil's Joao Dos Santos (47.25m) won the title in the men's discus throw F46 and set a new Americas record. Cuba's Lazaro Zamora (37.72m) took the silver and bronze went to Canada's Kenneth Trudgeon (37.12m). "This is the reward of a job well done," Dos Santos said.
In the women's discus throw F11/12, Dos Santos' teammate Izabela Silva Campos (30.87m/1060 points) won the title. Colombia's Yesenia Restrepo Muñoz (29.43m/1027 points) and Canada's Ness Murby (27.02m/955 points) completed the podium.
"It was good, but I could have done better in perfecting the throws," Silva Campos assured.
The 2016 Paralympic Games hosts also stepped onto the top of the podium in the women's long jump T20/37/38. Adriele De Moraes (4.95m/752 points) claimed the gold, whilst teammate Veronica Silva Hipolito (4.15m/695 points) and Venezuela's Norkelys Gonzalez (4.75m/643 points) sealed silver and bronze, respectively.
There was a Canadian one-two in the women's shot put F20/37/38, where Jennifer Brown (10.42m/948 points) claimed the gold with an Americas record throw, ahead of teammate Renee Foessel (10.14m/918 points) and Brazil's Shirlene Santos De Souza Coelho (10.07m/786 points).
It was Foessel (30.75m/965 points) who won in the women's discus throw F37/38/44 ahead of Brown (28.06m/872 points) and Santos de Souza Coelho (29.69m/841 points).
Jonas Licurgo Ferreira (28.99m/931 points) won Brazil's last gold medal of the day in the men's javelin throw F53/54/55 with a Parapan American record throw, ahead of Mexico's London 2012 Paralympic champion Luis Alberto Felix Zepeda (26.79m/929 points) and Jamaica's Alphanso Cunningham (19.49m/837 points).
Athletics continues at Toronto 2015 on Thursday.
A live stream will be available via the IPC Athletics homepage.
To buy tickets, please visit the ticket website.