Canada win gold at World Wheelchair Curling Championships
Canada's wheelchair curling team won their third world title after defeating Sweden, 4-3, in the final round.
23 Feb 2013
Imagen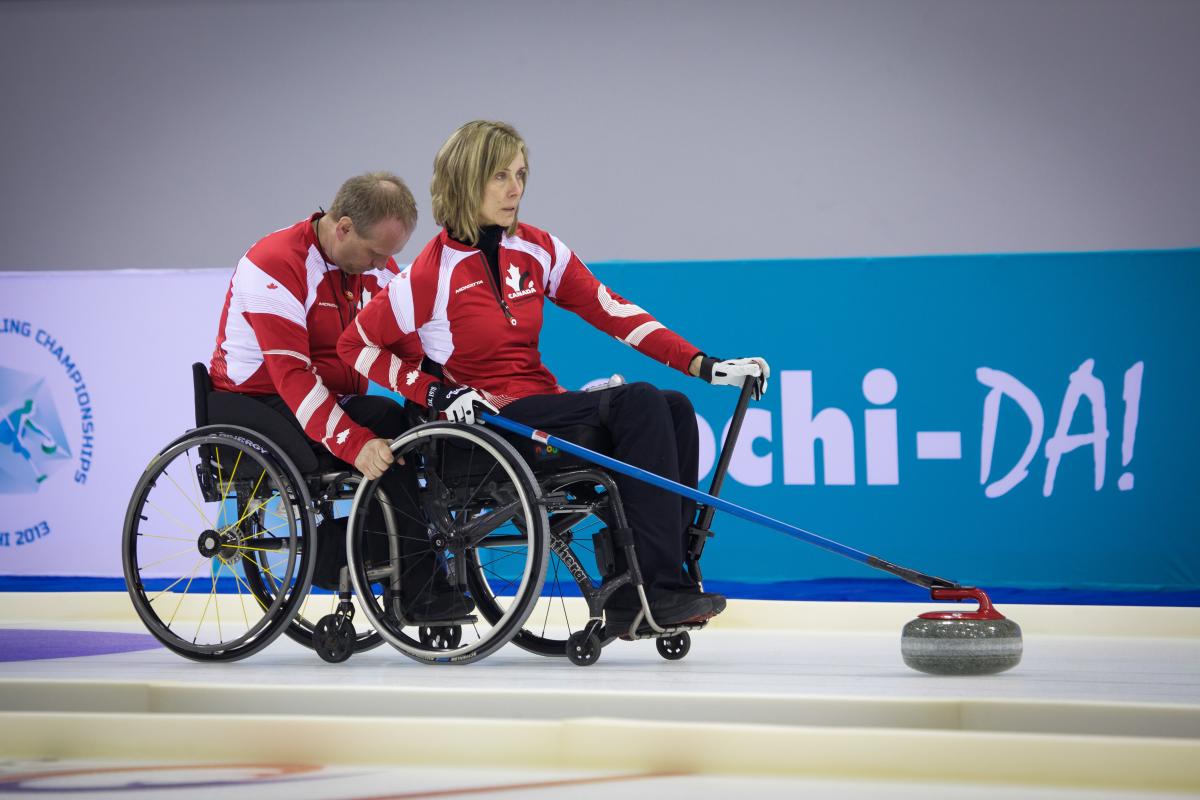 ⒸWorld Curling Federation / Alina Paulyuchik
By IPC
Earlier on Saturday, China won the Bronze medal game beating the USA, 6-5.
Canada won their third World Wheelchair Curling Championship title on Saturday (23 February), beating Sweden 4-3 in a tightly-fought final.
Playing at the Ice Cube Curling Centre, venue for the 2014 Olympic and Paralympic Winter Games, Canada and Sweden ceded little ground in their game and restricted each other to single points. In the eighth end, Canadian Skip Jim Armstrong made a raise to a Swedish stone in the four foot. Swedish Skip Jalle Jungnell tried a hit and roll and was wide and the victory was Canada's.
Team Canada was skipped by Jim Armstrong with Dennis Thiessen (third), Ina Forrest (second), Sonja Gaudet (lead) and Mark Ideson as alternate.
"It was a great game," Armstrong told World Curling. "I think it was probably one of the best wheelchair curling games ever, very entertaining and obviously very close. Very exciting and really what our sport needs. It speaks well for the facility, it's a new facility. I really think Sochi should be proud. Their volunteers are absolutely unbelievable. It's a tremendous experience and I am really looking forward to having the opportunity to come back next year.
Sweden skipped by Jalle Jungnell with Glenn Ikonen (third), Patrick Kallin (second), Kicki Ulander (lead) and Gert Erlandsson as alternate had to settle for silver for the second time in the history of the event. Jungnell met Armstrong in the 2009 final. Armstrong skipped Canada to gold against Scotland in 2011.
"We gave ourselves an opportunity," Jungnell told World Curling. "That was our goal. The worse thing that could happen was that we have an open house and that we have nothing to do. With my last stone we were so concerned about not hitting the stone directly. I could not jam it or he [Armstrong] would draw against it. I had to roll over, so we took a little more ice...and ah! it was just too much!"
Earlier on Saturday, China won the Bronze medal game beating the USA, 6-5.
It is the second year in a row that this Chinese team – Skip Haitao Wang, Wei Liu (third), Qiang Zhang (second), Guangqin Xu (lead) and their alternate Jun He have won bronze. They won bronze in Chuncheon City, Korea last year.
Final standings
1. Canada (Gold)
2. Sweden (Silver)
3. China (Bronze)
4. USA
5. Russia
6. Scotland
7. Slovakia
8. Finland
9. Korea
10. Norway
The 10 countries above have qualified their National Paralympic Committes for the Sochi 2014 Games.
Final qualification point totals over the 2011, 2012 and 2013 World Championships are:
1. Canada 28
2. Russia* 25
3. China 22
4. Sweden 18
5. Great Britain**18
6. USA 17
7. Korea 17
8. Slovakia 11
9. Norway 11
10. Finland 3
* Russia as host country for the 2014 Paralympic Winter Games has guaranteed qualification.
** Points for Great Britain are gained by Scotland at World Wheelchair Curling Championships.