Captain Chiarotti's work paying off for Buffalo 2015
Before the 2015 IPC Ice Sledge Hockey World Championships begin on Sunday (26 April), Andrea Chiarotti is confident about his players' potential at the upcoming IPC Ice Sledge Hockey World Championships.
21 Apr 2015
Imagen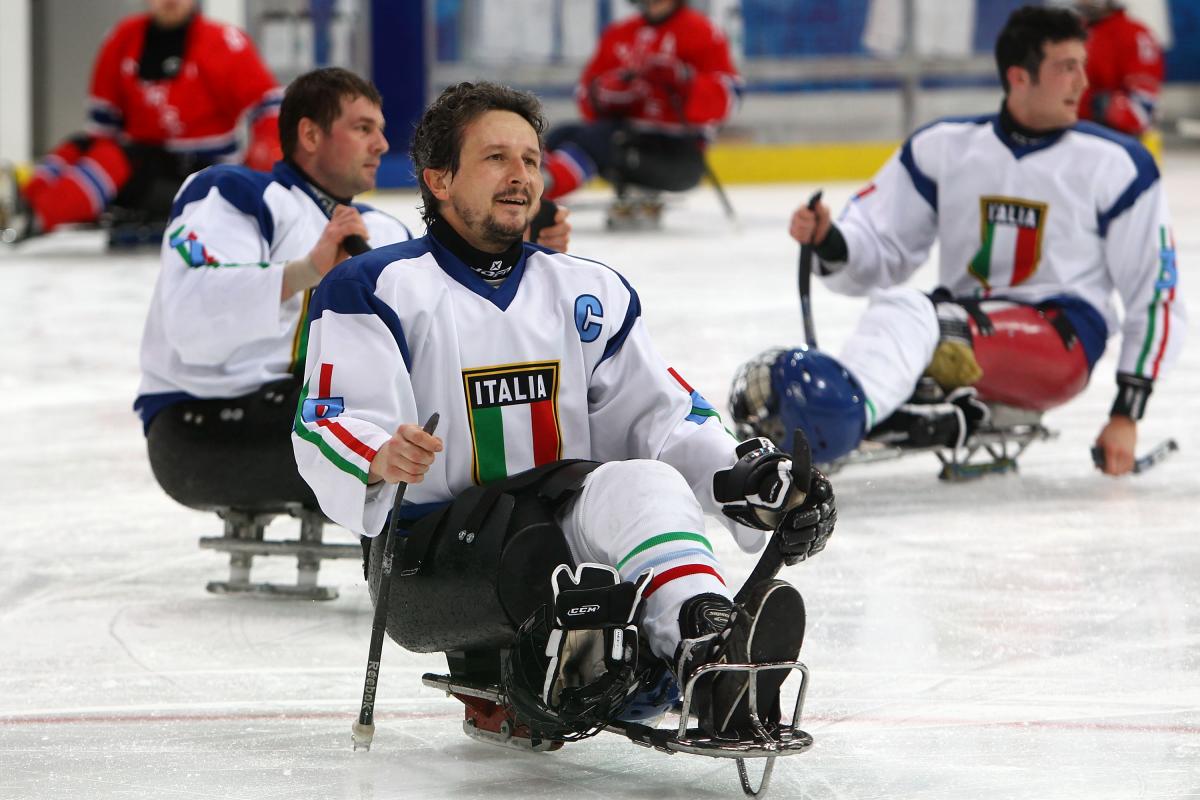 ⒸGetty Images
By Giuseppe Di Florio | For the IPC
"I always commit myself in order to build team spirit, respect and mutual support."
In 2003 the CIP (Italian Paralympic Committee) appointed Andrea Chiarotti as the team coach for the Italian ice sledge hockey team, with the aim of building a strong group of players for the Torino 2006 Paralympic Winter Games.
It was not an easy challenge, especially considering that ice hockey is not a popular sport in Italy, with only around 6,000 players. A very limited number, even compared to smaller countries like Switzerland.
Yet it represented a "complex and exciting" challenge Chiarotti was more than happy to embrace.
"I had to start from scratch, picking athletes from other sports such as basketball and handbike," he said. "However, in over 10 years of work, many things have changed. The CIP have been supporting us and our project from the very first stage and that helped in raising strong athletes and becoming better and better".
Chiarotti, who went from being the team's coach to representing Italy as their captain at Torino 2006, helped secure qualification for Vancouver 2010 and Sochi 2014 and win the European crown in 2011.
That success helped the growth of ice sledge hockey and still fuels the interest of both the public and the media today.
Italy can now count on big names such as Gianluigi Rosa, Greg Leperdi, Florian Planker and Andrea Macri, athletes who helped the team become more competitive.
"Our goal is to remain among the elite and even keeping the 6th place from Sochi would be outstanding. Even though last year we had more economic resources because of the Paralympics, we still managed to achieve a good preparation by training 3-4 times per month from January to date. I believe the team is ready and except the top three squads [USA, Russia and Canada], we can stand a chance with anyone".
One of captain Chiarotti's biggest career moments was representing Italy as their flag bearer at the Sochi 2014 Opening Ceremony.
"It's been one of the strongest emotions of my entire career. Unlike Games time, there was no tension at all and I felt like the whole team was backing me. It's been a bit like being at a massive party you never want to leave," he said.
Rather than define himself as the captain, Chiarotti would definitely use the word "friend".
"I always commit myself in order to build team spirit, respect and mutual support," he said. "Even though I have repeatedly offered other players to play the role of captain, they always asked me to stay and that's very much rewarding. I always put the interest of the team ahead of anything else".
Chiarotti will be guiding the Italian team in Buffalo, New York, USA, where the 2015 IPC Ice Sledge Hockey World Championships A-Pool will be held from 26 April - 3 May.
They will play in Group B against Germany, Paralympic champions the USA and Sochi 2014 silver medallists Russia.
Live coverage will be shown at Buffalo2015.com and tickets are still available.