Cassidy hopes to end frustration with London Marathon success
Canadian knows to win Vigrin Money London Marathon he will have to beat Paralympic champion Weir and world title holder Hug.
11 Apr 2014
Imagen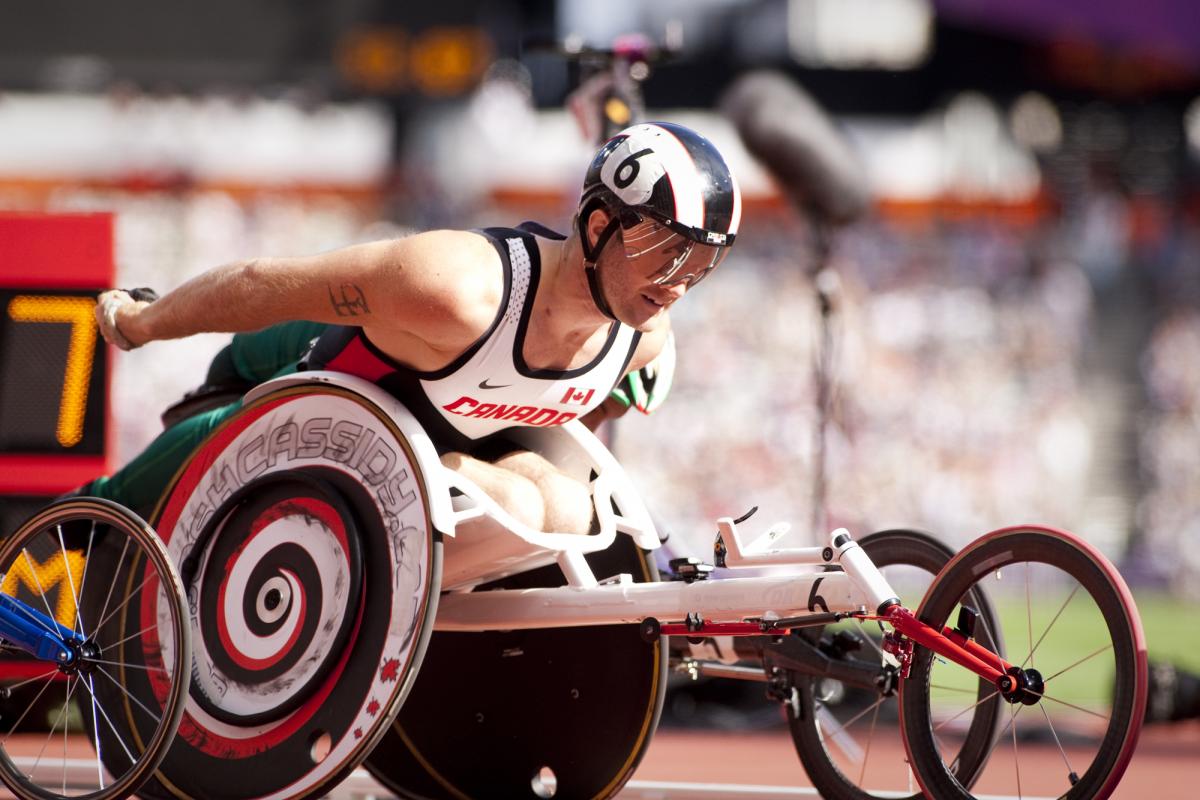 ⒸGetty Images
By Kate Williams | For the IPC
"David [Weir] is definitely one to watch. I've been training with him the last couple of weeks, and even though he's been sick, he's still strong and he's got a lot in his shoulders."
A year ago in London, Josh Cassidy's marathon came to an agonising and abrupt end when he collided with Olympic champion Tiki Gelana in the elite female field just 15km in to the race at a water station.
The incident marked yet another low in what had been a period of frustration for the Canadian.
Just eight months earlier at the 2012 Paralympic Games, illness meant he wasn't at his best and he finished out of the medals.
Then at last year's IPC Athletics World Championships in Lyon, France, Cassidy pulled out of the marathon before the end, with no silverware to show for from the 800m 1500m or 10,000m T54 – although last month's news of a doping violation by his countryman Jean-Paul Compaore, meant that Cassidy won a retroactive bronze medal in the 10,000m T54.
"It all really started in 2012," explained Cassidy. "I didn't have the performance I wanted, I was sick and on antibiotics that week, I had worked so hard and was pushing the world record two weeks prior, so it was kind of a downward spiral from there – the frustration, wanting to have time off - not being allowed to have time off.
"Last year wasn't a great year either, I wasn't really focusing on the World Championship marathon in preparation, and I felt really strong for the first bit, then I just felt like I would put myself out for a while if I forced myself to finish. I knew I wasn't going to get the result I wanted, and that I'd be judged more on a bad performance than a pull out, so that's why I chose to do that."
But Cassidy is a fighter whose mental fortitude knows no bounds. Back in the British capital for the Virgin Money London Marathon on Sunday (13 April), the 29-year-old believes he has put the demons of the last two years behind him and is ready for a return to the winning ways that saw him triumph in London four years ago, and record the fastest wheelchair marathon ever in Boston two years later.
"To get over that mentally and say 'you know what, I'm not going to get the break I want but it's time to get my life and my racing back on track' - that became my drive," he said.
"I'm proud of [my mental strength] because I don't think I'm naturally the most physically adept of the top guys. There are a lot of guys that have a natural advantage with smaller legs and amputees, so I think if I didn't have the mental dedication that I do, it would be tougher."
Cassidy has been nothing but thorough in his quest for a return to success. He parted company with his long term coach Amanda Feder Then, having spent the winter training hard in Australia, he arrived in London two weeks ago with a new chair.
"When I started with the new chair I made some major adjustments, so I was really sore, but the numbers proved to me that I was better. I was laughing the first time I got in it, because I felt like I was a little kid switching from a three wheeler to a two wheeler. I was so disoriented, it was amusing and frustrating - but it's been going very well now.
"There's no looking back – I know I'm faster in it, more powerful in it, I feel my comfortable and confident in it."
After Cassidy's crash last year, organisers altered the start times so the wheelchair racers will now go off first. But whilst that will be a relief for Cassidy, he knows there is still a tough field to beat with the line-up including home favourite David Weir and Switzerland's marathon world champion Marcel Hug amongst others.
"David is definitely one to watch," admitted Cassidy. "I've been training with him the last couple of weeks, and even though he's been sick, he's still strong and he's got a lot in his shoulders."
Swiss 'Silver Bullet' Marcel Hug finished second behind Kurt Fearnley last year before going on to win no fewer than five world titles last year, including the marathon. The 28-year-old rounded off 2013 with victory in New York, and Cassidy believes Hug has got what it takes to finally win in London.
"Marcel for sure, he had such a strong year last year – he's always strong. And the Japanese – you never know where they're at but they always rock up and are strong so it'll be interesting to see how it pans out."
But Cassidy remains focussed on success, and has enjoyed the last two weeks in London. Being in the city has reminded him daily of what's coming up: "I knew it would be a good kick in the pants to get ready," he added. "I'll try and stay patient and stay confident, and if an opportunity arises to make an aggressive move I'll be giving everything to do that, because I'm definitely here to try and win."
As part of the IPC Athletics Marathon World Cup on Sunday , there will also be races in classes T42-46 (leg and arm amputees) and T11-T13 (visually impaired) for both men and women. In addition this year for the first time T51-52 athletes will also have an event.