Cheongju 2019: Best wheelchair fencers go for World titles
Biggest stop on road to Tokyo 2020 Paralympics takes place at World Championships
16 Sep 2019
Imagen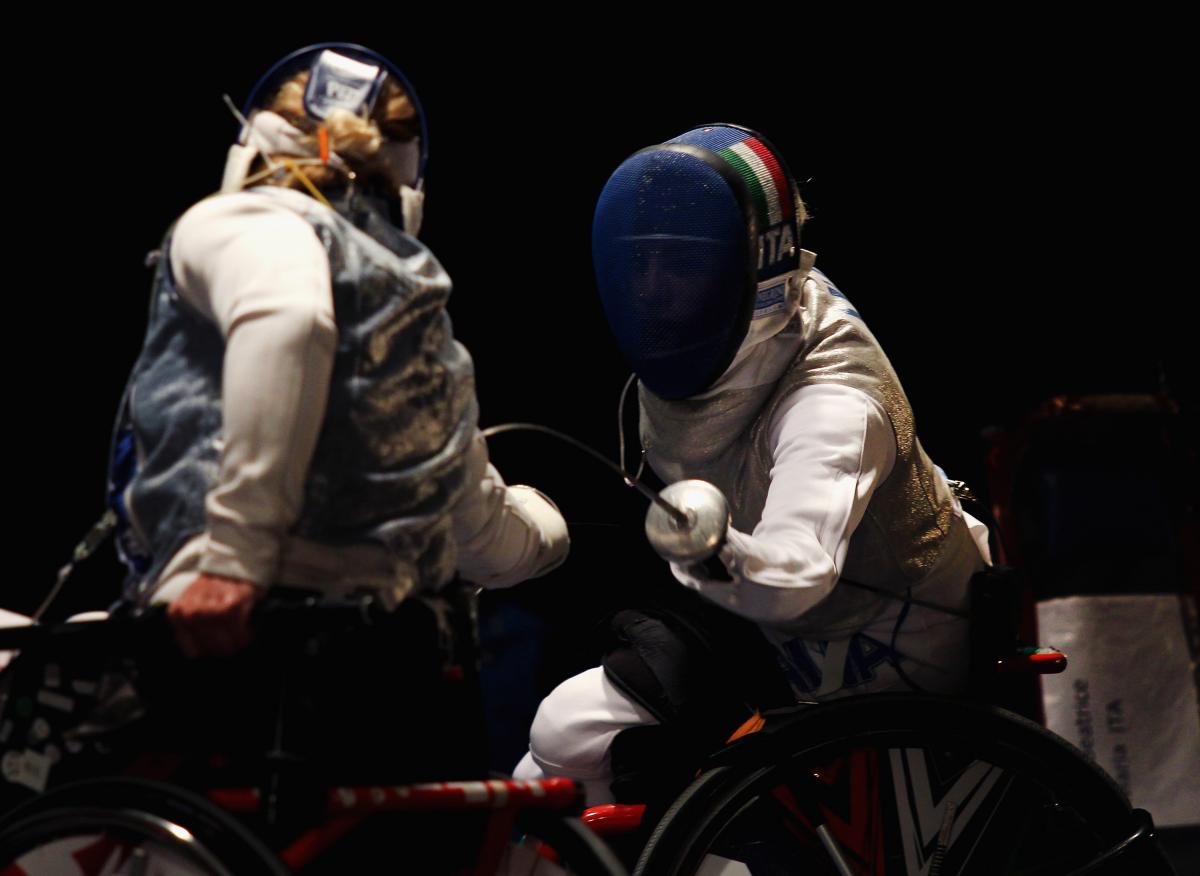 ⒸGetty Images
By IWAS and IPC
Just over 200 athletes from 30 countries are bringing top-level wheelchair fencing to Cheongju, South Korea, as the 2019 Wheelchair Fencing World Championships hit off from Tuesday. 
The World Championships are also a key stop on the road to the Tokyo 2020 Paralympic Games. As a result, a series of world and Paralympic medallists punctuate a stacked field competing across men's and women's individual and team events.
Georgia's sabre sensation
In the women's category A and B sabre competition, fencers will have an added incentive to shine as those events will join the Paralympic programme in Tokyo.
Georgian defending champion Irma Khetsuriani lines up in the sabre B hoping to return to the top following a glitch at the last World Cup in Warsaw, Poland, in July.
Khetsuriani was unbeaten at seven editions until she met Chinese newcomer Shumei Tan in the semi-final. Tan went on to claim gold, leaving the Georgian with bronze.
"Winning the seven tournaments is not so easy, without mentioning anything else, at least you get tired psychologically and lose motivation," Khetsuriani said. "That's why sometimes it is necessary to lose, so that you can celebrate new victory with new emotions." 
Ukraine's Natalia Morkvych enters as the sabre A world and European champion. Morkvych will once again face her fellow podium finishers from the 2017 World Championships in Rome, Italy – teammate Yevheniia Breus and Hungary's Amarilla Veres.
Paralympic legends highlight women's epee and foil events
In other weapons Hungary's world No.1 Zsuzsanna Krajnyak has two titles to defend in Cheongju in the epee and foil A.
Krajnyak has been in podium form in both in 2019, but has fared better in the foil. Two golds have come for the Hungarian at World Cups in Sharjah, UAE, and Sao Paulo, Brazil.
Hong Kong's Yu Chui Yee will be a main rival to Krajnyak in the two disciplines having finished on the podium beside the Hungarian in 2017. Yee also collected two silver medals at the Rio 2016 Paralympic Games and has medalled at three World Cups in 2019.
China's Jing Rong lines up as the foil Paralympic champion and remains another firm contender with multiple World Cup medals this season.
Krajnyak's teammate Eva Andreja Hajmasi, the foil A world No.2, is riding her own wave of success into Cheongju 2019 with silverware from three World Cups under her belt.
Rong's compatriot Xufeng Zou is also a Paralympic title-holder in the epee. The 28-year-old is a double World Cup winner from Sharjah and Warsaw.
Sunmi Kim represents hosts South Korea, aiming to equal or better her performance from 2017 on home soil as the bronze medallist from 2017.
Russia's Viktoria Boykova will try to retain her world title in the women's epee B. Thailand's Asian champion Saysunee Jana has been the thorn in her side recently with three World Cup victories in the last six months, leaving Boykova with silver each time. China's Jingjing Zhou is the reigning Paralympic title-holder, hoping for her first win of the year.
Italy's Beatrice Vio enters Cheongju 2019 as the Paralympic, world and European title-holder in the women's foil B.
Her success in the weapon is unparalleled at the age of 22. But the Italian is not unbeatable – at the end of 2018 she was forced into second place by Russia's Ludmila Vasileva at the World Cup in Kyoto, Japan.
Osvath looks to stay on top
Hungary's Richard Osvath returns to the World Championships stage as the reigning world and European champion, and Paralympic silver medallist, in the men's foil A.
Osvath is also a second-place finisher in the sabre from the 2017 Worlds and Rio 2016 Paralympics.
However Osvath has had a tough year in the foil and is without any World Cup medals so far. He has fared much better in the sabre with two golds.
China's 2015 epee A world champion Gang Sun has been a man to watch in 2019, grabbing multiple World Cup medals in the foil and epee.
But Great Britain's Piers Gilliver is in fine form in the epee and has a good chance of improving on his silver medal from 2017. The world No.1's record this year includes two golds, one silver and one bronze.
Germany's Maurice Schmidt, 20, will make his World Championships debut in Cheongju having enjoyed a breakthrough 12 months. His record includes three World Cup podiums in epee and sabre.
"I am really happy with my performance since the Paralympics qualification started," Schmidt said. "In epee I could win a medal in every region, I couldn´t even dream of these results before. My results in sabre could have been better, but as it is just my second weapon I am not too worried about it. I still know I do many mistakes, but the fact that I can still improve pushes me further."
Chasing Coutya
Great Britain's Dimitri Coutya will aim to defend his titles in the foil and epee B in Cheongju.
Coutya left the last World Cup in Poland with a smile on his face having beaten China's Paralympic champion Yanke Feng and silver medallist Daoliang Hu on his way to gold in the foil.
Coutya has also maintained an impressive record in the epee, ending-up on the podium at four World Cups this year.
However Iraq's Paralympic silver medallist Ammar Ali has been chasing Coutya in the epee all season, beating him to first place at their last meeting in Warsaw.
The men's sabre B could be an all-Polish face-off as Grzegorz Pluta and Adrian Castro, the respective world No.1 and No.2, go for gold. They have shared four wins equally between them in 2019 and also claimed first and second at the 2018 European Championships.
The Cheongju 2019 Wheelchair Fencing World championships runs until 23 September.