China collect golds at Warsaw World Cup
Wheelchair fencing competition was final test before 2019 Worlds
16 Jul 2019
Imagen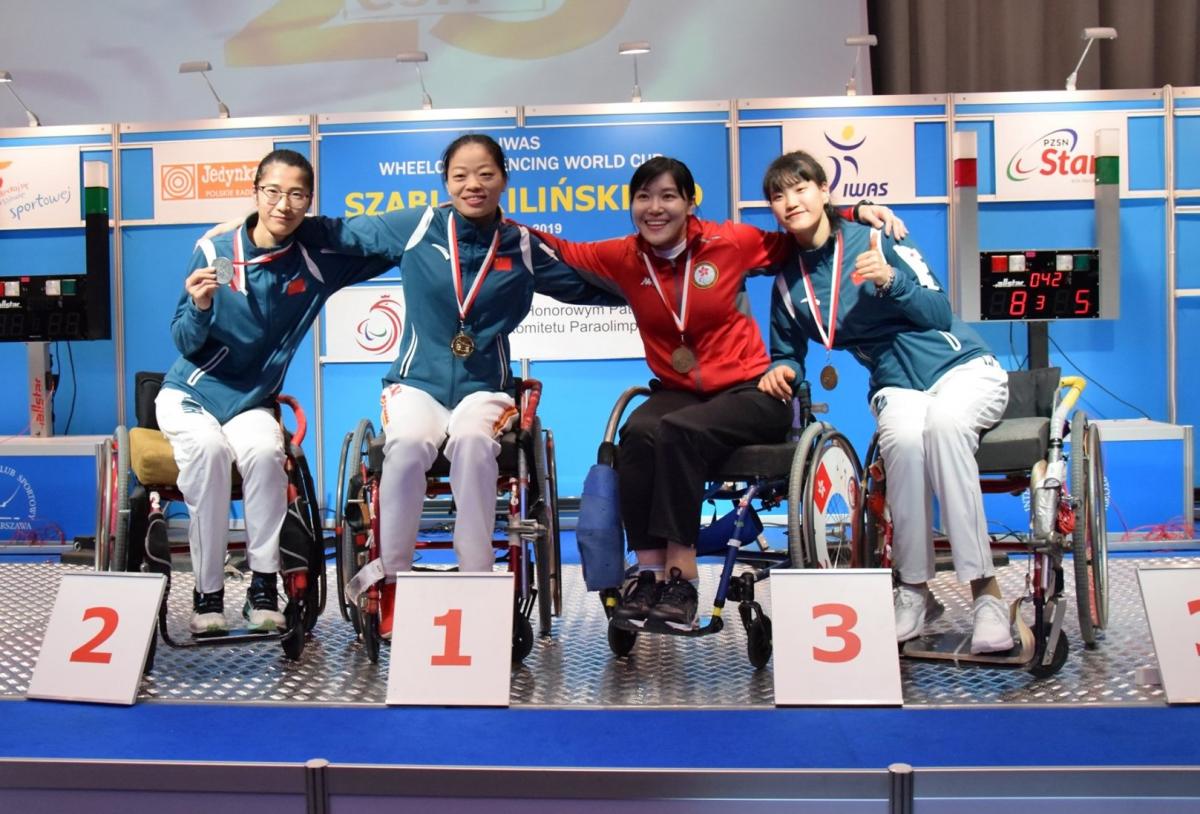 ⒸIWAS
By IWAS and IPC
"I know now that I can do it, and I can do it on a world stage"
The wheelchair fencing World Cup in Warsaw, Poland, delivered wins for six countries – including eight golds for China – in the last test before the 2019 World Championships.
The hosts, Hungary, China, Russia, Great Britain and Italy all secured top podium spots to make a statement ahead of September's main event.
Poland picked-up the gold and silver in the men's sabre category A as Adrian Castro and Grzegorz Pluta went head-to-head in the final.
It was a re-match of the 2018 European Championships, with Castro once again claiming the win.
Great Britain's world champion Dmitri Coutya got the win he had been working for in the men's foil category B, defeating Paralympic silver medallist teammate Daoliang Hu in the final.
"It's been so great to finally beat them and compete with them on an international stage and I feel like what I have been training for has been working," Coutya said.
"This is pretty much the same competition that we'll be having in September and the level of it is so high so you really can't afford to let your guard down for a single moment. I know now that I can do it, and I can do it on a world stage. It's just a question of how I prepare for that and how well I can execute my training for the day so."
But it was not all gold for Coutya.
Iraq's Rio 2016 silver medallist Ammar Ali won against the British world champion in the men's epee category B.
Coutya did not make it easy for Ali, coming back from a deficit to level the scores at 14-14. But Ali had the edge, screaming with delight when he was awarded the final point.
"I lost 14-14 at the Games in Rio in 2016. 14-14, same!" Ali said. "And I lost. Sometimes I need to focus. Maybe last time I never thought about focusing. And Dimitri is a very, very good player."
Victorious women
Italy's world and Paralympic title-holding supremo Beatrice Vio maintained her unbeaten run in the women's foil category B, beating China's Jingjing Zou convincingly.
There was a new face on top in the women's epee category B.
China's Shumei Tan, 24, claimed gold in only her second season on the piste. She beat Thailand's Worlds and Paralympic silver medallist Saysunee Jana in the final.
Tan also grabbed gold 24 hours later in the women's sabre, once again against Jana.
On her way to the final Tan put Georgian world champion Irma Khetsuriani out of contention – ending her unbeaten run of seven World Cups in a row.
In the women's category A competition, China's Xufeng Zou grabbed two golds, winning the epee and foil disciplines.
China's fourth and final gold from individual events came in the men's epee category A, courtesy of Paralympic champion Gang Sun.
Not all China
In the men's sabre category A, Hungary's World and Paralympic silver medallist Richard Osvath overcame China's Jianquan Tian for the gold.
Hungary's Amarilla Veres topped the podium in the women's sabre category A for the first time in more than one year.
"I feel excited about it, I am so happy," Veres said. "I just can't believe that I have heard my national anthem again [having also won gold in epee at the last World Cup in Sao Paulo, Brazil]. Two times in a row is amazing."
Russia's Worlds bronze medallist Roman Fedyaev emerged on top in the men's foil category A following a tense match with China's Paralympic champion Ruyi Ye.
In the men's foil category C, Russia's Alexander Logutenko overcame Ukraine's Serhii Shavkun for gold. The men's epee category C was also won by Logutenko.
The complete review of the Warsaw World Cup is available on IWAS' website.
Three World Cups in Sharjah, United Arab Emirates; Pisa, Italy; and Sao Paulo, Brazil, have so far taken place this year, offering fencers the chance to secure qualification points for Tokyo 2020.
The 2019 World Championships run from 17-23 September in Cheongju, South Korea.