China's Hu adds 6kg onto powerlifting world record
A further two wins make it a great day for China at the IPC Powerlifting World Cup in Kuala Lumpur, Malaysia.
24 Feb 2016
Imagen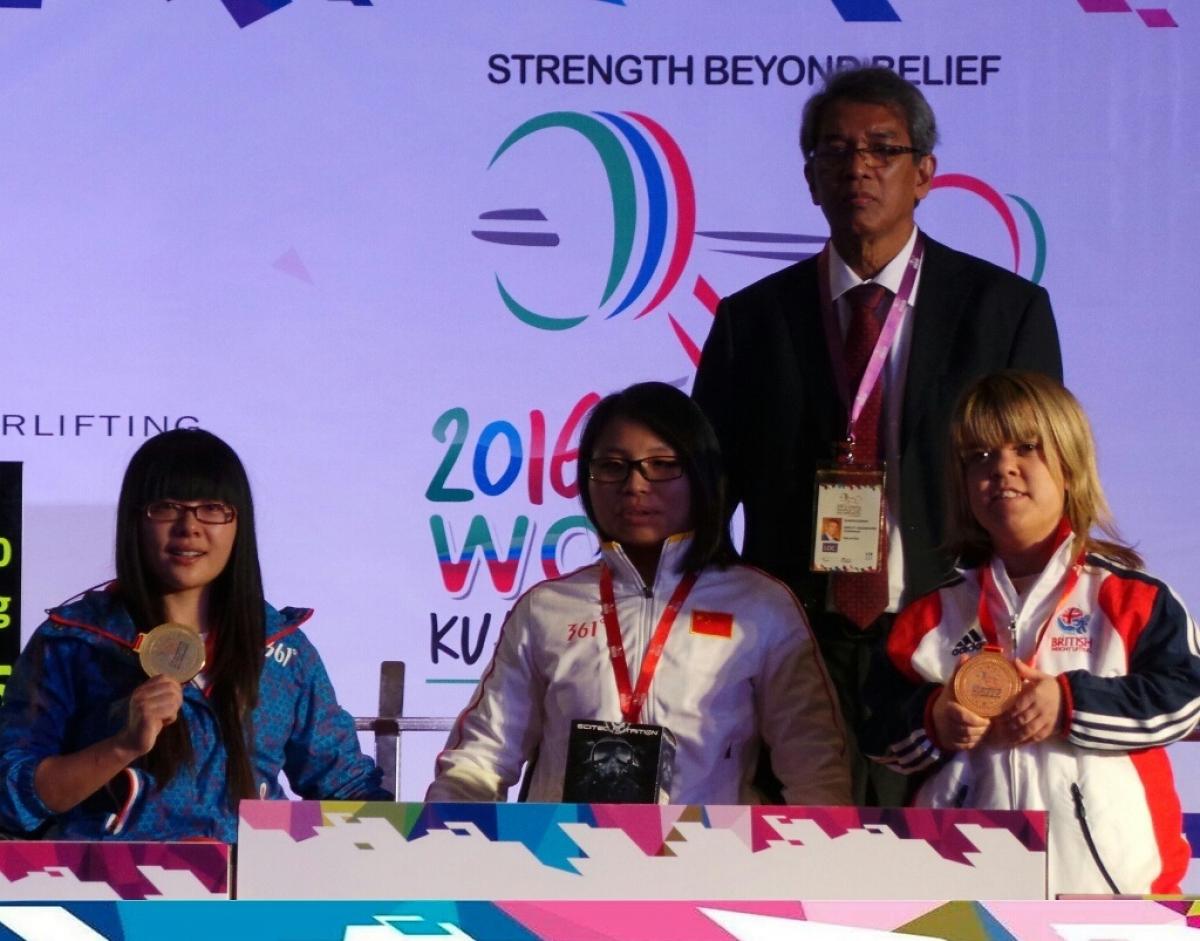 ⒸIPC
By IPC
China's Asian champion Dandan Hu broke the women's up to 45kg world record at the IPC Powerlifting World Cup in Kuala Lumpur, Malaysia, on Wednesday (24 February), after an exhilarating face-off with teammate Zhe Cui.
Hu, who is also the gold medallist from the 2015 European Open, failed her opening lift of 103kg.
In contrast Cui made her intentions clear early with a first round lift of 104kg, becoming the first to break the world record.
Cui then raised the bar again in the next round, clearing 105kg, whilst Hu failed her second attempt at 103kg.
As it looked more likely that it was just not her day, Hu then pulled a shock, pushing 106kg in the final round to claim gold and add 6kg onto her own previous best.
Great Britain's Zoe Newson was third with a career best 95kg.
China continued their podium run in the women's up to 50kg as London 2012 Paralympic Games bronze medallist Shanshan Shi claimed first with 107kg.
Shi only needed one good lift to take victory ahead of Vietnam's Thi Linh Phuong Dang (97kg). Uzbekistan's Ruza Kuzieva (92kg) was third.
Rounding off the women's events was a win for Indonesia courtesy of Ni Nengah Widiasih in the up to 41kg.
Widiasih reached 96kg in the second round to cement her fourth place in the qualification rankings for the Rio 2016 Paralympic Games.
Syria's Noura Baddour (88kg) was second followed by Kenya's Hellen Wawira Kariuki (66kg) in third.
In the men's events Vietnam's World Championships silver medallist van Cong Le was triumphant in the up to 49kg.
Le was keen to demonstrate his growing strength, clearing 175kg and 180kg before making an attempt on his own world record.
However it was not to be and the 31-year-old failed at 183kg, leaving with the win at 180kg.
Hungary's Nandor Tunkel (151kg) was second, followed by Indonesia's Farman Basha (146kg) in third.
A successful day on the bench for China concluded with a win for London 2012 bronze medallist Quanxi Yang in the men's up to 59kg.
Yang registered his best result since 2011 with 186kg, lifted in the second round.
Chile's Parapan American Games champion Juan Carlos Garrido (180kg) tried to overtake Yang in the third round, but failed at 188kg.
Poland's Mariusz Tomczyk completed the podium after clearing 172kg.
Vietnam took their second victory thanks to a perfect performance from Binh An Nguyen in the men's up to 54kg.
The Asian Championships silver medallist successfully worked his way up to a 180kg third round lift after clearing attempts on 175kg and 178kg.
Greece's Dimitrios Bakochristos (177kg) was second followed by China's Jian Wang (171kg).
The IPC Powerlifting World Cup continues on Thursday (25 February) with the men's up to 65kg and up to 72kg and women's up to 55kg, up to 61kg, up to 67kg and up to 73kg.
Live coverage is being shown at www.ipc-powerlifting.org.
The competition is the final chance to powerlifters to improve their place in the Paralympic rankings for Rio 2016.