Christian Hedberg is Sweden's most-improved athlete with #1YearToGo
Sweden's Para ice hockey team is looking to end a medal drought that dates back to 2004.
09 Mar 2017
Imagen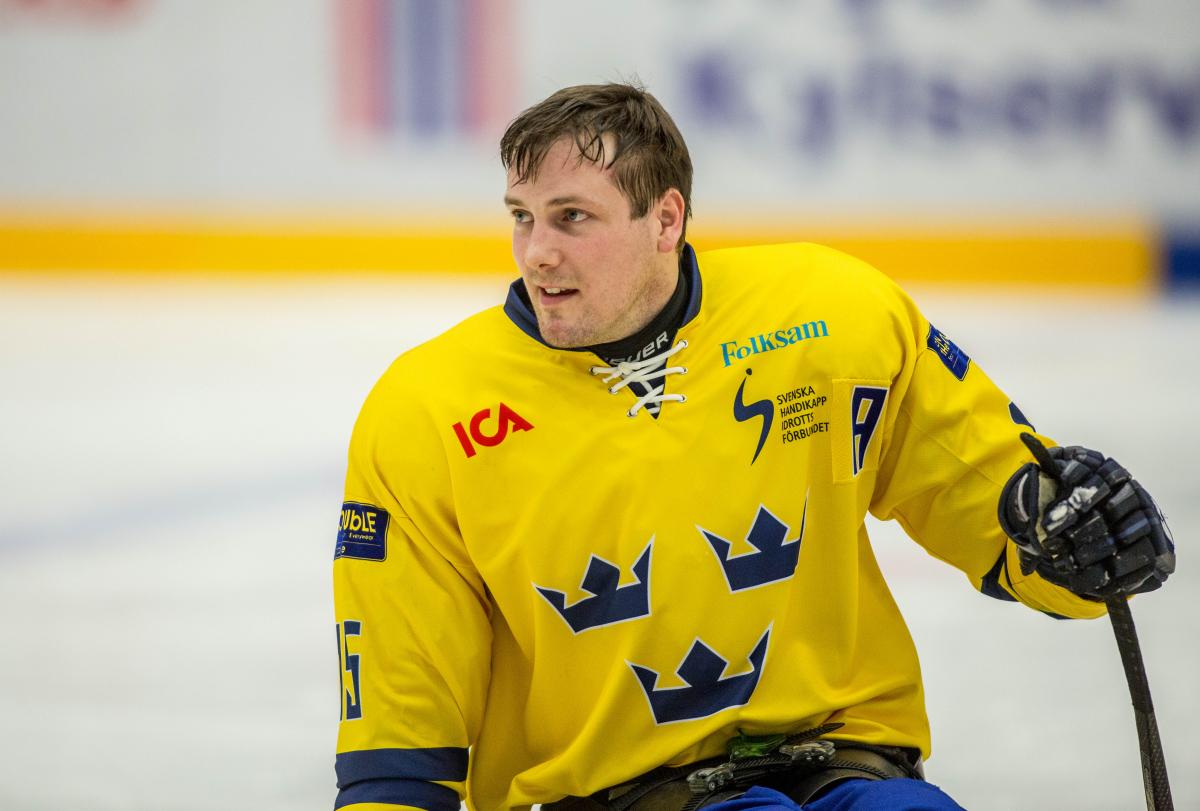 ⒸKarl Nilsson
By By Stuart Lieberman | For the IPC
"In Sochi, I wasn't a key player at all. But after a while, I've found my own style of playing hockey."
With exactly one year to go until the PyeongChang 2018 Paralympic Winter Games, Sweden's Para ice hockey team has nothing lose.
The country is looking to end a drought, having not won a medal at a Paralympics or World Championships A-Pool since they took bronze on the world stage in 2004.
At the last Paralympics in Sochi, the Swedish squad was outscored 19-4 in the tournament, finishing in eighth place.
Since then, though, they have been on the rise, with players believing they can only better their Sochi 2014 performance in PyeongChang.
Thanks to the powerful one-two punch of star forward Per Kasperi and veteran defenseman Niklas Ingvarsson, Sweden took the silver medal at the 2015 World Championships B-Pool to jump back into the A-Pool for the remainder of this Paralympic cycle. Then, with the help of six-time Paralympian Marcus Holm and former wheelchair basketball player Robin Meng, the team finished a satisfying fifth place at the 2016 European Championships.
But it has been 35-year-old defenseman Christian Hedberg who has arguably been Sweden's most-improved player on a consistent basis this Paralympic cycle.
Back in Sochi, he had only been a member of the national team for a year, so he was appeased by just making it to the Paralympic ice.
"My goal was to be on the ice for two minutes per game there," Hedberg said. "I wasn't a great player yet, so I wanted to let my teammates rest for two minutes per game. But I ended up playing two minutes per period, so my goal was easily reached."
Those were still the early days in Hedberg's Para ice hockey career. Formerly a wheelchair floorball world champion, Hedberg, who became paralysed after falling 10 meters in a climbing accident in 2006, first took to the ice in 2013 when a friend nagged him to try out the sport. He initially practiced skating in a barrowed sledge on Sweden's lakes, as it was difficult to find ice time in an arena.
"I liked the sport because it was intense and I had good friends to play it with," he said. "Also, the standard of the sport is really high compared to what I was doing before with wheelchair floorball."
Within a blink, he bought his own sledge and started spending two hours a day, five days a week on the ice, quickly trying to learn the sport's tactics.
Just a few months later he became the newest member of Sweden's national team and immediately jumped to the big stage, as it was a Paralympic season.
With three more seasons under his belt now, Hedberg's had the chance to settle into the sledge and mold his playing style.
"My game has improved very much," Hedberg said. "In Sochi, I wasn't a key player at all. But after a while, I've found my own style of playing hockey. I'm very big compared to other players, so I've found my strength on the offensive side of the puck. I'm very fast, too, so my speed and my size are my advantages."
In just over a month, Hedberg and the Swedish squad will head to Gangneung, South Korea, for the 2017 World Para Ice Hockey Championships A-Pool, at which the team hope to finish among the top five in order to directly qualify for next year's Paralympics.
Also competing in the tournament from 11-20 April will be the defending Paralympic and world champions USA, along with Canada, Germany, Italy, Norway and Korea.