Coach Da Rin speaks on Italy's 'very important test'
The Italian Para ice hockey team will play Norway, South Korea and Canada from Monday (27 February), in their last major event ahead of the Worlds.
26 Feb 2017
Imagen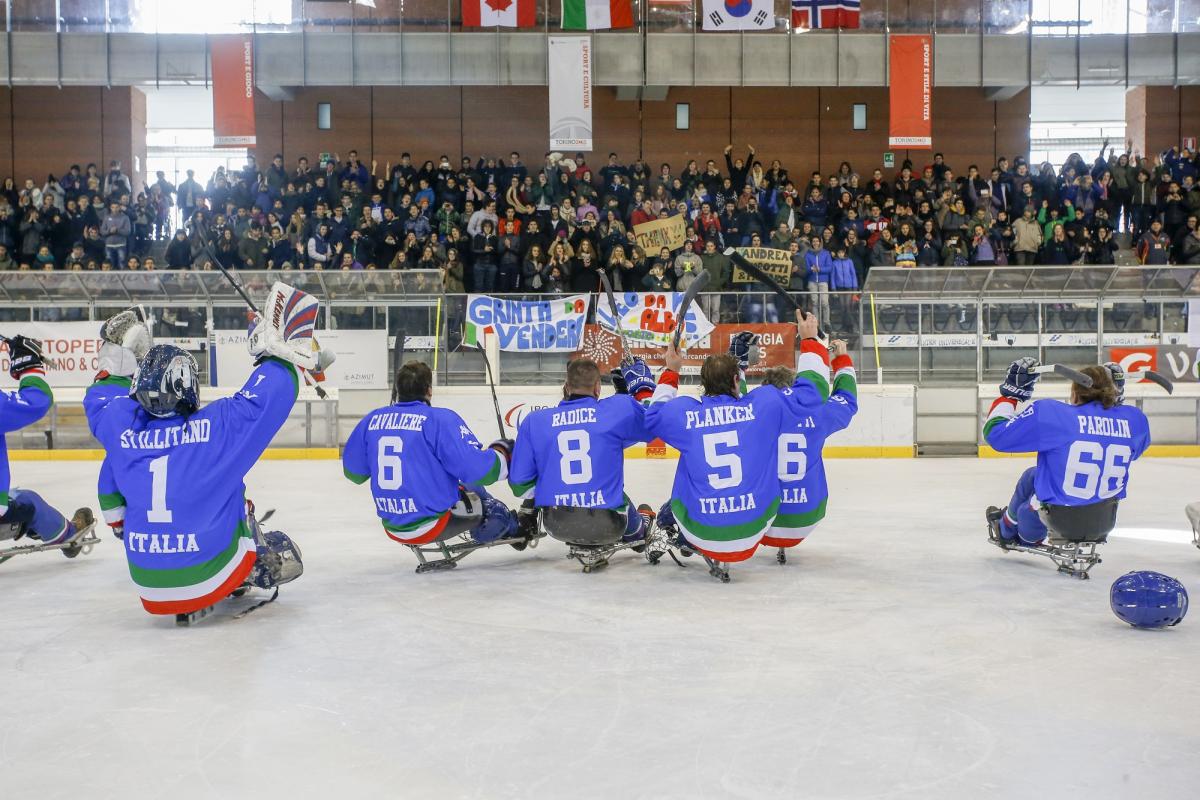 ⒸTorino 2015
Italian coach Massimo Da Rin is preparing his team for their last major test ahead of April's 2017 World Para Ice Hockey Championships A-Pool – the Para Ice Hockey International Tournament.
The competition will be hosted by Italy in Torino, with games getting underway on Monday (27 February).
Now in its sixth year, the event will gather Norway, Canada and South Korea at the Palatazzoli arena.
The tournament, organised by Sportdipiu, offers the Italians the chance to face some of the world's best teams ahead of their clashes at the Worlds in Gangneung, South Korea, between 11-20 April. That competition will also act as the Test Event for the PyeongChang 2018 Paralympic Winter Games, and the top five finishers will advance directly to the Winter Paralympics.
Of the Torino Para Ice Hockey International Tournament, Da Rin said: "For us it is a very important test, to check the development of our younger players and to enhance their teamwork with the 'older' team members. For all youngsters, including the goalkeepers, it is an opportunity to compete in a different setting to the club level. In general it will be a challenging tournament, with so many close games against high-level opponents."
Canada enter as the favourites, but Da Rin believes the Italians have closed the gap between his team and the Sochi 2014 Paralympic bronze medallists.
"We play now three lines and we have grown in quality and depth," he said. "Against Canada we have always performed well and the goal is to engage them to the end."
Italy also played Norway at a pair of friendly games in November, leaving with two wins each both on penalties.
"With South Korea and Norway we have always matched-up," Da Rin continued. "South Korea is preparing to welcome the Paralympics and are a professional side equipped with some great individual players. We rely on ourselves 'to be the team'; I think we're still a step ahead at the tactical level."
In their games against Norway, Italy were missing some important team members who will return for Torino.
Among the more experienced players, Stephan Kafmann will make his debut with the national team. In goal they will alternate as always between Santino Stillitano and Gabriele Araudo.
Gianluca Cavaliere, Florian Planker, Gianluigi Rosa, Andrea Macri, Emanuele Parolin and Bruno Balossetti will make up the defense whilst Gregory Leperdi, Nils Larch, Sandro Kalegaris, Valerio Corvino, Eusebiu Antochi, Roberto Radice, Christoph Depaoli, Alessandro Andreoni and captain Andrea Chiarotti will form their attack.
"The priority will be the improvement of the team ahead of the World Championships, in which we will try to qualify for the Games," concluded Da Rin, "And of course we'd like to leave Torino with a good result.
"We trust in the support of the public, that as in previous years will be made up of hundreds of children who will create an atmosphere of great enthusiasm.
"This will be an extra boost, as well as the technical level of our opponents and the presence of the TV cameras - all elements that make the tournament in Torino one of the best in the world."
As was the case in past editions, all games in Torino will be broadcast in full live on Rai Sport channels, which also will offer highlights and interviews.
Entrance to all games is free to the public.
Game schedule
Monday, 27 February
10am: Italy v Norway
3pm: Canada v South Korea
Tuesday, 28 February
10am: Canada v Italy
3pm: Norway v South Korea
Wednesday, 1 March
10am: South Korea v Italy
3pm: Norway v Canada
Friday, 3 March
10am: semi-final 1 (with Italy)
3pm: semi-final 2
Saturday, 4 March
10am: final 1
1pm: final 2
The World Championships at Gangneung 2017 will see the top five teams qualify for PyeongChang 2018, with the rest going on to the Qualification Tournament later in 2017.
World and Paralympic champions the USA, Worlds silver medallists Canada, Norway, Italy, Germany, South Korea and Sweden are expected to compete.