Cockroft targets world record in Italy
Briton aims to continue recent form at Athletics Grand Prix in Grosetto
09 May 2013
Imagen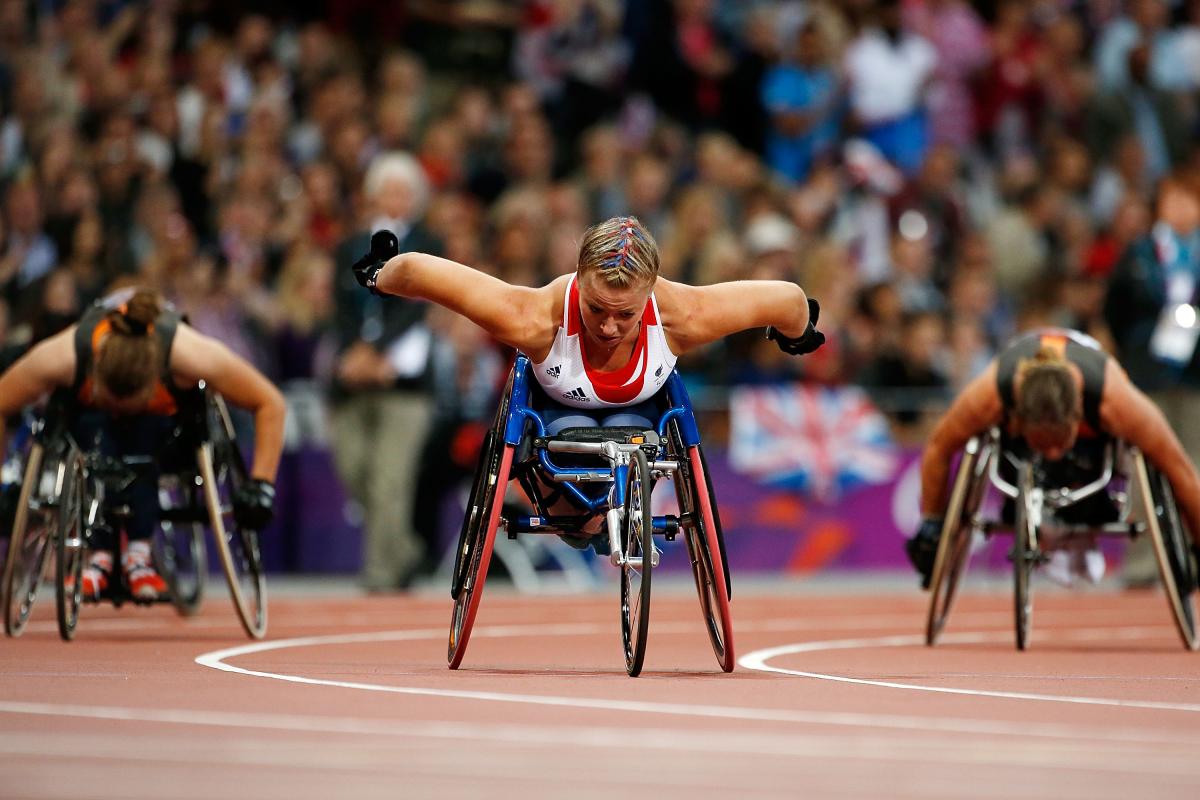 ⒸGetty Images
"That 0.03 off my world record just really annoyed me, so I'm determined to get that one next"
Great Britain's golden girl Hannah Cockroft lines up at the Italian Open Championships in Grosetto this Saturday (11 May) with her eye on lowering her own 100m world record, after an impressive season opener last weekend where she recorded a new world's best in the 800m T34.
The meeting in Italy is the fourth of the IPC Athletics Grand Prix series and Cockroft, who is due to compete in the 100m, 200m, 400m and 800m, believes she is capable of clocking more fast times.
The 20-year-old finished just 0.03 seconds shy of her own 100m T34 world record at Stoke Mandeville on Sunday (5 May) but improved on her own 800m T34 world mark in her first event on the track since winning double sprint gold at the Paralympic Games last year.
"That 0.03 off my world record just really annoyed me, so I'm determined to get that one next," she said.
"I was so close, if I'd just done one more push a little bit quicker I would have got it! But that's always the way and that's motivation to go a little bit quicker in the next race, and sort out whatever I messed up.
"I know I can do it, and I'm obviously fit enough to do it, so we'll just have to see what happens on the day. A new personal best is always in the plan but we'll see how I go!"
Cockroft has had to adapt to life in the spotlight after her Paralympic victory last year, as well as changes to her coaching set up.
The double World champion began working with Jenni Banks in January after her previous coach Peter Eriksson took up the post of Head Coach at British Athletics. Adapting to Banks' methods may have seemed daunting, but Cockroft believes the new set up will suit her well.
"It's taken some getting used to and it was quite tiring to begin with, but it's good having Jenni as she lives a bit closer to me and she is just a wheelchair racing coach, whereas Peter was Head Coach of the entire Paralympic team.
"We seem to be getting on really well so hopefully it's a good move. Change isn't always welcome but it's clearly done me some good."
Indeed the Halifax-born racer, who received an MBE for her services to athletics in January, believes she is prepared for the season ahead.
"It's been a long eight months (since London 2012) but obviously whatever I've done has worked, so I'm happy with that.
"I feel like now we are travelling and racing again, that's the main priority again. It's a good feeling, it has brought a bit of normality and reality back to everything.
"At the same time, it's a little bit unnerving because I've gone in to my first event since the Games and broken a world record. I hate going to events where I'm too confident. I'm also a little bit scared that I peaked too early, but Jenni seems to think that I've got more left and that was just the beginning."
"In the second bend of the 800m one of the international competitors tried to take me out and knocked my front wheel out of the race. I'm not really a 800m sprinter, I've never been able to keep up with a pack before, and I was racing with the T54 girls as well - so the fact that I was able to keep up, and they were having to do that, was quite good. It means that even though I broke a world record, I can still go faster as that was with a little bit of a scuffle in the middle of the race, so we'll just see how quickly I can go out here."
Cockroft will line up against her best friend and roommate in Italy, Melissa Nicholls, as well as Italian Michela D'Amico.
"It's brilliant that we are getting this series behind us. It's really important that we can all get to events like these now. I still need to qualify for the World Championships in Lyon this summer, so it gives me a good opportunity to do that, it also gives me a good opportunity to meet someone that might turn up in Lyon and race against me, so they won't take me totally by surprise. And it means I get to race in some sunshine!"