Curtis McGrath aims to upset at Rio 2016
Australia's para-canoeist anticipates hard-fought encounter against Austria's Markus Swoboda at Rio 2016.
21 Feb 2016
Imagen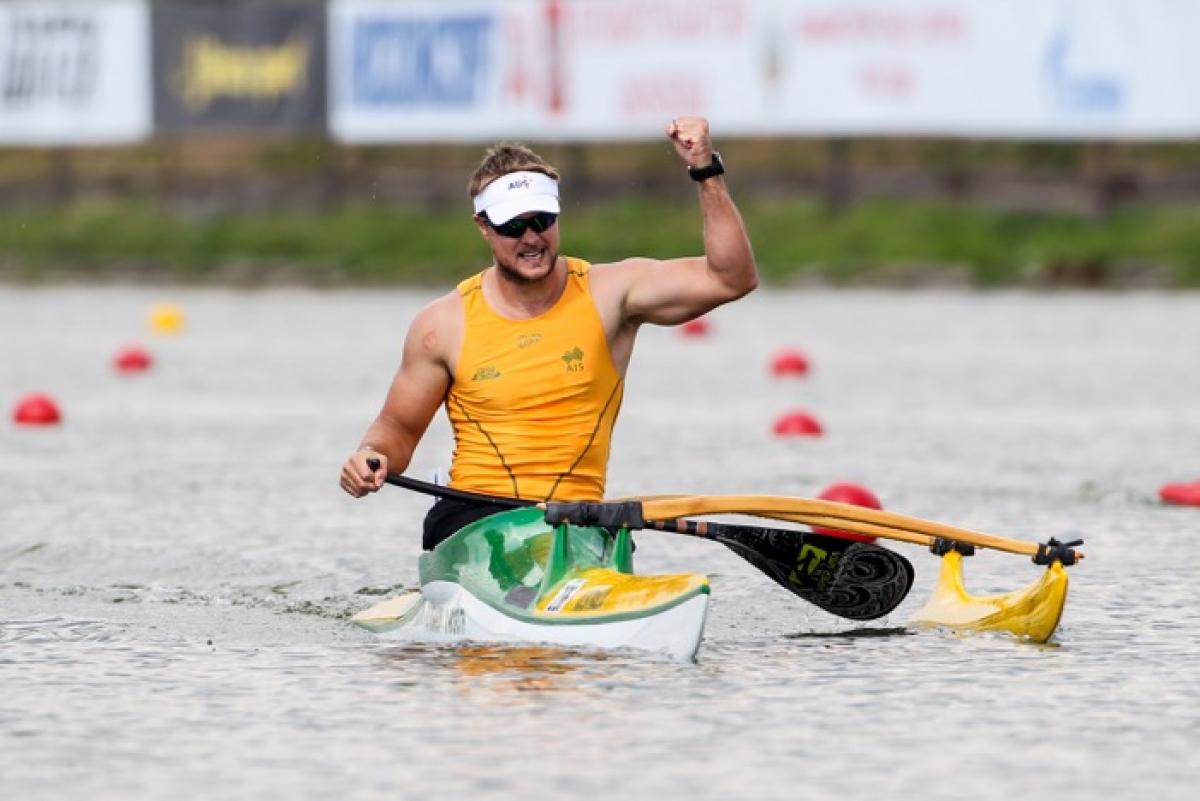 ⒸICF Photographer Balint Vekassy
By Laura Godenzi | For the IPC
"I am feeling really good. Anyway, it is still a long way until Rio and many things can happen between now and then."
After claiming silver in the K1 200m KL2 at the 2015 International Canoe Federation (ICF) Para-Canoe World Championships in Milan, Italy, Australia's Curtis McGrath is hopeful that he can top the podium at the Rio 2016 Paralympic Games.
"I first wanted to get to the podium at a World Championship," McGrath said. "Now that I have three world medals and have made the qualification for the Paralympics, I want to win the gold at Rio."
However, it will not be easy for McGrath to achieve his goal since he will face a hard race against Austria's six-time world champion Markus Swoboda.
"Markus is a remarkable athlete and he will definitely be my most difficult opponent," Swoboda said.
At the last year's World Championships, Swoboda (42.542) claimed gold in the K1 200m KL2 race, just ahead of McGrath (43.185), whilst Brazil's Fernando Rufino de Paulo (43.415) secured the bronze medal.
It did seem McGrath could win the world title after breaking Swoboda's five-year winning streak during an earlier heat in Milan by winning that race. Although he did not replicate that result in the final, McGrath is focusing on the positives.
"I learnt that my inexperience was my downfall, I was made very aware of what I needed to improve and it gave me a good insight into my competition," McGrath said.
"Although a 200m race is over in about 40 seconds, there are a lot of things that can go wrong in that time. Everything would have to go perfect for me to have a chance at beating Markus [in Rio]," McGrath assured.
"Markus is an amazing athlete. For any athlete, to be world champion for the last six years is a huge achievement. He is a really nice guy and someone who all canoeists should look to as an example of what strength and determination can get you," McGrath said.
Swoboda has dominated the para-canoe scene for six years. However McGrath knows what he is capable of and remains optimistic and self-confident about his chances.
"I am feeling really good. Anyway, it is still a long way until Rio and many things can happen between now and then," McGrath said.
Compared to Swoboda, McGrath is relatively new face in the para-canoe scene, as he picked up the sport only in December 2013 after a tragic incident. In 2012, while on duty for the Australian army in Afghanistan, he stepped on a homemade landmine and lost both of his legs in the blast. Only thirty minutes after losing his legs, McGrath said that he was already thinking about a career as a para-athlete. Indeed, two years later in 2014, when he made his international debut at the Internationa Canoe Federation World Championships in Moscow, he sealed the world champion title in the 200m VL1 (for va'a boats) race.
Now in his third season, McGrath is following a strict training programme with 12 practice sessions per week in order to get to Rio in top shape.
"Having the discipline to get up every morning and making sure you are doing everything you possibly can with your time in the boat have come from the discipline that I received in my time in the military," he said.
Rio 2016 will mark para-canoe's debut in the Paralympic programme, which will be a major world showcase for the sport.
"It is going to be massive," McGrath said. "The hype of the Games and the atmosphere of Rio will be magical. The exposure para-canoe will get from being there will be great."
Sport fans from around the world can now buy their Paralympic tickets for Rio 2016 from authorised ticket resellers (ATRs).
The IPC's Global ATR is Jet Set Sports, and Rio 2016 tickets and packages can be purchased on the CoSport website.
Residents of Brazil can buy 2016 Paralympics tickets directly from the Rio 2016 website.