Daisuke Ikezaki reflects on Rio 2016 bronze medal
Japan made history at Rio 2016 by becoming the first Asian nation to win a wheelchair rugby medal at a Paralympic Games.
17 Nov 2016
Imagen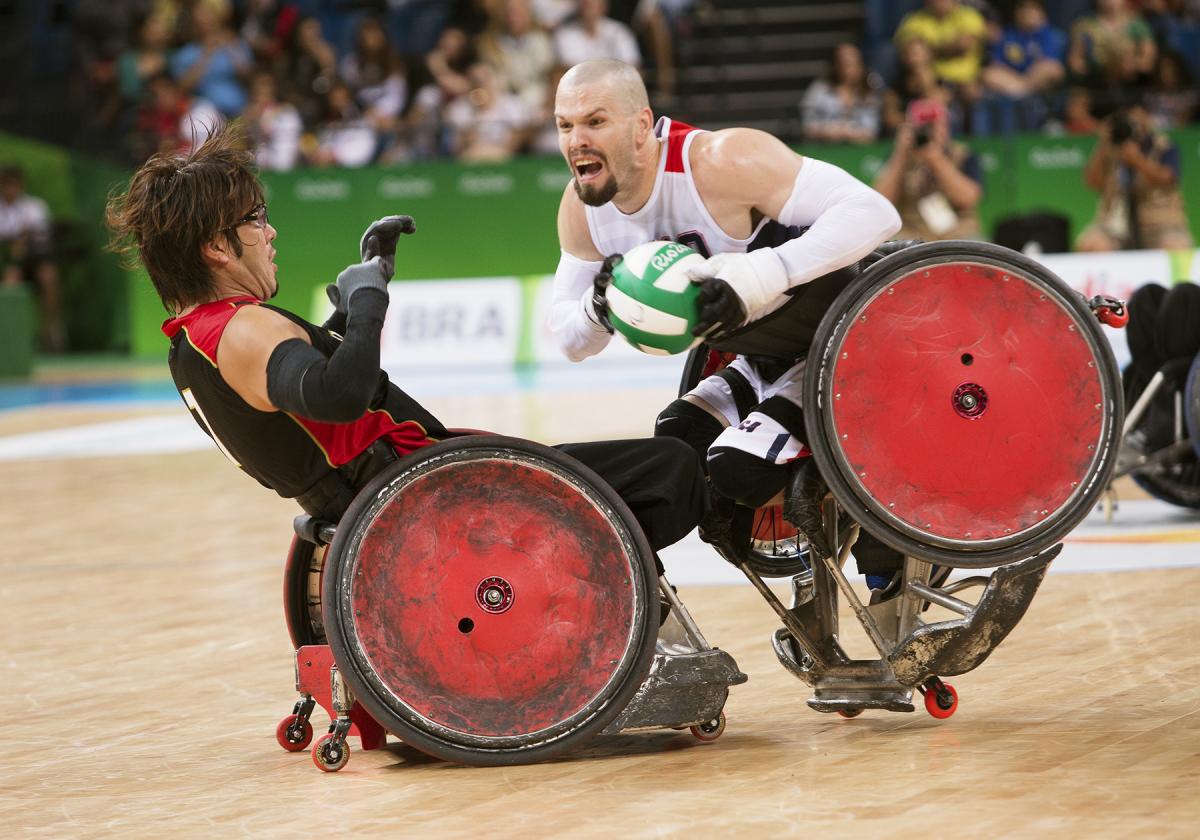 ⒸCWSA/Kevin Bogetti-Smith.
By Beau Greenway | For the IPC
"The great cheering, like in my home games, gave us strong power, by which we could get the bronze medal."
Nearly two months on from their thrilling 52-50 victory against Canada in the bronze medal match at Rio 2016, the feeling is still special for Daisuke Ikezaki and his Japanese teammates.
It was the first time an Asian nation won a medal in wheelchair rugby at a Paralympic Games.
"To get the bronze medal at the Rio Paralympic Games was the happiest experience during my six-year wheelchair rugby life," said Ikezaki.
"I entered the bronze medal match with very strong pressure and concentration, with serious expectations from Japan and the hope to expand wheelchair rugby."
Immediately after the final buzzer, Ikezaki embraced with close friend and playing partner Yukinobu Ike in what was an incredible display of raw emotion, after coming to the realisation of what the Japanese team had just achieved.
"We could share the best happiness from the bottom of our hearts in getting the first Paralympic medal in Japan's wheelchair rugby history," Ikezaki said.
"We were so exposed through the media and known by many Japanese people, as it was the first Paralympic medal for the country in wheelchair rugby."
Ikezaki, who scored 19 hugely-important goals during the match to help secure the bronze medal for his country, said the entire Rio 2016 experience was very exciting.
"The Brazilian upsurge and friendliness motivated us greatly," he said.
"The great cheering, like in my home games, gave us strong power, by which we could get the bronze medal."
Ikezaki admitted Japan's ability to overcome nerves and tension was a major factor in the improvement shown by the team from London 2012, where they finished fourth, to Rio 2016.
"We could focus our concentration on winning and began growing as a team during the Rio Games," he said.
"I now wish to improve myself personally as one of the top athletes to get medals even better than bronze."
The 38-year-old will be 42 by the time Tokyo 2020 rolls around, but is determined not to let his age become a barrier in the quest for further Paralympic success.
"I have a strong mind and spirit to stack up against younger athletes, therefore I need to overcome myself," Ikezaki said.
"I wish to brush up on my physical and mental power and we need to have much more experience to fight with world class teams in international games and Championships.
"We have a high level of awareness and strong concentration to win.
Team Japan is hoping the breakthrough at Rio 2016 is just the start of what could be its first taste of Paralympic gold on home soil at Tokyo 2020.
"I strongly hope that Japanese TV viewers during Rio will come to the venue as spectators in Tokyo, in which we wish to show our excellent play directly to the people," Ikezaki added.