Danielle Aravich's mission: make dual Games debuts six months apart
US athlete and one hand photographer targets qualification for Tokyo 2020 in Para athletics and in Para Nordic skiing at Beijing 2022
29 Jan 2021
Imagen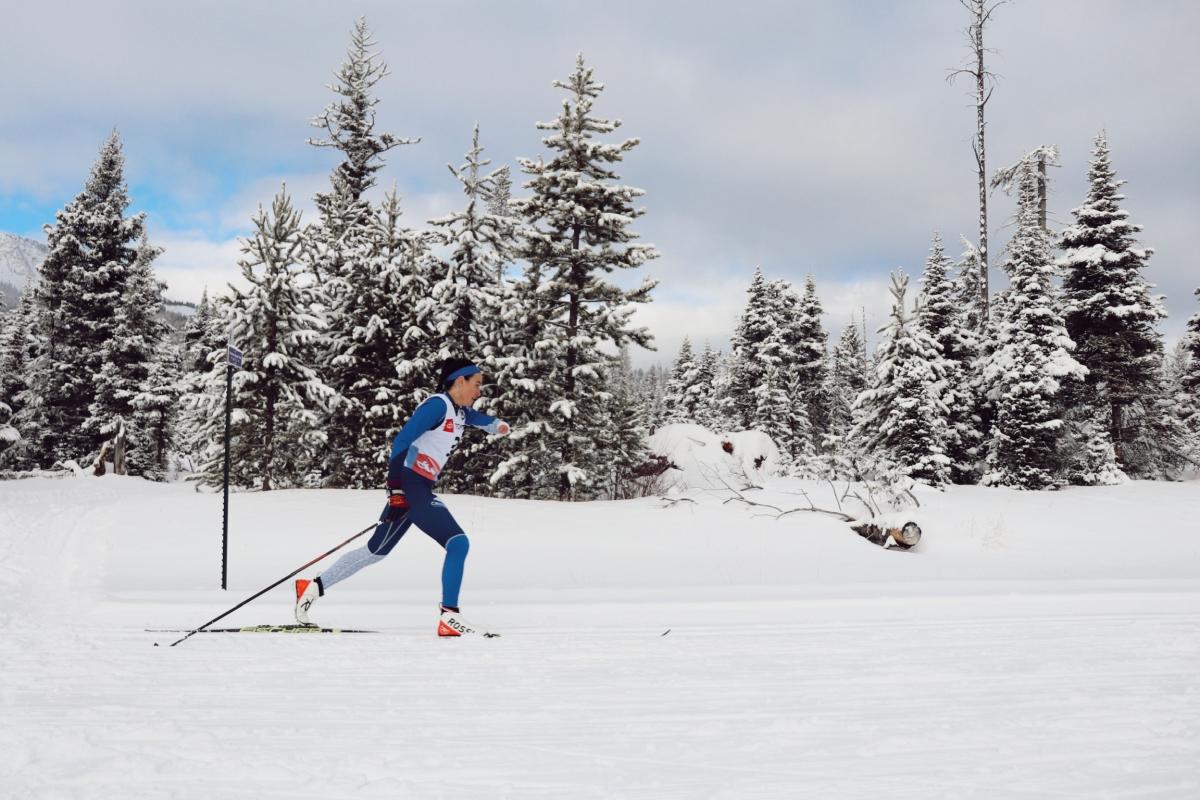 ⒸBerin Klawiter
By Lena Smirnova | For World Para Snow Sports
Para Nordic skier and 400m runner Danielle Aravich is trying to do what no athlete has done before - make dual debuts at the Summer and Winter Paralympic Games, a mere six months apart and in two sports she only recently took up.
The task of qualifying for Tokyo 2020 in Para athletics and in Para Nordic skiing at Beijing 2022 was a daunting one to begin with for the US athlete. But when the Summer Games were postponed due to the COVID-19 pandemic, the gap between the two biggest events in Para sports became even smaller and Aravich's mission even more momentous.
"Trying to qualify not only for my first Paralympic Games but for a Summer and a Winter with only six months apart, originally thinking we had 18 months apart, is quite a feat," Aravich said.
"But I would never want to look back 10 years from now and be like, 'Oh, well, I made the Winter Games in 2022. Amazing, but I might have been able to make the Summer too. Why didn't I go for it?'"
Testing One, Two…
Aravich, who was born without her left forearm, is not a novice runner, having raced on track teams in high school and university. However, she only started adaptive running in January 2019 after four years off from competition. 
Runners in her T47 class can compete in the 100m, 200m or 400m at the Paralympic Games. Always a long-distance runner, Aravich is still adjusting to her new sprint distance.
"Even though it is technically the same sport I've done at a high level in college and high school, going from distance running to the 400 was a very big change. I basically felt like I was learning a new sport," Aravich said. "I definitely prefer longer distances."
Para Nordic felt even newer for Aravich when she took it up in late 2019. She has gone alpine skiing since age 3 near her hometown in Idaho. Her experience in cross-country, however, was limited to a one-off trip in her teens. 
Yet when the US Para Nordic developmental coach, BethAnn Chamberlain, heard about the former endurance runner from a mutual connection and invited her to a ski camp in December 2019, Aravich answered the call with enthusiasm.
A month later she completed her first cross-country ski race.
"I was very klutzy on skis initially. I still feel klutzy, but it's getting better," Aravich said. "It's a lot harder than it looks. When you watch some cross country skiing, they seem very graceful and it looks very easy, but then when you're actually doing it yourself, it's so challenging trying to figure out how to get the technique down."
On the plus side, Para Nordic allowed Aravich to return to her signature, long distances. The races in her women's standing category range from the 1.5km sprint to the 15km. Her personal favourite is the 5km freestyle.
The sophomore skier has also embraced the extra challenge of biathlon.
Aravich was already familiar with shooting from numerous trips with her father to outdoor shooting ranges. Shooting in between ski racing, however? Slightly more challenging, she admits.
"The concept of biathlon was very exciting for me, but I never had to shoot with a high heart rate, so biathlon has been incredibly frustrating at times," Aravich said. "I have so much to improve upon in that side of the sport, but I would say biathlon practices are my favourite. It's an added layer of challenge to an already challenging sport."
Double target
Aravich initially planned to focus on Para athletics to qualify for the Tokyo 2020 Games, and shift her attention to Para Nordic skiing ahead of Beijing 2022. But these plans crumbled once the pandemic escalated and Tokyo 2020 was postponed by a year.
The dual athlete now faces the challenge of trying to qualify for two Paralympic Games that are set to take place an unprecedented six months apart. 
This makes for one hectic workout schedule, especially since the two sports do not necessarily compliment each other. 
Aravich is spending this winter training with the US Para Nordic team in Bozeman, Montana. At the same time, she is squeezing in solitary track-focused workouts once or twice a week, using instructions from her Utah-based running coach as guidance.
As soon as her training camp with the national team is done in April, she plans to make a quick transition to track and spend the next few months preparing for the Paralympic trials, scheduled for the end of June.
"I do sometimes get overwhelmed at the thought. This past month and a half, while I've enjoyed my Nordic training so much, I've had a few days where I have a panic attack that in just a few short months I might be racing around the track in a 400m," Aravich said.
"I'm not as confident as maybe some other cross-over athletes who are able to do winter and summer and who have more experience because I am still new to both."
One hand clicks
To lessen the stress, Aravich made sport her full-time job in April 2020. This meant leaving her "dream job" with the Utah Jazz basketball team, although she still picks up some freelance social media work and launched a small photography business in December 2020.
It was called "One Hand Clicks".
"The idea for the name was something that a friend thought of on a whim when we were discussing how to incorporate having one hand and taking photos," she explained on her website. 
Her ski races have also become her first experience as a sports photographer.
While the physical - and financial - challenge of balancing two sports on a high level is bound to get greater in the coming months, Aravich is determined to chase her goal to the finish. 
And behind that, there is a very personal reason.
"I grew up playing sports and always able-bodied sports, so since I was missing my hand, and was competing against able-bodied athletes, I've never wanted someone to look at me and think, 'oh, she only made the team because she has one hand' or 'pity clap for the girl playing with one hand'. I never wanted people to look at me and think that I was any less of an athlete because I was physically different than the rest," Aravich said.
"I've always had it ingrained in me that I needed to prove myself to others to be the best athlete that I could be."