Art and Para sport: a perfect match
'The picture of my fiancé is definitely my most important,' Stefanie Herrmann recalls the artwork that changed her destiny
05 Sep 2020
Imagen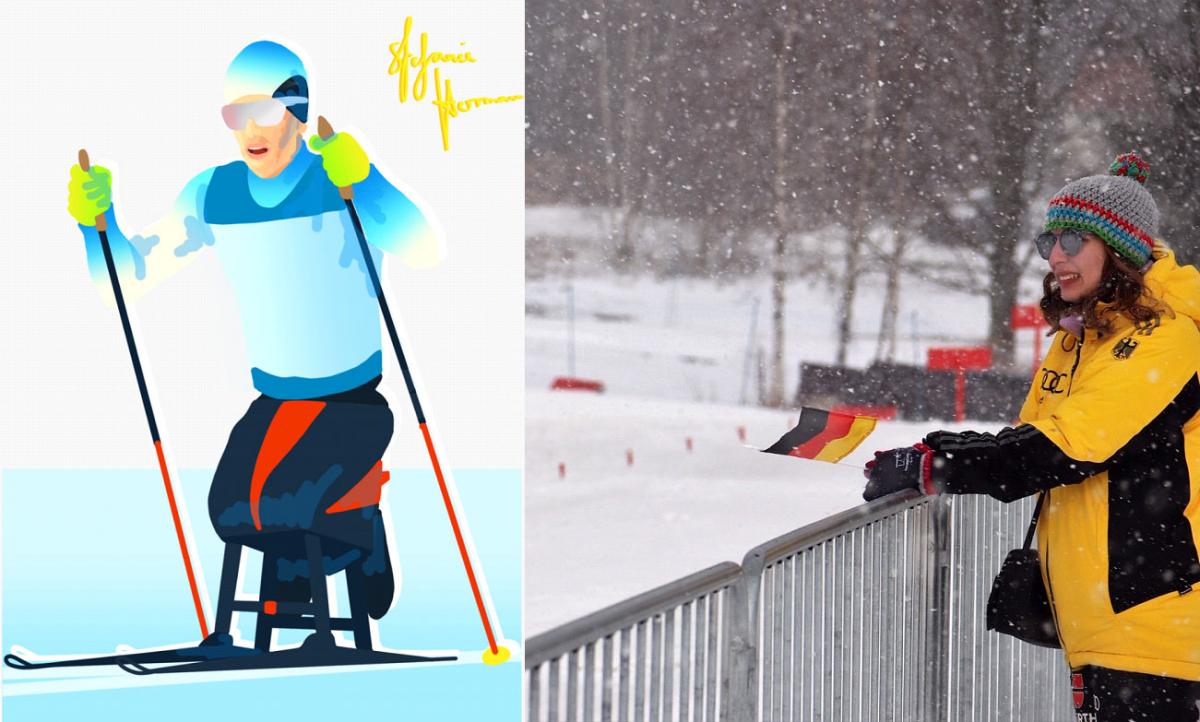 ⒸStefanie Herrmann
By Lena Smirnova | For World Para Snow Sports
Stefanie Herrmann connects more than one part of her life to drawing Paralympians.
It is her full-time job, her passion, her source of motivation, and also the means through which she met her fiancé, Paralympic and world champion in Para Nordic skiing, Martin Fleig.
"Para athletes inspire me a lot and I want to show this to the world with my art," the German artist said of her illustrations. "Society should see this incredible power more."
Blank canvas
Herrmann's illustrations are splashes of colour that offer a bright and optimistic portrayal of her subjects. She creates them on her tablet with the Procreate app, and sometimes paints with acrylic or makes collages. She also always carries a sketchbook with her to jot down new ideas. 
Art has been a part of Herrmann's life since she was a child.
"I don't really know when I started," she said. "I loved crafting and painting in my childhood. Beside school I was going to an art school and in my spare time I visited the library to learn as much as I can about art history. My whole life, art was a part of me."
While Herrmann's work features a variety of athletes across Olympic and Paralympic sports, Para sports hold a special place in her collection. 
She got interested in Paralympic sports when she injured her foot at age 20. For a long time, Herrmann was unable to walk. She later learned that she has a condition called complex regional pain syndrome (CRPS). 
"[Doctors] said I need a wheelchair. This was a shock for me and I didn't accept that. So I started to search and found stories about Paralympic athletes. It inspired me," Herrmann said. 
"I did a lot of physiotherapy and training to stand again and I did it. I am still disabled and every day is a little fight, but I have learned to live with it."
Drawing destiny
The list of Paralympians Herrmann has drawn is long. These include German Para alpine skiers Anna-Lena Forster and Andrea Rothfuss, USA Para snowboarder Amy Purdy, Italian Para cyclist Alex Zanardi, German Para triathlete Martin Schulz and Spanish wheelchair tennis player Francisco Garcia, among many others.
But there is one picture that stands out the most for her - the one that introduced her to her future fiancé Martin Fleig. 
Fleig won gold for Germany in the men's sitting 15km race at the PyeongChang 2018 Paralympic Winter Games, and also has four gold, two silver and three bronze medals from three editions of the World Para Nordic Skiing Championships.
"The picture of my fiancé is definitely my most important artwork. Without it I would have never met the love of my life," Herrmann said. 
"In 2017, I saw an interview with him at the World Championships in Finsterau and I was immediately impressed with Para Nordic skiing and how he speaks about it. He inspired me for an artwork. He saw that picture on Instagram and he wrote to me...and we never stopped since," the artist added. 
After their meeting, the champion skier became Herrmann's gateway to the Paralympic world.
As she travelled with Fleig to training sessions and competitions, she met other athletes who later became the subjects of her art.
Instagram is the main platform where Herrmann exhibits her creations. It is also where athletes get in touch with her. However, even after several years of drawing Paralympians, some of their messages have her starstruck.
"I love our generation where we can contact the whole world online so easily and it makes me happy when someone from across the world writes to me and asks for an artwork," Herrmann said. "But it surprises me every time when a famous athlete knows me from Instagram!"