Season review: Oksana Masters finds way to handle spotlight
Snow, glow and sickness all part of the show for the multi-talented US athlete
10 Apr 2020
Imagen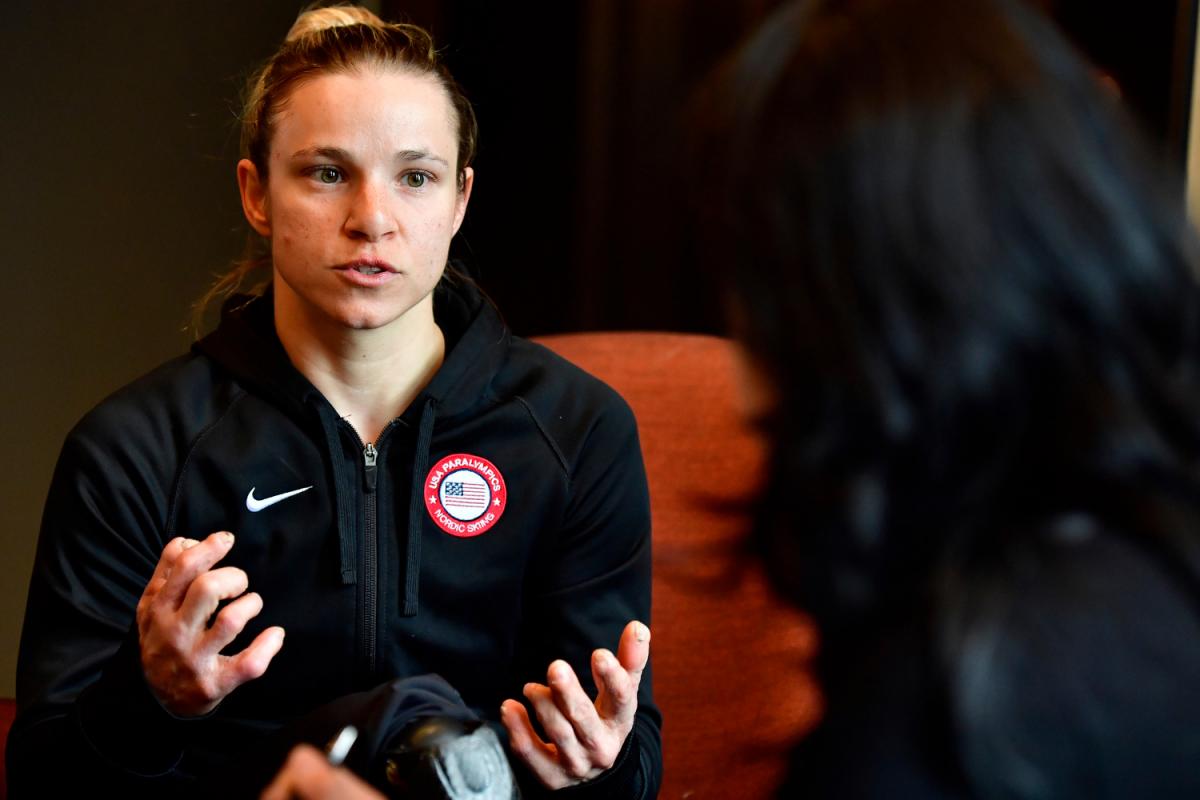 ⒸLuc Percival for World Para Snow Sports
By Ros Dumlao | For World Para Snow Sports
The USA's Oksana Masters was nowhere to be found after the Opening Ceremony of the 2020 Para Biathlon World Championships in March in Ostersund, Sweden. 
As nearly 100 athletes and their team staff dispersed back to their accommodations, Masters was already at her hotel. Her laptop was open, notepad on the side, along with a dinner plate. She was cramming in an online class for her business degree because the next day would have to be all about the World Championships, scheduled to begin on 12 March. 
It is a glimpse of the non-stop life of Para Nordic skiing's high-profile athlete.
The 30-year-old might have gotten a break, however, after the Championships and rest of the season were called off last minute due to the COVID-19 pandemic. 
She tweeted her disappointment: 
"Woke up race day @ParaSnowSports Biathlon Worlds to bad news, they're cancelled due to COVID-19. I'm sad to cut my season short especially after missing last two cross-country races in Germany after getting sick. It's frustrating when things affect you that are beyond your control."
But an early end and slower pace perhaps could be a blessing in disguise for someone who is dual-sport athlete, eight-time Paralympic medallist and business student.
Busy February
In February, Masters made back-and-forth trips to Germany, the first for the Nordic skiing World Cup and second for the Laureus World Sports Award in Berlin.
Packing for he latter was a whole other experience. 
"My life is not that glamorous," said the two-time cross-country skiing Paralympic champion. "When I found out I was nominated and the schedule allowed for me to go to the Laureus, I didn't have any clothes with me that I could pack because I wasn't at home. So I went to a store and just settled on a dress. I knew it had to be black because I was going to be nervous and I sweat a lot."
Masters went on to win the Sportsperson of the Year with a Disability, revealing that during the ceremony, she wore shorts under her dress. It was more for a touch of cosiness, especially when she delivered an emotional acceptance speech that highlighted her mother and boyfriend. 
"I wear shorts under all my dresses because I feel uncomfortable in dresses," she confessed. "I'm such a tomboy. I'm always in spandex. Or I'm a klutz and I will fall. That's more likely." 
While she seemed well during the Awards event, Masters was actually recovering from an illness.
Earlier that month, she competed at the biathlon World Cup in Finsterau, Germany, winning two of the three events. But she was not feeling well and could not complete the cross-country races that followed. 
When she got back to her home in Champaign, Illinois, she reached a fever of almost 41-degrees Celsius (106-degree Fahrenheit) that knocked her out for nearly a week. 
"My immune system is weak so when I get sick, I get really sick. And then I was just out for two weeks doing nothing," she explained. "I flew in for the Awards the night before and flew out the next morning. 
"That was a four-week span I could have used to prepare and most of my competitors were already using those weeks to prepare." 
Setting priorities 
In the midst of it all, Masters also had Tokyo 2020 in mind, hoping to qualify in cycling. She won silver medals in the road race and time trial H5 at the 2019 Para Cycling Road World Championships.
With the 2020 Paralympics at the forefront of her aims until COVID-19 put half of the world on lockdown, she admitted the 2019-2020 winter season was about keeping her "skiing muscles awake."
"My training has been more for cycling. The goal is Tokyo," she said. "[The aim for cross-country] is to try different approaches to races, tactics, and then in biathlon it's such a rare time to have an opportunity to be at a world-class race and just the whole process of what it really is." 
Masters' speciality is more cross-country, as she swept all three races at the 2019 Worlds in Prince George, Canada. 
But biathlon is still a work in progress. In particular, the shooting can be tricky because of how her fingers work; Masters was born in Ukraine with both of her legs affected by radiation-induced birth defects stemming from the Chernobyl nuclear power plant disaster three years earlier.
"I don't have any muscles in my fingers and I have to tape my hands when I ski," Masters explained. "This is why it's such a longer learning curve because if I can't feel the trigger…  So it's a different dynamic of challenges whereas for some others there might be some other types of challenges.
"But I gotta say that there's no better feeling with a good biathlon race. When your shooting lines up with your skiing, it's one of the best feelings ever."