Alexandr Glazkov shares joy through sport
Para cross-country skiing enthusiast becomes accessibility advocate and role model for a healthy lifestyle in Russia
31 Jul 2020
Imagen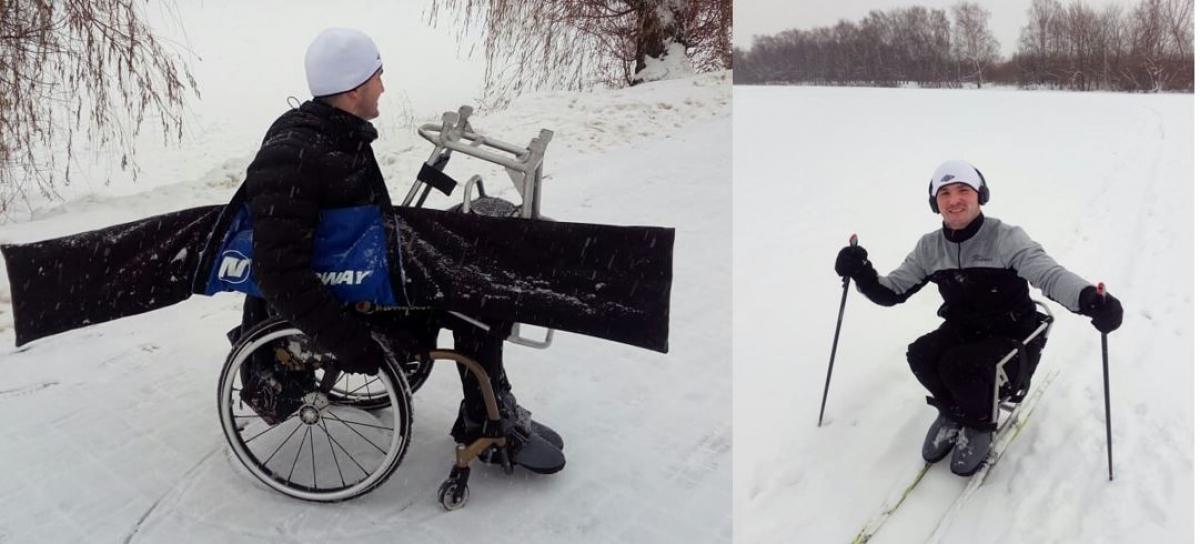 ⒸAlexandr Glazkov
By Lena Smirnova | For World Para Snow Sports
The list of sports that Alexandr Glazkov has tried over the past three years sounds like a generous offering at a particularly versatile fitness club - athletics, cross-country skiing, powerlifting, orienteering, swimming, basketball, and ice hockey, to name a few. 
It is a sharp contrast to 2017 when Glazkov, struggling to come to terms with having to use a wheelchair after an injury, was clocking in his second year of voluntary home confinement.
Now a role model for a healthy lifestyle and an advocate for accessibility in Russia, Glazkov proves by example that anyone can find joy in getting active. 
"You need to try it at least once," the sports enthusiast said. "Go out and see how quickly and noticeably your life will change for the better."
From window gazing to racing
Glazkov's apartment in Nizhny Novgorod, Russia is crammed with sports equipment and memorabilia from events he participated in. But the 35-year-old has not always been so athletic. Just the opposite.
Like many youths during the turbulent 1990s in Russia, Glazkov was swept up into murky dealings. Sport was the furthest thing on his mind.
"I did not have the best lifestyle," Glazkov said. "It was the time, the end of the 90s, and the crowds I was in. I fell in really deep and very far from sport. You could say it was my disability, which pulled me out."
After he got injured in 2014, Glazkov needed a wheelchair to get around. However, the injury took such an emotional toll that he confined himself to his apartment for the next two years.
"I did not accept the wheelchair at all. I could not even look at it," he said. "Most of the time I was at home. Everybody who faces a challenge like this probably goes through this stage. There is still hope for some time that you will walk again. With time, this passes and you understand that you have to continue living because the more you try to walk and can't, the more depressed you get. As soon as I got out in my wheelchair and became more active, my mood improved."
Glazkov's first impulse to go outside came when he stumbled on the story of Belarus' Alexander Avdevich, who travelled more than 3,000 kilometres to Portugal on a hand-bike in 2017. Spurred into action, Glazkov got a sports wheelchair and went to a charity run as an observer.
As the next step, he got in touch with gyms in his neighbourhood. After getting ignored or turned down at most gyms, he finally found one that was willing to accommodate his special needs.
By the next local run, Glazkov was at the starting line of a 5-kilometre course. Since that day, he has finished five half marathons and several smaller-distance events in different Russian cities.
In addition to wheelchair racing, Glazkov has tried a wide range of sports with ample success. Last year he finished first among amateurs on a hand-bike at a half marathon in Moscow.
"I am doing this mostly for myself and to motivate others who are in a similar situation," he said. "At one point I got out of the house, out of the four walls, accepted the wheelchair and started to live. Sport helps with this a lot."
Glazkov shares his experiences on Instagram and VKontakte, a popular Russian social network, and encourages those who have a hard time accepting life with an impairment to take and share as many photos as possible.
"Posting these photos in social networks can help a lot," Glazkov said. "When you go outside, take all kinds of photos, on the street or by the lake. Start slow. Don't count the likes. This will be the beginning of your adaptation to a new life, and sport might come next. First, you just need to go outside and life will start to change for the better."
Accessibility advocate
New opportunities opened up as Glazkov connected with people in the sports world, including an invitation to try Para cross-country skiing in Western Siberia.
While Glazkov enjoyed skiing the most of all his sports, he was forced to abandon it due to accessibility issues. Getting the bob into his apartment building proved too burdensome. 
Glazkov is fairly fortunate because he lives on the first floor, but there are still several stairs he must climb after getting through the main entrance.
Other wheelchair users in Russia face even more hardships, especially since Soviet-era apartments, which make up the bulk of the country's housing, were not required to have elevators if they had five floors or less.
"The biggest problem for people is getting out of their apartment," Glazkov said. "A person in this situation ends up living by the window."
It took Glazkov more than two years of legal battles to get a ramp installed in his building. He hopes this victory sets a precedent following a series of similar campaigns that were turned down on the basis of fire safety hazards. 
In the meantime, Glazkov posts videos about accessibility on his social media to raise awareness of the issue.
"Things are getting better and better every year, but it is still necessary to speak and shout about it. We got new standards for buildings, but it is not as easy to change people's mentality," Glazkov said.
"Accessibility is not just ramps, but also things like parking spaces. Someone will park by the wheelchair path and not have a care in the world, so we have to keep shouting, writing and doing something about it."