Musical inspiration keeps Yury Holub on target
Belarusian athlete and musician celebrates career's first overall Crystal Globe in biathlon
24 Apr 2020
Imagen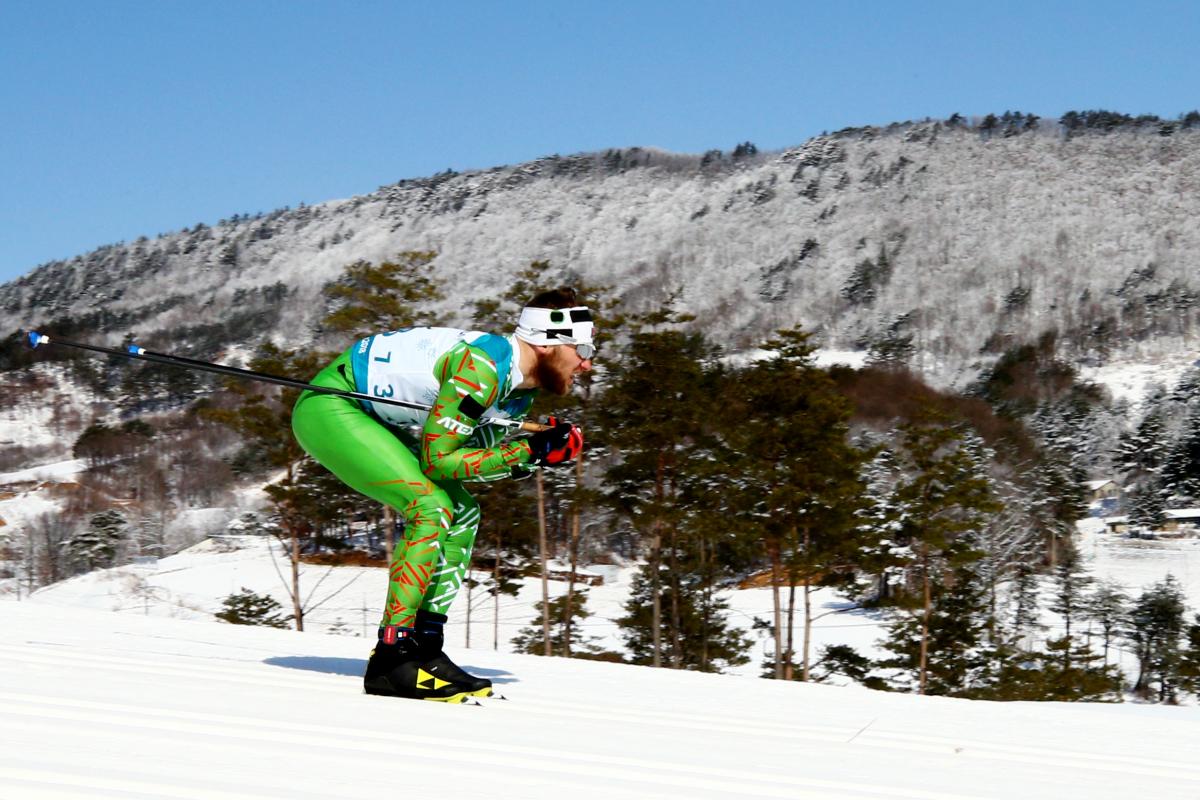 ⒸMaddie Meyer/Getty Images
By Lena Smirnova | For World Para Snow Sports
Para biathlete Yury Holub pauses, aims and strikes…the perfect chord. 
The Belarusian skier and musician knows the importance of timely precision, and this season, his varied skills made him stand out even more than usual. Holub won the overall biathlon title in the men's vision impaired class - his career's first Crystal Globe - in his fourth season on the World Cup circuit. 
To the rising star, who turned 24 in April, this is just the overture.
"The aim for this season was to win the Globe," Holub said. "The goal for next season is the World [Para Snow Sports] Championships. This is the main goal. All the races that I can do, I will do, and I will fight."
Sound of success
Musical inspiration can strike Holub anywhere, so he is always prepared. If travelling to his next competition or training camp by car, the athlete takes his guitar with him. If he is travelling by plane, he scales down to a compact ukulele. 
"Sometimes inspiration comes, sometimes even without inspiration, you just take the guitar and play," he said. "This helps to shift focus, and it helps really well. Your thoughts turn in a different direction and you do not think about sport."
New melodies and lyrics are such a constant in Holub's daily thoughts that he often struggles to keep up with them - to take out a pen and paper, write down a crescendo of notes, jot down some words.
"Different melodies often come into my head, and I don't even have time to write them down. There are always things that come to mind or get forgotten," Holub said. "I can carry a melody or a specific line of lyrics in my head for a year or even longer."
Holub's passion for music can be traced back to his equally musically-gifted family. His father plays in a small town band and his sister studied music professionally. 
Holub also completed musical studies, on the accordion, although his true love is the guitar. He has 11 guitars in his apartment, along with a drum set and keyboard, and plays in a Minsk-based band. The athlete's own rock songs and instrumental blues compositions are on the set list.
Music is not just a hobby for Holub, who has found a way to apply his musical knowledge to ski racing. In Para biathlon, athletes rely on hearing to locate the target. The tone in an athlete's headphones gets higher as the rifle's barrel centres on the target.
As a musician, Holub is better able to detect those small nuances in tone. This skill is especially valuable at competitions where athletes are required to shoot with rifles given to them by the local race organisers. The sounds made by different rifle brands vary and athletes have only a few hours at official training to get familiar with the new equipment.
"I have well-developed hearing. Maybe it is thanks to this that I quickly learned how to shoot and I am now one of the leaders in biathlon," Holub said. "When I started shooting, it did not go so well, but then I trained a little bit and everything fell into place very quickly."
This, in turn, translated into winning results. Holub won a medal in each individual biathlon race this season, including two gold, to top the overall rankings in the discipline with a 100-point lead over Russia's Stanislav Chokhlaev. 
He and guide Vladimir Chepelin were expecting to pick up more medals at the 2020 Para Biathlon World Championships in Ostersund, Sweden, but the March competition was cancelled, along with the World Cup finals, due to the global COVID-19 outbreak.
One shot, one opportunity
Holub took up skiing around age six. His father strapped him into his first skis and the two would spend the next winters skiing in a forest by their hometown. 
"I did not have other options. I just put on simple wood skis and went to the forest," said Holub, who got into cross-country racing when his gym teacher signed him up for a regional competition.
"The love for skiing, for competitions, was instant and it continues to this day."
Once he discovered Para sports, Holub also started training in biathlon. His breakthrough came at the PyeongChang 2018 Paralympic Winter Games where the relative newcomer won gold and silver in Para biathlon, as well as silver and bronze in Para cross-country.
He followed this up with three gold and two silver medals at the 2019 World Para Nordic skiing Championships in Prince George, Canada. 
Despite his success in both Nordic disciplines, Holub chose to focus on biathlon this season with the goal of getting top results at the 2020 World Championships. This meant skipping most of the cross-country races and switching to a new guide.
Holub started working with Vladimir Chepelin, a recently retired biathlete and 2014 Olympian, in the summer of 2019. His former guide Dzmitry Budzilovich now skies with fellow Belarus athlete Vasili Shaptsiaboi.
"My new guide is a bit stronger, which is why I switched to him," Holub said. "He is a former biathlete. He helps me. He is stronger than me, with more experience, and there are things I can learn from him."
Looking back, Holub is happy with his choice to focus on biathlon at this World Cup. However, he plans to return to cross-country races next season to make a broader impact at the 2021 World Para Snow Sports Championships in Lillehammer, Norway.
And music, as always, will be there to set the scene.
"At the moment, sport is the top priority, while music goes in parallel with it," Holub said. "When I am home, it is much easier for me to play music. I have everything here. You come home, press a button and start playing."