Yury Holub clinches his maiden Crystal Globe
Belarusian and other Para biathlon and Para cross-country inners decided following conclusion of 2019-2020 season
13 Mar 2020
Imagen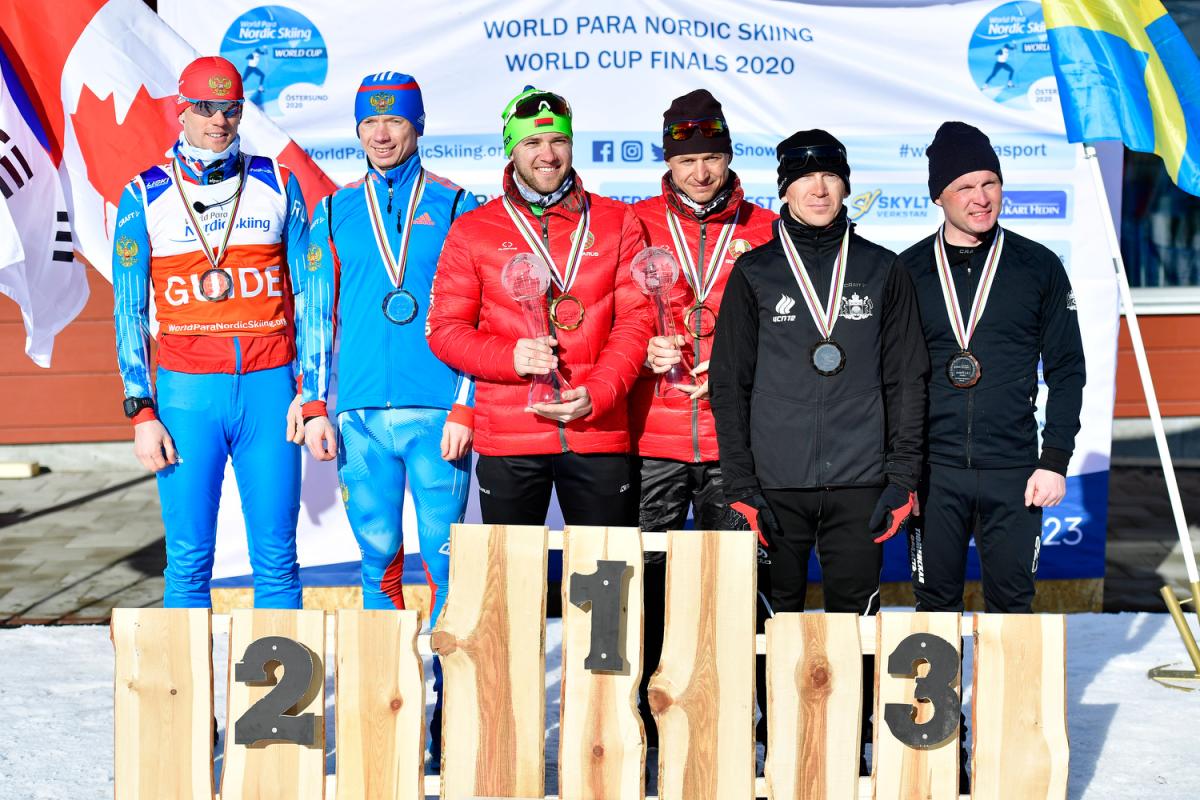 ⒸLuc Percival for World Para Snow Sports
By Ros Dumlao | World Para Snow Sports
Yury Holub laid the  crystal globe he won on the snow, right next to his skis and poles, and snapped a photo with the biathlon shooting range in the backdrop.
 
The Belarusian was smiling and laughing under the Swedish sun as he walked away with the top honours after the season came to an abrupt end following Swedish authorities precautionary measures due to the coronavirus outbreak.
On Thursday (12 March), both the Para Biathlon World Championshipsand Nordic skiing World Cup Finals scheduled to follow afterwards were cancelled and  the overall 2019-2020 World Cup winners were awarded.
Holub, thus left Ostersund with a long-awaited prize – the biathlon World Cup title in the men's vision impaired.
At, 23, and four seasons on the circuit, Holub finally got to add the trophy to his collection of one Paralympic and three Worlds gold medals. To him, the crystal globe signifies consistency.
"This trophy means a lot to me because it's a result of the hard work of the entire season," a jubilant Holub said.
"And it means even more than the medal from the World Championships. I had a big desire to compete here because we were preparing for these Championships very hard with my home team and we expected to show high result. This globe is the outcome of my hard work during the entire season."
Holub was a fighting contender for the biathlon world titles. At the 2019 Worlds in Prince George, Canada, he won the sprint and middle events, except the individual title.
He came out stronger the following season, medalling in all biathlon World Cup events with two victories. The tough competition made the trophy even sweeter; he remained 100 points ahead of second-place finisher Stanislav Chokhlaev of Russia. 
It was an otherwise dominant biathlon World Cup season for Russia, as a team staff member carefully juggled three globes in his arms.
Ivan Golubkov won the men's sitting category, Vladislav Lekomtsev the men's standing and Vera Khlyzova the women's vision impaired.
The USA's Kendall Gretsch and Ukraine's Oleksandra Kononova were crowned the women's sitting and standing victors, respectively, for a consecutive season.
Cross-country winners
The season might have ended abruptly for Vilde Nilsen but it still felt right to have the overall crystal globe in her arms on Thursday.
The 19-year-old dominated another season in the women's standing division and even if she wouldn't have raced in the World Cup Finals next week, would have sealed the trophy.
 
Nilsen paused for a moment to count how many times she won this season.
"Three, four… at least seven wins and one second place," said the beaming teenager , to be exact. "It feels amazing. I felt I did everything right this season. I've been training really well and I have been in really good shape all this season."
Nilsen revealed, she was keen on adding more wins at the Finals. 
"I would have tried to win all three of them [cross-country races]," Nilsen added. "I was really excited about the last competition, the 25k and I didn't know how that would have turned out. But all in all, I'm just happy to win [the Crystal Globe]."
A home turnout would have awaited Zebastian Modin.
Although the Swede did not get to ski in front of his home fans, he still celebrated a successful season with his fourth overall World Cup title in the men's vision impaired.
"It feels empty to close it now because I really wanted to race, and I know the other guys mostly were longing for the World Championships," Modin said.
"But for me it was the cross-country. I was mostly focusing on that and to finish here at home, and it was set up for a hard fight with Brian McKeever and Stanislav Chokhlaev. I was looking forward to that but it is what it is."
Modin finished just 11 points ahead of McKeever.
"I'm happy because it shows that we [my guide and I] have been strong throughout the season," he said.
"It's a combination of being physically fit, better than before, and sprint wins, we won all the three sprints. I think some changes in training have also given me progress."
The USA's Kendall Gretsch, who was not present in Ostersund due to triathlon training for the Tokyo 2020 Paralympics, added the cross-country sitting title to her impressive season.
Russia won the rest of the cross-country titles repeating the trio of biathlon winners: Golubkov (men's sitting), Lekomtsev (men's standing), and Khlyzova (women's vision impaired).
The final 2019-2020 Nordic skiing World Cup rankings are available on World Para Nordic Skiing's website.