Holub's rollercoaster season opener ends on golden high
Panferova and Gretsch strike double gold in season's first biathlon races
19 Dec 2019
Imagen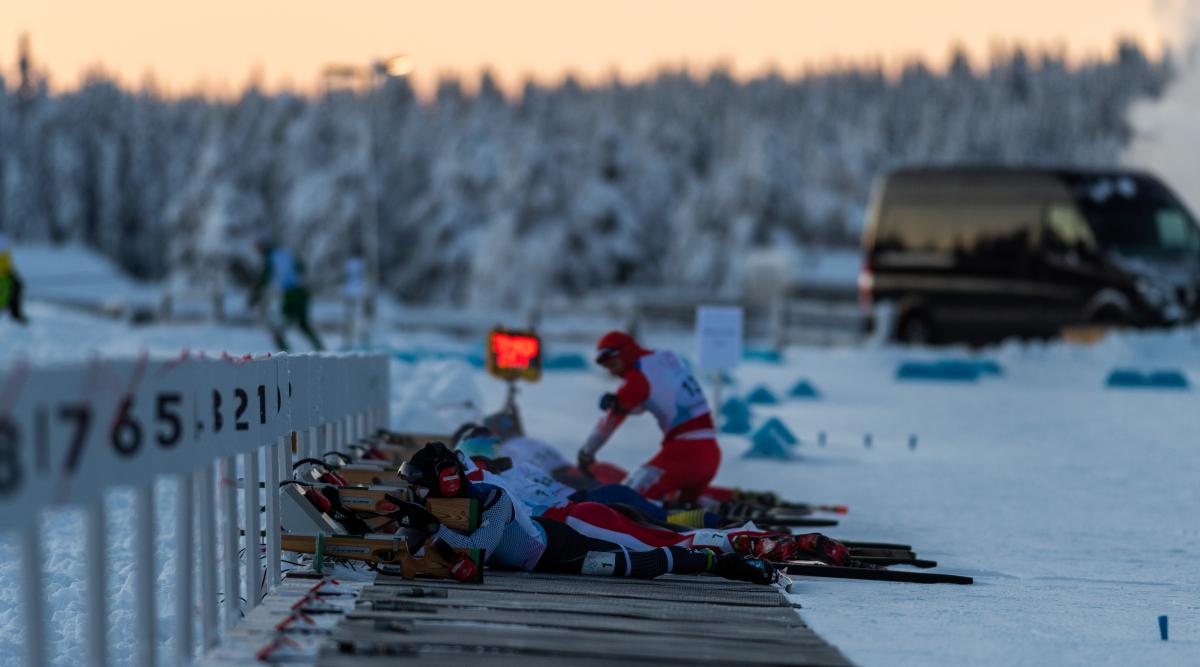 ⒸGisle Johnsen
By Lena Smirnova | World Para Nordic Skiing
Yury Holub has had a rocky road to his first gold medal of the 2019-20 World Para Nordic Skiing World Cup season.
The Paralympic champion from Belarus did not start in the first cross-country race of the men's visually impaired class at the season's World Cup opener in Lillehammer, Norway. He was fourth and sixth in the following cross-country races.
Holub's first biathlon race, the individual, was a bumpy affair. The 23-year-old relied on his fast skiing to arrive second after missing three shots as compared to his clean-shooting rivals from Russia, Stanislav Chokhlaev and Nikolai Polukhin.
Building on that momentum, Holub finally found his way to the top of the podium in the final, sprint biathlon race. There he beat Chokhlaev and was also joined on the podium by his teammate Vasili Shaptsiaboi.
Ukraine's Ihor Reptyukh experienced a similar last-race surge in the men's standing class. He missed out on medals in cross-country, but gained valuable points in biathlon.
Reptyukh started off with a bronze in the individual, behind Russia's Vladislav Lekomtsev and France's Benjamin Daviet, and reached gold in the sprint where he shared the podium with Canada's Mark Arendz and Norway's Nils-Erik Ulset.
Perfect records
USA's Kendall Gretsch and Russia's Anna Panferova completed a perfect sweep in the biathlon races as they each grabbed two gold medals without missing a single shot.
The Crystal Globe holder in biathlon, Gretsch, was second to her teammate Oksana Masters in all three individual cross-country events of the women's sitting class, but was impossible to catch in her signature discipline.
Masters struggled with her shooting and finished second in both races.
"The competition for us this last week and a half has been really good," said Team USA's coach Gary Colliander.
"Our women's team is really strong right now. Our men are close but the field size this year is really deep and really strong. It's nice. It's a really competitive field this year."
In the women's visually impaired, it was an all-Russia affair with Vera Khlyzova and Mikhalina Lysova coming second and third behind Panferova in the individual and sprint. None of them missed a single shot in Lillehammer.
Near perfection for Ukraine
Ukraine's women almost accomplished a similar sweep in the standing races. Last season's Crystal Globe winner Oleksandra Kononova led the way for teammates Yuliia Batenkova-Bauman and Bohdana Konashuk in the individual.
In the sprint, however, it was Crystal Globe runner-up Liashenko at the top of the podium despite missing the last shot. Kononova followed with a clean record, while Russia's Ekaterina Rumyantseva broke the all-Ukraine dominance in the class.
It was also a bit short of perfect for Ukraine's Taras Rad in the men's sitting races.
Last season's Crystal Globe winner in biathlon and runner-up in cross country missed a shot in the individual, which took him down to second place behind the clean shooting Martin Fleig of Germany.
Rad shot clean in the sprint, but still had to settle for bronze after his opponents beat him in the skiing portion. Russia's cross country hero Ivan Golubkov took gold while Fleig was second.
Full results from the competition are available on the World Para Nordic Skiing website.