Iran's 'adventure freak' Saeed Zaroori living life to the fullest
'I always say, do not chase me. I have my own life and I have my own story'
12 May 2020
Imagen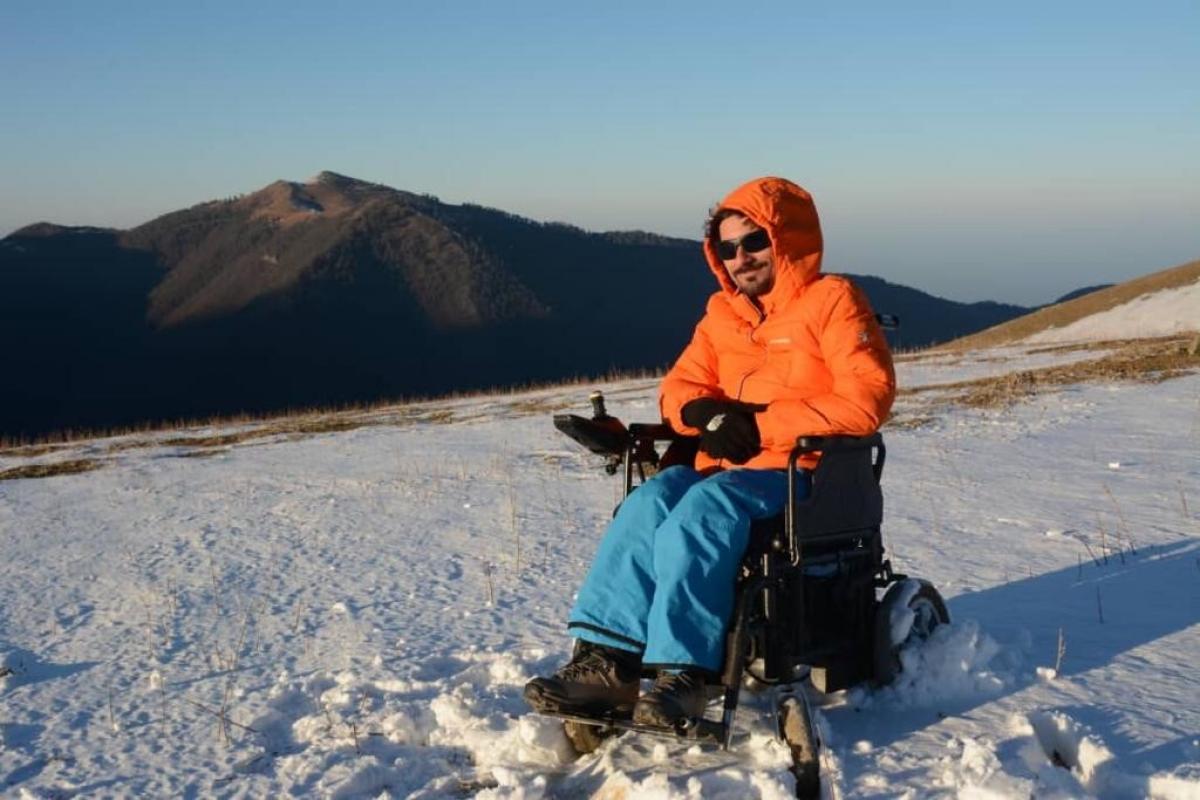 ⒸSaeed Zaroori
By Lena Smirnova | For World Para Snow Sports
​ Saeed Zaroori sits at the bottom of the Persian Gulf in his wheelchair. It is a spectacle to say the least. Witnessing the depths of the ocean is a life changing experience for the Iranian.
Placed in the same situation, most people would be alarmed, but for the extreme sports enthusiast who has muscular dystrophy, it was a moment of pure bliss.
"Diving with my wheelchair was really different," Zaroori said of his underwater adventure. "It was like a world without barriers. I could feel it. I was in my wheelchair and I could go everywhere with just a simple move."
Zaroori is on a mission to conquer his fears and he has been accomplishing it one daring feat after another over the past decade. Paragliding, cave exploration, kayaking, rock climbing, alpine skiing, rafting, and more - Zaroori has done it all and he is encouraging others to pursue their dreams as well.
"I'm another person because of my experiences," he said. "I know myself better. I know how to handle my fears, how to connect with other people."
Lifestyle shift
Zaroori was not always on the chase for the next adrenaline rush. Just the opposite.
Getting on a flight to India in 2009 for a medical conference, the future parachuting aficionado was panic-stricken. It was his first solo trip and the sudden independence from his family, including his three doting sisters, was unsettling.
"It was very difficult for me. I was full of stress. When I was in the airplane going to India, I was shaking because I didn't know what to do," Zaroori recalled. "But people helped me a lot and they were very friendly, and I found out that, 'hey, it's not that difficult'. You can ask other people to help you.
"After returning from this trip, I was another person. I found out that I love this lifestyle. I like to experience different things."
Upon his return, Zaroori set a goal to become financially independent. This took several years, but he eventually found a solution by setting up a translation centre. As the work orders increased, Zaroori was able to fund new adventure trips. 
Each expedition takes several months to plan. There are a lot of factors to consider, such as logistics, funding, team support and equipment. Zaroori often has to design his own equipment because he is the first man with muscular dystrophy to attempt such feats in Iran.
This was the case with his first alpine skiing descent in Shemshak three years ago. 
Without any local examples to follow, Zaroori went online to find out how people with similar conditions ski in other parts of the world. The search led him to the dual ski. Since there were none in his home country, he created his own design and gave it to his friend to make. 
"We tested it and yes, there were lots of problems, but I actually made it and it was very interesting to be testing my idea," Zaroori said. "It was coming from my mind."
Since then, Zaroori's appetite for adventure has only increased. He has travelled 'from the top of the sky to the ocean and underground', catching on the wind with his hang glider and plunging 300 metres under the earth to explore bitingly cold caves. 
He now makes a special effort to have these experiences in his wheelchair, whenever possible. Zaroori has already dived and rock climbed in a wheelchair, and is now working on designs to do the same with a parachute.
"I'm doing adventure on my wheelchair to show that we have to be on our wheelchair when we are living. It's a symbol," he said. "I'm trying to promote accessibility with these adventures."
Fighting fear
Visibility is a key component of Zaroori's mission. He regularly speaks about his experiences on television, writes in newspapers as an adventure and travel journalist, and gives lectures. In his message, he encourages people to live fully and face their fears.
Despite his own action-packed resume, Zaroori is not immune to fear either. His struggle - ironically for a man who jumps out of airplanes and scales rocks - is heights.
"I have trained myself to face my fears. I'm really afraid of being on tall buildings. I feel scared, but I have to confront my fears and I won't let them stop me," Zaroori said. "It's crystal clear that you have to live your life. My adventures help other people to see that."
Zaroori's spirited message is getting across, as fan letters continue to flood his inbox.
"Every day I get some reactions from people. They say, 'we have wasted our lives, we have not chased our dreams, we have spent our lives without any goals'," Zaroori said. "They say, 'you are living the life to the fullest and we are trying to be like you'."
Zaroori, however, discourages people from trying to replicate his experiences. Instead, he tells them to carve out their own, unique path.
"I always say, do not chase me. I have my own life and I have my own story," he said. "You have to chase your dreams. Maybe your dream is to be a good teacher, to be a positive person. Being a positive person, I think, is the best thing we can do in our world and it is the main goal of my life. To be myself and to be positive."
As for his next adventure, Zaroori is planning a trip to the Arctic to see polar bears - one of the few dreams he has not ticked off his list…yet.