Simon Wallner urges youth to set 'big goals'
Austrian sit skier content in retirement after accomplishing his life's biggest goal
17 Apr 2020
Imagen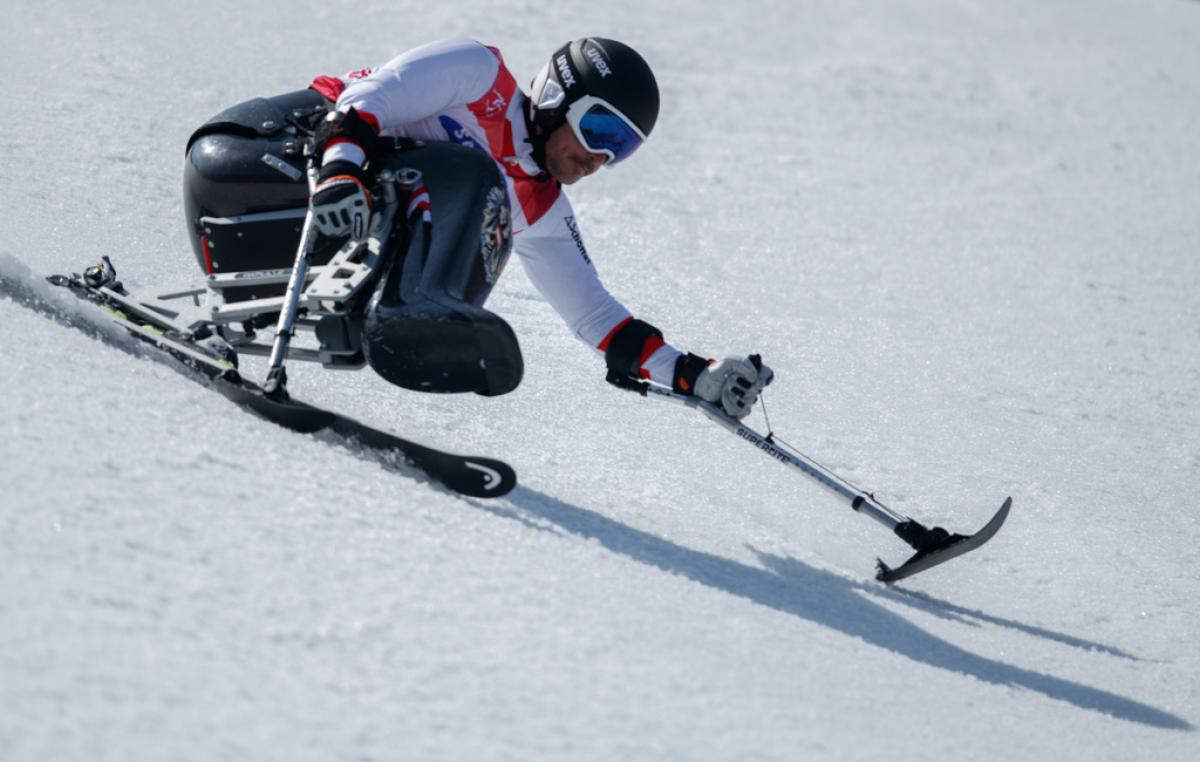 ⒸSimon Bruty for OIS/IOC
By Lena Smirnova | For World Para Snow Sports
The "I made it" moment can come anywhere for an alpine skier - waiting for the start signal at the top of a course, flying past the flags to the finish line, or getting a medal on the podium. 
For Austrian sit skier Simon Wallner, that moment came on a plane tarmac.
Blinking from the sunlight at Innsbruck airport, a picturesque site surrounded by mountains, Wallner realised he reached the peak of his career when he looked up at the plane in front of him. 
The plane would take off for the nation's capital Vienna, where more athletes joined the group and together set course for PyeongChang, Republic of Korea. Wallner made his Paralympic debut there two years ago.
Now retired from competitive sport, Wallner is encouraging beginner skiers to set ambitious goals like his own and pursue the rush of Paralympic competition.
"If they want, they have to do it. They have to try," he said. "For me that was always the thing - if you really want it, you will find a way."
Free fallin'
If Wallner had to describe alpine skiing in one word, he knows just the one to pick. 
"It's freedom," he said. "When I get up in the morning, I get into my monoski and I go up to the mountains, I always felt like it's freedom because you can feel the snow. You can feel the fresh air. You can do it for yourself."
Wallner was a competitive skier in his youth. He decided to try skiing again after a motorcycle accident in 2011 left him with paraplegia, and this decision gave him instant hope.
"After my accident I thought I could not do anything more," Wallner said. "But when I went back and had my first day in my monoski, it was like, 'OK, there is something more you can do,' and it became my new target."
Goal setter
There are multiple moments that stand out for Wallner during his tenure in Para alpine skiing - his first international victory in 2014, his World Cup debut in 2016, and his first top 10 result on the circuit. But above all, his career highlight was the 2018 Paralympic Winter Games. 
The Opening Ceremony was unlike anything he had experienced before, and with his parents cheering from the stands - his daughter following the TV broadcasts throughout sleepless nights back in Austria - the races became even more special. While he did not win any medals in PyeongChang, for Wallner the results were not what mattered most.
"I was not focused on a medal. For me, the big part of my target was to reach the Paralympics and I did it, so my biggest dream came true," he said. "For me, the peak was to reach the Paralympic Games and anything more would be something more, but not my main target."
Wallner set this target shortly after trying sit skiing for the first time. With PyeongChang 2018 six years away, a specific goal kept Wallner returning to the slopes from season to season despite the long training hours and occasional injuries. 
He encourages young athletes to set equally ambitious, long-term goals to stay motivated.
"I did it every time. You need that goal. You need a big goal that is maybe a little bit far away," Wallner said. 
"When you start, you have to set the goals in phases. You accomplish one little goal, you go to the next goal, and then the next goal and then if you really want it, you can reach the big goal. But you have to focus on it and always have to have it in your mind." 
With his own goal of competing at the Paralympic Games accomplished, Wallner stayed on the circuit for one more season before retiring from competitive skiing. He is currently studying sports science and hopes to receive his degree later this year.
And through it all, skiing remains a part of his life, just in a different capacity.  
"I have not had too much time for this, but the time that I had free, I tried it and I enjoy it," Wallner said. "I have to say, I enjoy it."