Norway's Pedersen sweeps Crystal Globes in men's sitting
'Winning the overall Globe three years in a row as well as all the discipline Globes is a dream come true'
18 Mar 2020
Imagen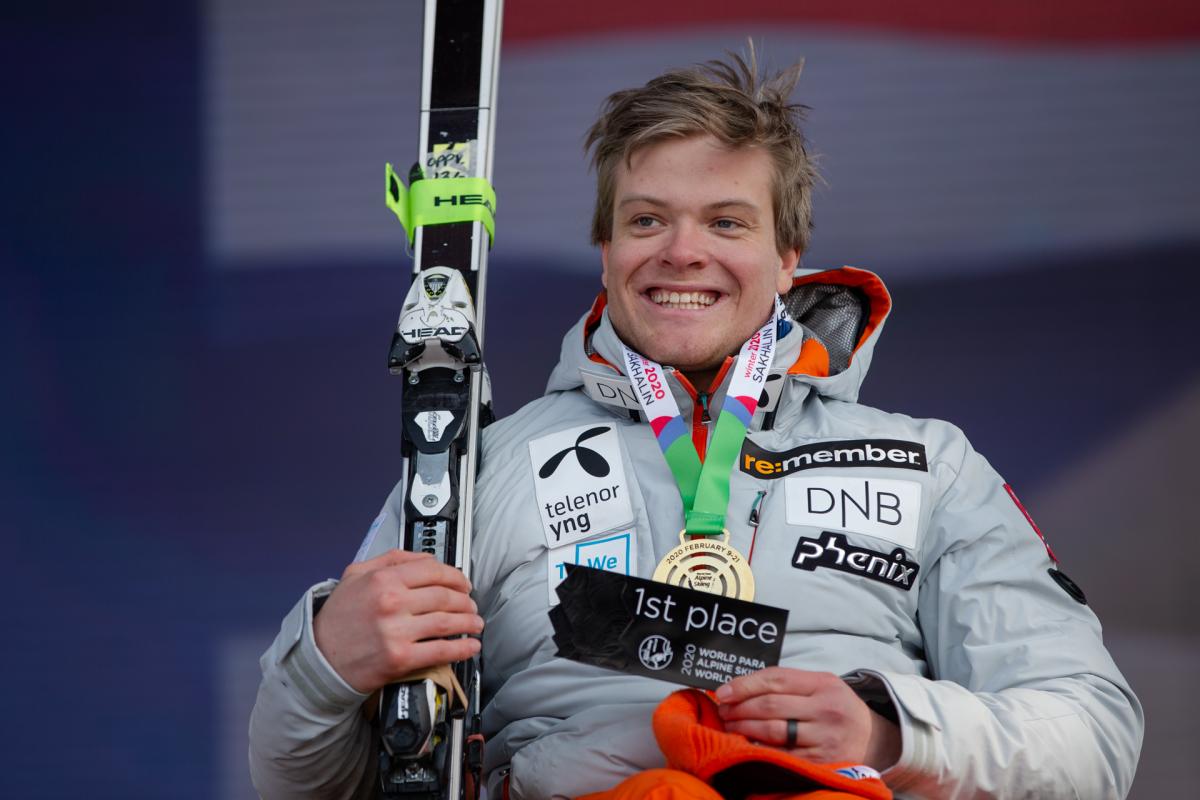 ⒸYuri Kim/Sakhalin 2020
By Lena Smirnova | For World Para Alpine Skiing
It was the best of times, it was the worst of times for Norway's Jesper Pedersen who finished the 2019-20 season with a clean sweep of the Crystal Globes, including the men's sitting overall, but was denied a chance to compete at home in the final races of the season.
The global coronavirus outbreak forced the cancellation of the World Para Alpine Skiing World Cup races in Hafjell, Norway and the World Cup finals in Are, Sweden.
As a result, the Crystal Globes were allocated based on the points athletes earned in the first four stages of the World Cup, held in Switzerland's Veysonnaz, Italy's Prato Nevoso, Slovenia's Kranjska Gora, and Russia's Juzhno-Sakhalinsk.
Pedersen took the overall Crystal Globe in the men's sitting class for the third year in a row, becoming the first Norwegian skier to accomplish this streak and beating his own national record of two consecutive titles.
The 20-year-old also picked up the Crystal Globes in slalom, giant slalom, downhill and super-G, and earned his career's first ever World Cup medals - all gold - in downhill.
"Winning the overall Globe three years in a row as well as all the discipline Globes is a dream come true," Pedersen said. "Winning my first races in downhill in Sakhalin was really cool, and I am also proud of being so consistent in my results."
Last season was a difficult one for Pedersen who was coming back after a life-threatening illness with almost no training to prepare for the season. This year, however, he was ready.
"This season has been truly amazing for me. Before the race season started, we had around 70 days of skiing, as well as a lot of training at the Olympic training centre," he said.
"Unlike last year when I couldn't ski from July to late November, I knew that we had done some great work in preparing for the season, and as we all know, a lot of training equals results."
Pedersen won eight gold and six silver medals this season, getting on the podium in each of his races. His medal streak only ended when he was forced to pull out of the competition in Russia due to health issues. 
The Norwegian skier was back in top form for his home races in Hafjell, but did not get to compete there because the season ended early.
"I was looking forward to race in Norway this season, but the most important thing now is to stay healthy and don't take any unnecessary chances," Pedersen said. "When something like this virus comes up, alpine skiing suddenly seems much less important."
Pedersen will have another chance to race against the world's best in Norway next year when Hafjell and Lillehammer host the 2021 World Para Snow Sports Championships.
"Next season is going to be really exciting with, of course, the main goal being the World Championships here in Norway," Pedersen said. "I have trained a lot on the courses at Hafjell ski resort so I feel ready and confident to ski even faster next season.
"I am heading into the preparations for next season with a lot of confidence and I feel ready to start the hard work that is necessary to stay on top."
Dutch skier Jeroen Kampschreur was second overall in the men's sitting class, with the USA's Andrew Kurka coming in third.
First Globes
Fellow USA skier Laurie Stephens and Germany's Noemi Ristau earned their career's first overall Crystal Globes in the women's sitting and vision impaired classes, respectfully.
Stephens has come close before, climbing to second overall in the 2015-16 and 2013-14 seasons, but this was her first time in top spot thanks to her strong results across the speed disciplines.
Ristau missed last season due to injury and returned to the World Cup in January with a new guide, Paula Brenzel. Her top result until now was fourth overall two seasons ago.
In the men's vision impaired, it was the second overall Crystal Globe for Giacomo Bertagnolli of Italy, and his first with new guide Andrea Ravelli.
Bertagnolli previously won the Globe in the 2015-16 season with a 280-lead over his opposition. This season the lead was more substantial as Bertagnolli and Ravelli picked up twice as many points as the Paralympic champion from Canada, Mac Marcoux, and his new guide Tristan Rodgers.
To top off a great season, the Italians also won the Crystal Globes in slalom, super-G and downhill.
Enfants de la Patrie
French stars Marie Bochet and Arthur Bauchet defended their overall titles in the women's and men's standing classes. However, the task was harder this season as both finished with closer margins to their rivals - a sign of the exciting battles to come next season.
Undefeated in last season's races, Bochet faced two tough rivals at the 2019-20 World Cup. She finished just 160 points ahead of Russia's Varvara Voronchikhina, who was missing from the circuit last year, and 290 points ahead of World Cup debutante Zhang Mengqiu of China.
Third overall, Zhang also topped the rankings in slalom and giant slalom.
On the men's side, Bauchet was 220 points ahead of Austria's Markus Salcher whose strong performance in the speed races in Juzhno-Sakhalinsk put him second overall and earned him the Crystal Globe in super-G, five points ahead of Bauchet.
Meanwhile, Santeri Kiiveri is becoming a great threat to Bauchet in the technical events. The Finnish skier took the lead in the slalom rankings after three consecutive victories in Prato Nevoso, which were also his career's first World Cup golds.